Ground lamb seasoned with spices like oregano, coriander and paprika takes center stage on a warm pita! A spicy greek yogurt sauce drizzled over top creates a creamy, herby bite.
If you're looking to pull together dinner in 15 minutes, you've landed in the right place.
I LOVE a faux-fancy dinner situation. Dinners that give off an "I've been working on this for hours" vibe that really come together with little time and even less effort. These pitas are exactly that!!
Ground meat is a time SAVIOR – regardless of which protein you're using, if it's ground it will cook in a matter of minutes. I feel like we've been eating a billion pounds of ground turkey in quarantine so I decided to mix things (slightly) up with some ground lamb! It has a really nice richness and complexity that you don't necessarily get with ground white meat.
Now for these pitas… we loaded them with what we had in the fridge: avocado slices, crumbled salty feta, spicy hummus and massaged kale BUT they are SO customizable! Chickpeas, cherry tomatoes, red onions, jalapeño slices, olive tapenade — let your imagination run wild!
Here's how you'll make the lamb pitas:
Cook the ground lamb and season well with the spice mix.
Prepare the greek yogurt sauce.
Warm the pitas.
Assemble your masterpieces!
One quick thing about the spice mix: when I was first learning to cook, I would look at a measurement like "one teaspoon" and I would think to myself, "that is a TINY amount and I probably can skip it." But a teaspoon of spice goes a LONG way, especially if it's really aromatic! So try not to skip a spice if you don't have it – see if you can replace it with some of the alternatives listed!
TIPS FOR MAKING SPICED GROUND LAMB PITAS
Chop your pita toppings while the ground lamb cooks to save even more time.
Not a lamb person!? No problem — swap for ground beef!
If you don't have a spice listed in the recipe, see if you can replace with something similar: sub cumin for coriander, sub chili powder for paprika, sub cinnamon for nutmeg if needed.
warm pitas by stacking them and wrapping in damp paper towels. Microwave for 30 seconds and keep inside until ready to use. You can also use a toaster oven, just skip the paper towels!
If you don't have/don't want to use hummus as your spread, you can spread a thin layer of the yogurt sauce in the pita before layering in the ground meat and toppings.
I hope you enjoy these as much as we did! I personally will be heating up another pita for lunch 🙂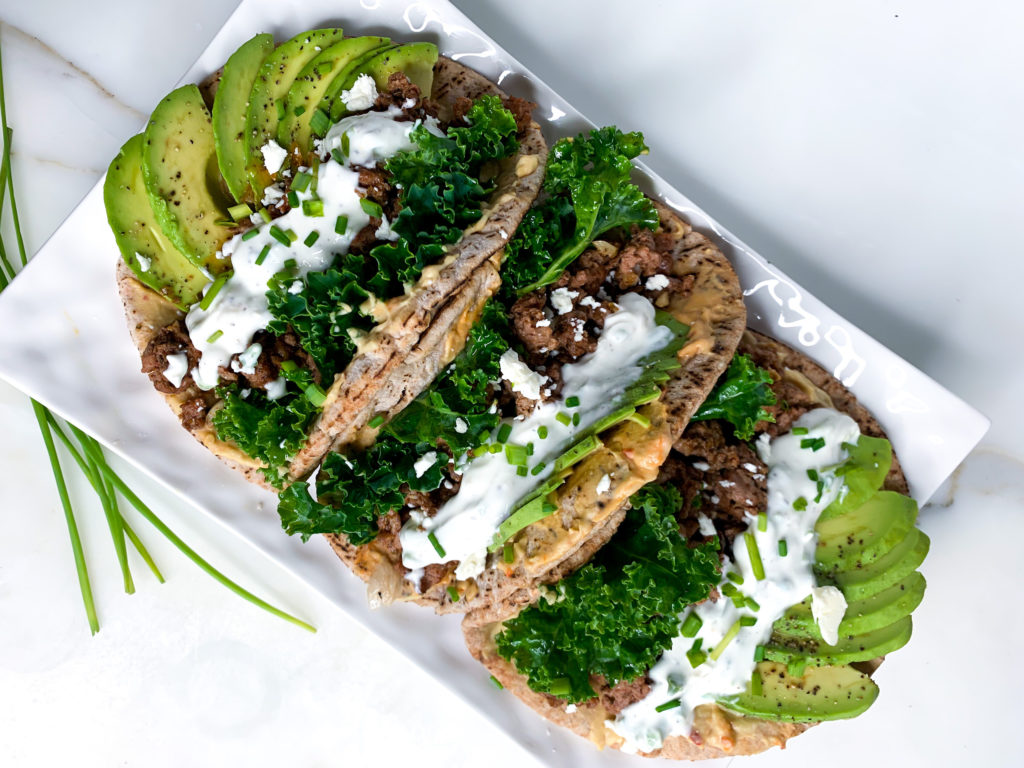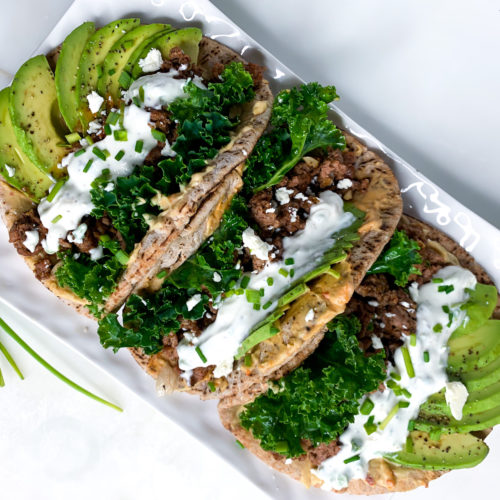 Spiced Ground Lamb Pitas
Ground lamb seasoned with spices like oregano, coriander and paprika takes center stage on a warm pita! A spicy greek yogurt sauce drizzled over top creates a creamy, herby bite.
Ingredients
1

lb.

ground lamb

choose organic if possible

1

tbs.

olive oil

1

tsp.

salt

½

tsp.

pepper

1

tsp.

oregano

1

tsp.

paprika

1

tsp.

coriander

¼

tsp.

nutmeg

2

cloves

garlic

minced

4

pitas

white or wheat
optional toppings
hummus, sliced avocado, dressed greens, crumbled feta
spicy yogurt sauce
½

cup

greek yogurt

2

tbs.

minced jalapeño

2

tbs.

chopped chives

plus more for serving

1

tbs.

plain almond milk

or more to thin
Instructions
In a skillet, warm 1 tbs. olive oil over medium high heat. Add ground lamb, breaking up with wooden spoon.

In small bowl, combine all the spices (salt, pepper, oregano, paprika, coriander and nutmeg). When lamb has almost fully cooked (some parts still pink), add spices and minced garlic. Stir to combine.

Meanwhile, combine all the ingredients for the spicy yogurt sauce and season with salt and pepper. Chop any additional veggies you're using for pita toppings. Warm pitas in damp paper towels for 30 seconds in the microwave.

Assemble pitas by layering either hummus or spicy yogurt sauce first, then lay avocado slices on one side and greens on the other (if using). Then add a scoop of the seasoned ground lamb and top with more yogurt sauce and feta!