Gluten Free, Flavor FULL!
When I say I've had a weekend, I mean I'VE. HAD. A WEEKEND.
A big enough weekend that on Monday I could only imagine eating a big, cheesy burrito.
My birthday landed on a Thursday in COVID and prematurely I thought it would be prettttty tame. *narrator: it was not tame*
However I ended up getting to celebrate my womb independence from Thursday morning through late Sunday night and at 32 years of age, it did me dirty. Where did my tolerance go? Is it hiding somewhere with my fine line-free skin and my toe-head hair?? Apparently.
Monday came and I needed a hug in the form of a cheesy, juicy, chicken-stuffed burrito when I remembered that Siete now makes burrito-sized tortillas!!!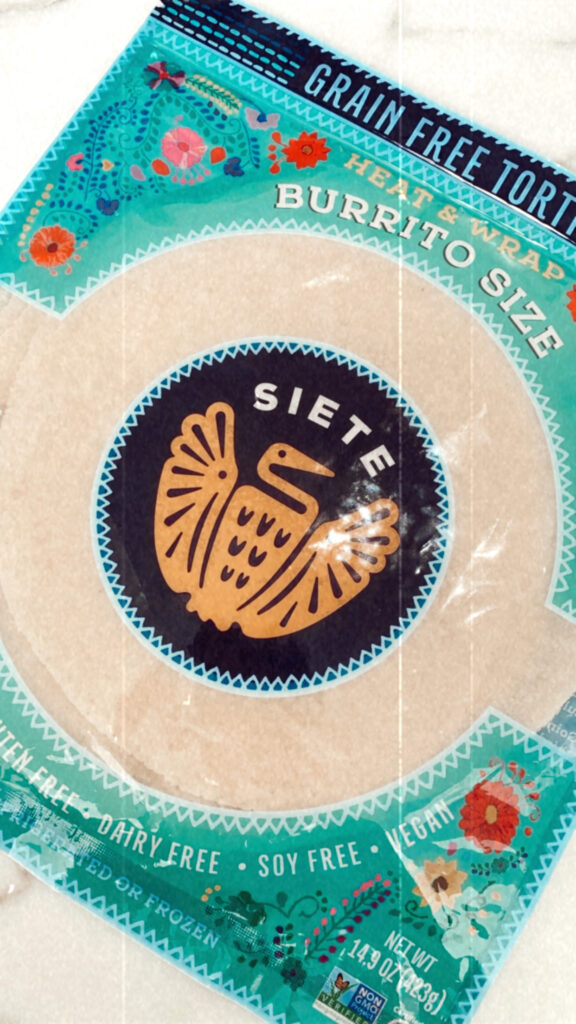 Wait, what's a Siete?????
Siete is a brand I've seen used a LOT in the kitchens of influencers not just from Dallas but really all over. The brand started in Texas after a family realized their daughter was gluten intolerant and grandma's homemade flour tortillas were definitely NOT helping her cause. So they created a whole line of grain-free tortillas, chips, salsas and hot sauces (oh, dare I forget the Cashew Queso!!) that are really and truly the closest thing taste and texture wise to homemade flour tortillas that I have ever tried. They're beyond delish.
So I drove my depleted booty to Whole Foods, masked up and got my grocery shopping on. I grabbed pre-marinated chicken breasts from the butcher counter (helllloooo cilantro lime!) and we were in business.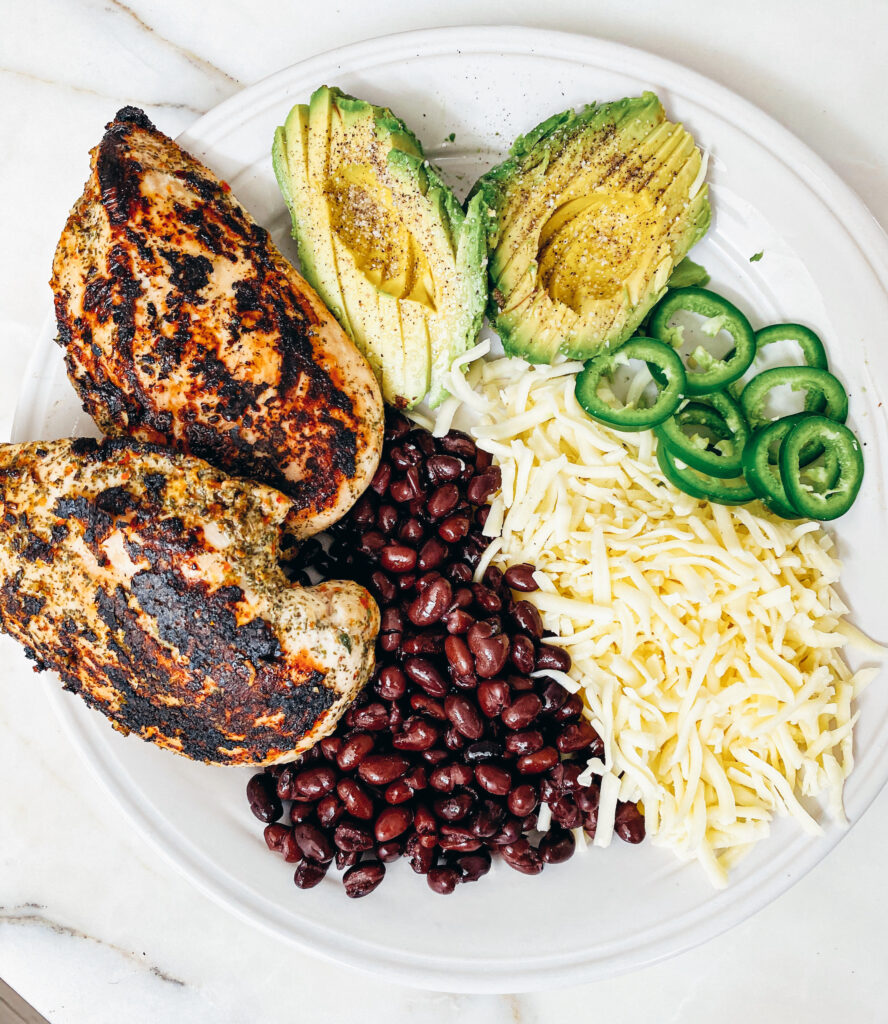 Here's how I made my Chicken, Black Bean + Avocado Burritos:
Cook the pre-marinated chicken breasts stovetop for 5 minutes per side.
Let chicken cool while you prep other ingredients.
If using Siete burrito sized tortillas, warm for 15 seconds each side before stuffing.
Mix together greek yogurt + taco seasoning before spreading thinly on tortillas.
Top with sliced chicken, rinsed black beans, sliced avocado and shredded cheese!
These burritos are fully customizable as well — here are some ideas on other ingredient combos!
Rotisserie chicken (time saver!!), roasted corn, jalapeños + cheddar
Refried pinto beans, sautéed bell pepper slices, shredded monterray jack
Marinated pork tenderloin, grilled pineapple, cotija cheese
Grilled shrimp, grilled onions and mozzarella shreds
The list goes on and on!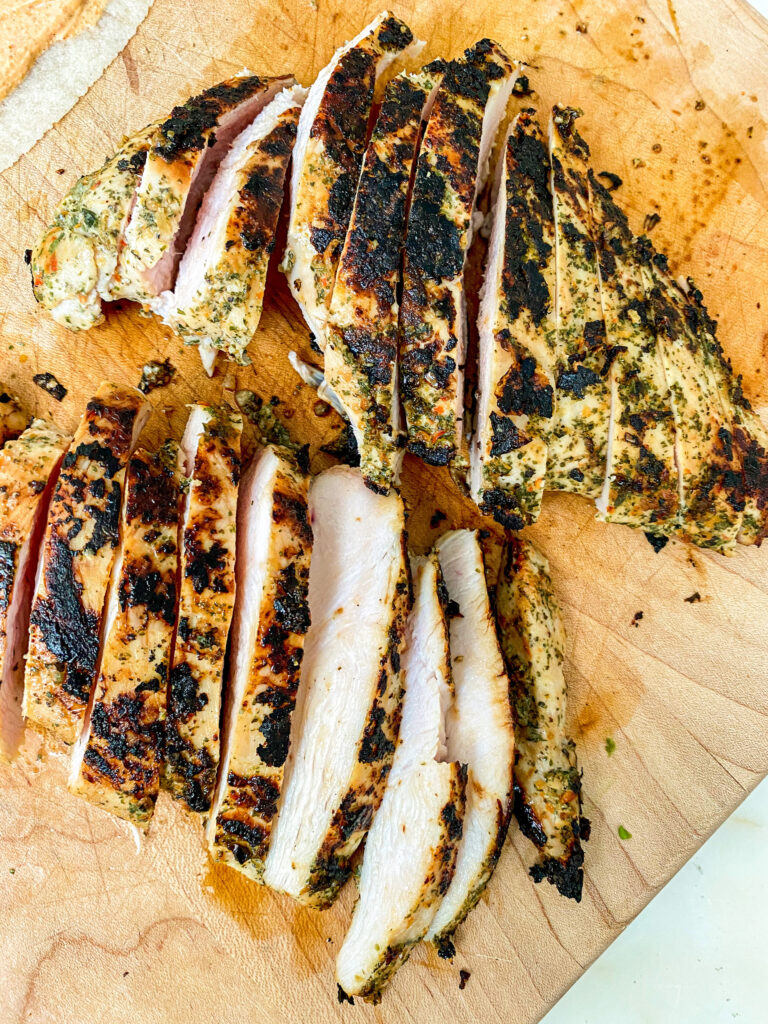 PRO TIP: WORK ONE BURRITO AT A TIME! The Siete tortillas need to be warmed first so they're nice and pliable, then you can layer on ingredients before you roll tightly. If you don't heat tortillas first, your tortillas will end up breaking in a big way (take it from someone who didn't read the directions first. HA!).
Hope you enjoy these burritos! That's a wrap!!
Thank you for being an amazing reader of The Savvy Spoon! If you make this recipe and love it, I would so appreciate you rating it below. Be sure to follow me on Instagram and Facebook for more recipes, workouts and lifestyle content!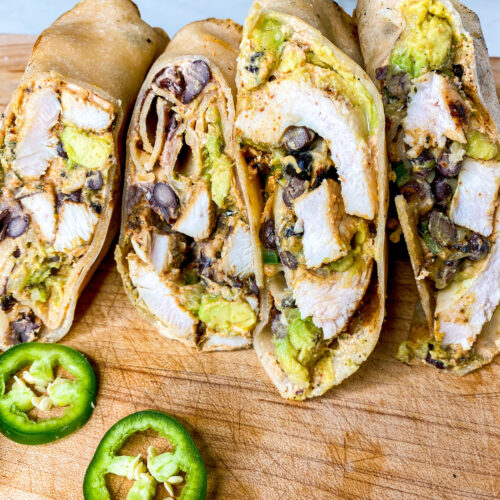 Chicken, Black Bean and Avocado Siete Burritos
Creamy avocado and gooey monterey jack cheese complement juicy, savory grilled chicken wrapped up in a gluten-free, grain-free tortilla!
Ingredients
2

boneless, skinless chicken breasts

pre-marinated (or see chef's note)

2

Siete burrito-size grain free tortillas

can substitute flour if not gluten-free

1

cup

shredded monterey jack cheese

can use colby jack or mozzarella

1

avocado

sliced

1

can

black beans

drained and rinsed

1

jalapeño

thinly sliced

1

tbs.

olive oil

for sautéing
seasoned crema
¾

cup

greek yogurt

½

packet

gluten-free taco seasoning

splash of water
Instructions
Cook chicken on stovetop by heating 1 tbs. olive oil in a sauté pan over medium heat. When hot, add pre-marinated chicken breasts "pretty" side down first and cook for 5 minutes. Flip carefully right-side up and cook another 4-5 minutes.

Remove from heat, tent with foil and let rest for at least 5 minutes before slicing.

Mix together greek yogurt and taco seasoning, adding a splash of water if sauce needs thinning. It should be the consistency of mayo.

Clean pan you used to cook chicken with a paper towel, then heat again over medium high. Place one tortilla in and heat for 15 seconds then flip and repeat.

Working one burrito at a time (unless you have someone helping!), spoon half of crema onto tortilla and spread evenly. in the center of tortilla, layer chicken slices, avocado slices, 1/2 can black beans, shredded cheese and sliced jalapeños.

Roll burrito by folding one end towards the other. Fold in the opposite two ends towards the center, then roll tightly ending with seam-side down. Place back into hot skillet for 2-3 minutes per side to seal burrito and toast!
Notes
I used pre-marinated Cilantro Lime boneless, skinless chicken breasts but here's a quick recipe for a homemade marinade:
Mix together juice of 2 limes, 1 tsp. salt, 1 tsp. pepper, 1/2 tsp. cumin and 1/4 cup olive oil together, then pour over chicken breasts. Marinate in the refrigerator for at least 30 minutes or up to 8 hours before sautéing!