Dry. Bland. Chewy. Flavorless. Stupid. Boresville. Ever use these words to describe poor ole pork chops?
I FEEL YA! Pork can be so boring… if you under-season or over-cook it! These chops are doused in herbs and crisped to a golden brown on each side to create a seal of sweet juicy pork. Tell me you can't go for that!
I love these bone-in pork chops because they require just a handful of ingredients and and take 10 freaking minutes to cook. Not like 10 mins (with 45 min prep), no no no. Literally. Ten minutes start. to. finish!
Make this for your honey on V-day– whether that's an actual person or a DVR-ed episode of Scandal commercial-free (I'm dreaming of both right now), that's up to you.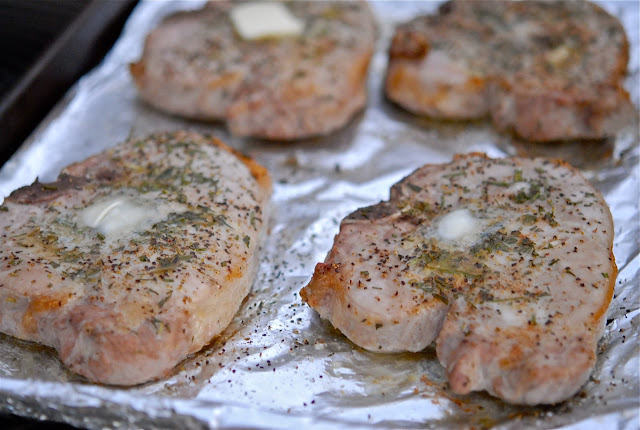 10 Minute Bone-In Pork Chops
Juicy, golden brown with a hint of garlic — these pork chops are crowd pleasing and take just 10 minutes to roast!
Ingredients
2

bone-in pork chops

2

sprigs

fresh rosemary

minced

1

tbs.

dried oregano

2

cloves

garlic

cut into half

2

tbs.

butter or ghee

salt and pepper
Instructions
Preheat oven to broil setting. Line a cooking sheet with foil and spray with cooking spray.

Prep your chops by taking one half of the garlic and rubbing all over the pork — 1/2 clove each side. Using a paring knife, make two little slits into each chop (about 3 inches away from one another) and place garlic halves into each.

Season each pork chop with rosemary, oregano, salt and pepper on both sides, pressing into the pork with your fingers.

Place pork on sheet pan and into oven about 4-5 inches from the broiler. Roast for 5 minutes, then remove from oven. Flip chops over, place back into oven and roast another 5 minutes.

Remove from heat and cover with tin foil. Let rest 5-10 minutes before serving).

Top each pork chop with a pat of butter and serve warm!