Broken, tender lasagna noodles are layered in bolognese sauce, creamy ricotta and melty mozzarella for an easy, 5 ingredient dinner ready in 20 minutes!
I'll tell you what, I am damn near always craving pasta. And very specifically, pasta with marinara sauce. Just give me that straight-from-the-jar Rao's, some boiled noodles and maybe some parm sprinkles and I am in HEAV. I'm a simple girl after all.
This recipe takes the ease of boxed noodles and sauce and dresses it up with creamy ricotta, oooey gooey mozzarella and naturally lean ground turkey creating flavor explosions every bite.
You may never slave over a traditional lasagna again. Dare I say it! Or maybe you've never made lasagna because that's grandma Betty's thing and she takes 7 days to layer her dish in stewed meat sauce and unicorn tears. This is not Betty's lasagna, you can fogettaboughit. You'll have this on the table ready to serve straight from the pan (just like I like it) in T W E N T Y M I N S.
Here's how we'll make this 5 Ingredient Deconstructed Lasagna:
Crack the lasagna noodles into 4-6 pieces each – get angry with it.
Boil the noodles in a big pot of salted water.
Brown ground turkey (or chicken, or beef!) in a deep sided pan.
Stir in your fave marinara sauce — mine is Rao's but you pick your poison.
Add the noodles to the sauce and stir to coat.
Drop in globs of ricotta cheese and go wild with it. Top with mozzarella.
Bake for 10 minutes to melt the cheese and make the edges golden and crispy!
Okay, now that you're prepped, let's dig in! I hope you love this quick, flavorful dish — it's now in our permanent rotation.
Thank you for being an amazing reader of The Savvy Spoon! If you loved this post, I would so appreciate you rating it below and/or leaving a comment! Be sure to follow me on Instagram and Facebook for more recipes, twin mom and healthy lifestyle content!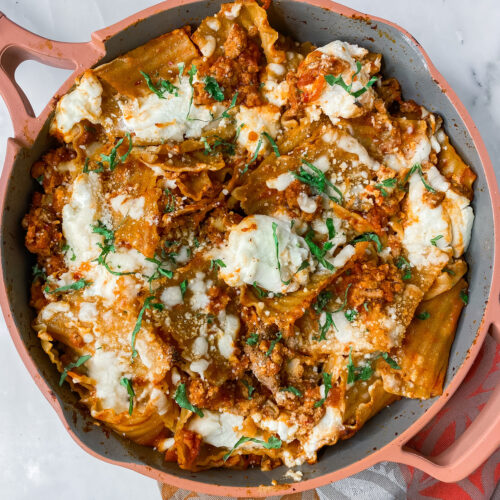 5 Ingredient Deconstructed Lasagna
Broken, tender lasagna noodles are layered in bolognese sauce, creamy ricotta and melty mozzarella for an easy, 5 ingredient dinner ready in 20 minutes!
Ingredients
1

box

whole wheat lasagna noodles

*not oven ready*

1

lb.

ground turkey meat

can sub ground chicken or beef

1

jar

your favorite marinara sauce

I love Rao's brand

1

16-oz. container

whole milk ricotta cheese

can sub part skim but I think it's watery

½

cup

shredded mozzarella cheese
optional toppings
parmesan cheese, chopped basil, red pepper flakes
Instructions
Preheat oven to 425 degrees.

Break uncooked lasagna into 4-6 pieces each. Bring a pot of water to a boil, add a tsp. of salt, then add broken noodles. Cook according to package, about 7-9 minutes.

Meanwhile, in a deep sided skillet or dutch oven, heat 1 tbsp. olive oil then add ground turkey, seasoning with salt and pepper. Break up into small pieces with wooden spoon and cook until no longer pink, about 5 minutes. Drain fat if using beef.

Once meat has cooked, add jar of marinara sauce and stir to combine.

Strain cooked lasagna noodles from water and add right into sauce. Toss carefully.

Add in dollops of ricotta cheese, pushing some deeper into noodle pile. Top with shredded mozzarella cheese and bake for 10 minutes or until melted and golden!

Let coo slightly before serving!