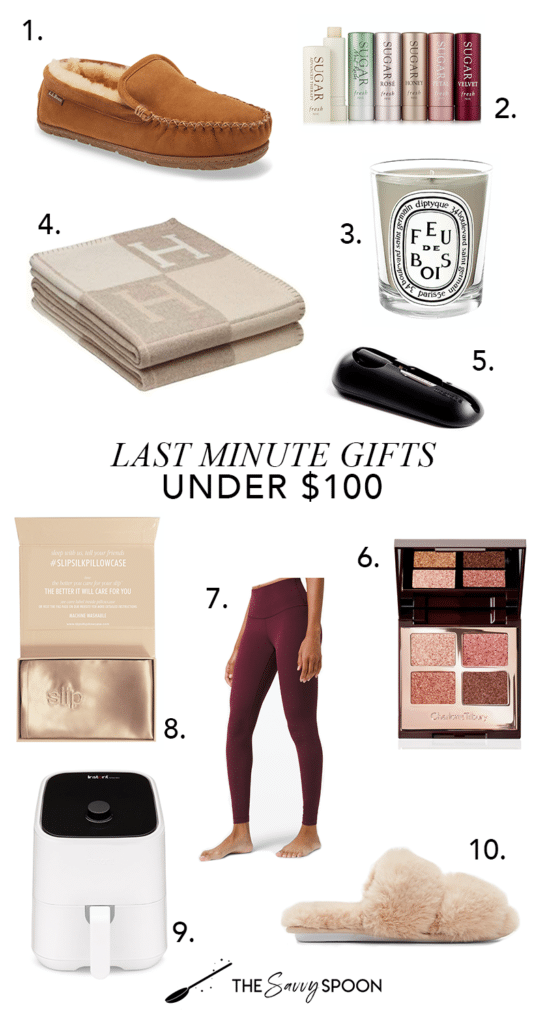 Who doesn't like slippers? I feel like they're a great gift because you rarely buy them for yourself but always enjoy having them on. These Men's Moccasin Slippers are good quality for a nice price.
You can really never have enough lip balm (especially at the rate mine go missing from purse to purse) and this Sugar Lip Balm Collection is under $50 and features their bestsellers.
Candles help to make a house feel more like a home and this Diptique Feu de Bois Candle is beautifully packaged and in one of my favorite woodsy scents.
I have this very same Hermés Inspired Throw from Amazon and it's a really great replica for the $1200 original version. A perfect gift for a fashionable friend!
If you know someone who loves to cook or grill, gift them this Meat Thermometer with iPhone App and take out all the guesswork on if a whole roasted chicken (or Christmas ham!) is cooked to perfection.
I love getting fun makeup that I might not buy every day. This pretty Charlotte Tilbury Holiday Eye Palate makes me want to get dressed up, even to stay in!
Believe the hype — these Lululemon Align Leggings are soft, super stretchy and flattering on everyone. There are tons of fun colors to choose from as well!
Last year a girlfriend gifted me a silk pillowcase and after one sleep I was hooked. This Slip Silk Pillowcase helps to prevent wrinkles (and "sheet marks" after a deep sleep)!
I've had my eye on an Air Fryer — it fries food to a crisp with just an ounce of oil! This might be a gift I wrap up to me from me this year 🙂
I recently ordered these Fuzzy Slide Slippers for myself and was SHOCKED at how comfortable they were. They're extra fluffy and have a gel-like sole insert making every step pillowy.
SHOP THE POST