WITH AVOCADO + ROASTED SALSA VERDE
Let's get something straight: tacos > everything. Breakfast tacos, street tacos, late night tacos — regardless of type, tacos trump justttt about all.
Though it is "fall" on the calendar, as I type these words to you my (desktop) thermometer reads 94 degrees. 94!?? Forget warm pumpkin spice anything! And to think we haven't even reached today's high… I basic white girl can't. even. right now.
They say if you can't beat em join em… so what do you say we crack open a Coronita and carpe this diem with these tasty treats? I personally don't believe tacos should be made in one season or the other because one bite of them will transport you to easy breezy Cabo in no time. Sometimes that's needed in the dead of winter. Or, in this case, amidst the sweltering heat of "fall."
This recipe is suuuuper simple because there are only ehm three steps (with an optional fourth): quick marinate the pork, sizzle pork on the stove, build tacos, (blend salsa & drizzle). It's the marinate and sizzle drizzle baby! The chili & pineapple marinated pork cooks up quickly on the stovetop and the salsa can be made right in the blender or food processor. You could def make this for a bigger group by adding in another pork tenderloin – they are always so reasonably priced and make a ton of food. I'm into that.
I luh serving these with the roasted salsa verde I've made below, but if you aren't into the green check out this red salsa that is just as easy to whip togetha. Just a couple of ingredients, a few minutes of your time and you'll be having yourself a merry lil fiesta in no time!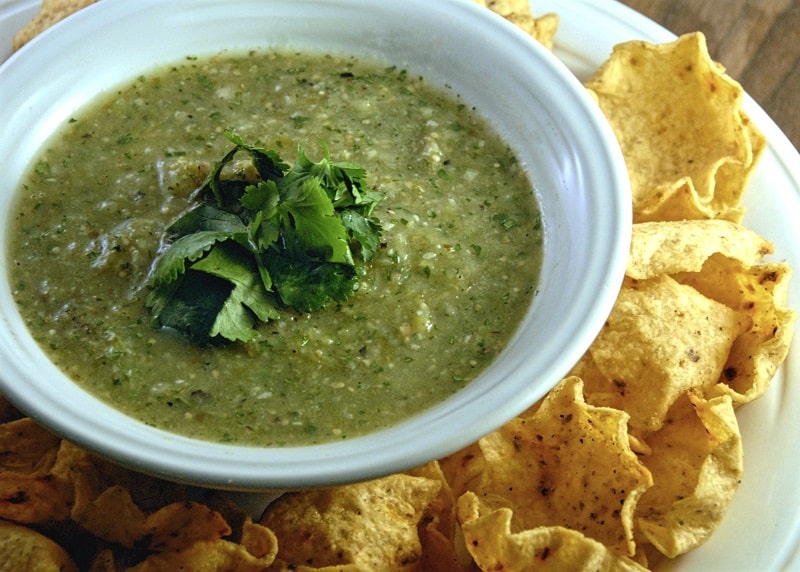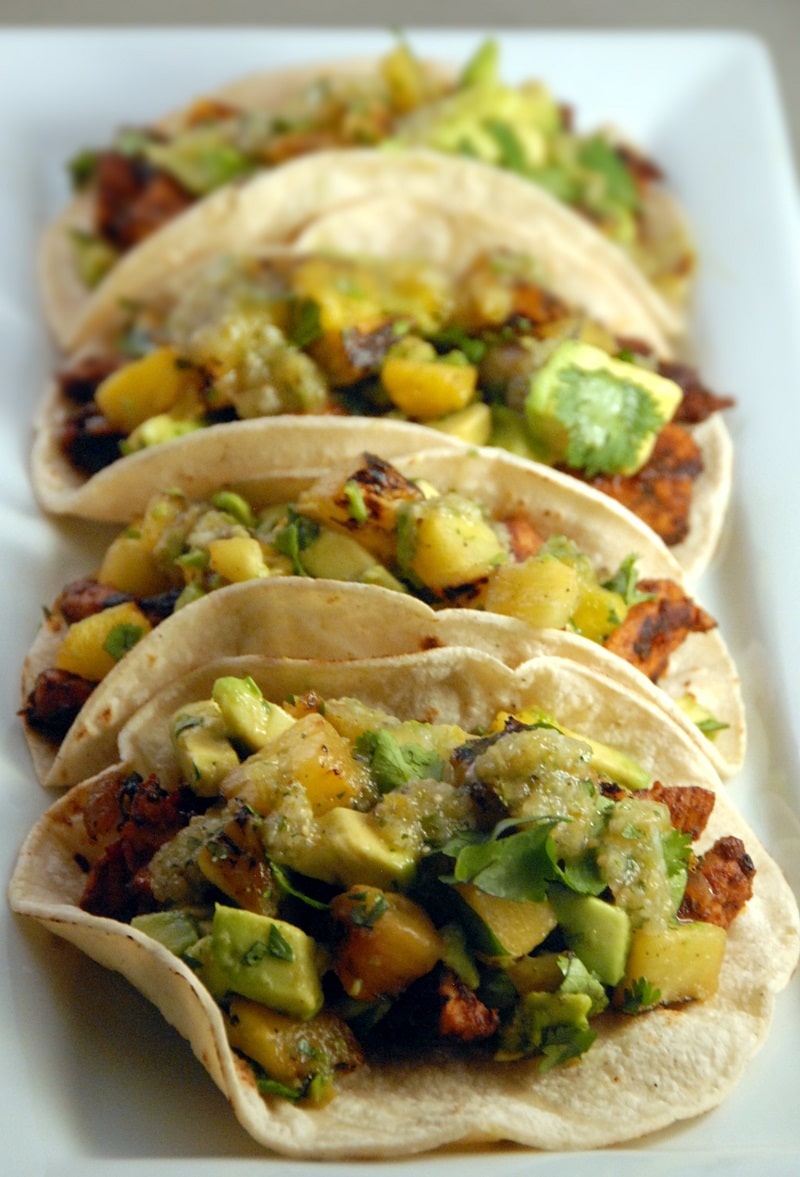 Weeknight Tacos Al Pastor with Avocado + Roasted Salsa Verde
Juicy, citrusy chipotle pork tacos with avocado and pineapple chunks, all topped with a 10-minute roasted salsa verde!
Ingredients
1

18-oz.

pork tenderloin

1

8-oz. can

canned crushed pineapple

1

4-oz. can

chipotle peppers in adobo sauce

2

cloves

garlic

smashed

1

tbs.

brown sugar

juice from 1 lime
for tacos:
1

cup

fresh cut pineapple

diced small

1

avocado

diced small

½

yellow onion

diced small

½

bunch

cilantro

chopped

8-10

corn or flour tortillas
avocado + roasted salsa verde salsa
5

tomatillos

husks removed & rinsed

3

cloves

garlic

whole with skins on

1

serrano pepper

½

bunch

cilantro

chopped

juice from 1 lime
Instructions
marinate pork:
Slice your pork into rounds first and then slice into thin strips. Place into mixing bowl and set aside. In a blender or food processor, combine all ingredients for the marinade (minus the pork) and blend until smooth. Poor over pork and toss to coat. Set in fridge for at least 20 mins and up to 2 hours.
sauté onions + pork:
Heat 2 tbs. of olive oil in a nonstick skillet over medium-low heat. Add in onion slices and cook slices until they are soft and caramel-colored, about 10-15 mins. Remove from skillet.

In same pan, heat 1 tbs. olive oil over medium heat. Using tongs, take out a few strips of pork and shake off excess marinade. Place into heated pan – be careful not to crowd! Cook for about 3-4 minutes each side, then place onto sheet pan lined with paper towels. Remove any large char pieces from pan, drizzle in a little more oil and finish the rest of the pork.
roast salsa ingredients:
Heat oven to Broil and place tomatillos, garlic cloves and serrano pepper on aluminum foil, lifting the edges to make a lip. This will help catch all the juices from the tomatillos! Drizzle everything with olive oil and place under broiler until char marks start to appear, about 4 mins. Flip everything over and char other side and let cook another 4 minutes.

Once everything has cooled, remove garlic from skin and place all roasted ingredients into blender or food processor, along with the cilantro and lime juice. Season with salt and pepper, blend, taste and place into bowl.
assemble tacos:
In warmed tortilla, place pork slices then top with pineapple and avocado. Drizzle on salsa and serve warm!