everything I love all rolled up into one 😍
Cheesy Pancetta Lasagna Rolls are perfect for a cozy vday, bday, or day that ends in a "y" 🙌🏼 what's not to ❤️ about personal lasagna rolls stuffed with ground turkey, pancetta pieces, ricotta + melty mozzarella?!
there are three steps to making these cuties:
boiling the noodles
stuffing the rolls
baking in the oven!
I made these leisurely on a Sunday so I wasn't rushing to get din on the table. make these for someone you love and it's perfectly great if that someone is you!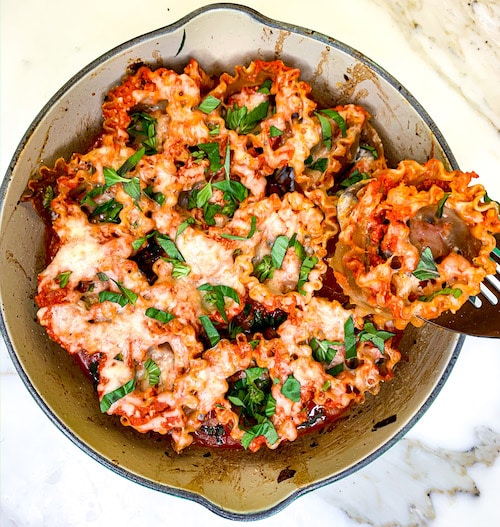 Cheesy Pancetta Lasagna Rolls
Individual lasagna rolls stuffed with salty pancetta smothered in marinara and cheese!
Ingredients
10

lasagna noodles

(I've only used semolina wheat and whole wheat noodles)

1

lb.

ground turkey

1

cup

diced pancetta

1

shallot

minced

2

cloves

garlic

minced

1

15-oz. container

ricotta cheese

light or regular

1

cup

shredded mozzarella cheese

1

jar

marinara sauce

I like Rao's Homemade best

chopped basil

olive oil

salt + pepper
Instructions
Preheat your oven to 375 degrees. Bring a large pot of water to a boil and add three noodles at a time to cook until al dents and easy to bend, then place on a sheet pan before repeating with the other noodles.

In a skillet, warm 1 tsp. olive oil and then add diced pancetta. Cook until fat has almost all rendered, about 5-6 minutes. Remove from skillet with slotted spoon and place onto paper towel to dry. In same skillet, add ground turkey, seasoning with salt + pepper. Cook until no longer pink, then add in shallots and garlic for 1-2 minutes until fragrant. Place turkey mix into mixing bowl with cooked pancetta, ricotta and 1/4 cup mozzarella, mixing well. In same skillet, add in enough marinara to cover the bottom well.

Take one lasagna noodle and spoon on turkey + cheese mixture, leaving about 2 inches at the end. roll tightly and place on its side in the marinara skillet. Repeat until all ten noodles have been rolled, then top with more marinara and mozzarella cheese.

Place skillet into oven and bake for 20-25 minutes or until cheese is melted and golden brown! Top with chopped basil and let cool slightly before serving!