Pillows of cauliflower-based pasta swimming in a chunky ground turkey tomato sauce then topped with gooey, melty mozzarella slices! Fall in love with this one pot wonder.
another day another pasta because this is #quarantinelife.
it's day 789th in quarantine and to sum up my daily sched I'm ping-ponging between eating and working out and eating and working out and eating and drinking. tell me your days look like this too (if you're not WFH right now)???
I'm trying my absolute best not to be tempted by the clothing sales on sales on sales bc I'm not looking to tempt my luck with my financial manager right now!!! he can be testy haha.
in the eating department I've been trying to be better about using what we have stocked up instead of running to the store (a challenge but we're all working on ourselves right now), so digging through my freezer and finding two packages of Trader Joe's cauliflower gnocchi was like mining gold!
if you're even slightly cauliflower gnocchi-obsessed then you'll love how quickly and easily this dish comes together! fluffy little pillows of yum sitting pretty in a two ingredient meat sauce topped with mozzarella slices that ooze over everything. sign me up.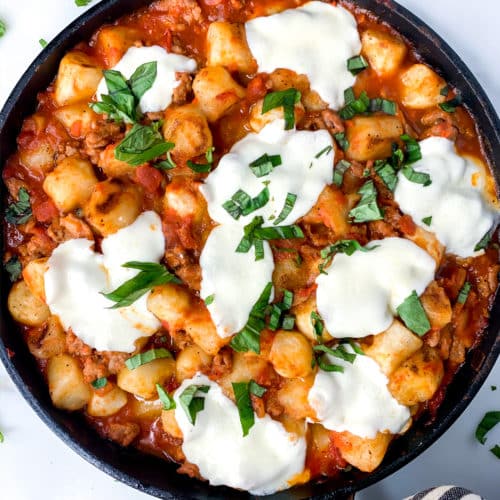 PRINT RECIPE
Cauliflower Gnocchi Bake
With just a few pantry and fridge staples, you'll have a filling and satisfying gnocchi bake ready in less than 30 minutes!
INGREDIENTS
1

lb.

ground turkey

,

(can sub ground chicken, beef or pork)

2

packages

Trader Joes frozen cauliflower gnocchi

1

jar

your favorite marinara sauce

,

(I love Raos Homemade)

8-10

slices

fresh mozzarella

3

tbs.

fresh basil leaves, chopped

2

tbs.

olive oil

1

tsp.

salt

½

tsp.

pepper

parmesan cheese, for serving
INSTRUCTIONS
preheat your oven to broil or highest heat setting.

in a large nonstick pan, heat 1 tbs. olive oil and when warm, add frozen gnocchi. let cook for 2-3 mins then flip over to brown opposite side to brown. remove from pan (even if not fully cooked through).

in same pan, add another 1 tbs. olive oil and when warm, add in ground meat. break up with spoon and cook through (about 4-6 mins depending on meat). add in marinara sauce, 1 tsp. salt, 1/2 tsp. pepper and bring to a simmer. after 5 mins, add in gnocchi to sauce and top with mozzarella.

place pan into oven to broil. broil under high heat until cheese has melted over top, a few minutes depending on your oven. serve with parmesan and chopped fresh basil leaves!