During these different times social distancing and out of the studio, I'm doing my best to keep a fitness routine for many reasons — to stay in the groove of working out, to stay sane, to kill time, to balance out my newfound hobby of baking… you name it. It seems like everyone is working out more now than ever probably just because of the time they have to do it– whatever the reason, I'm here for it!
I started posting some quick body weight/light resistance routines on my Instagram and it's been so fun to see your positive feedback! I love to workout because it clears my mind, makes me feel strong, improves my mood and well… because I love to eat!!!! I also think a fun workout outfit incentivizes me to exercise as well, whether or not it will be seen by anyone haha!
Some of my favorite brands to wear based on the workout:
RUNNING
Outdoor Voices: Their shorts especially. I love the wide waistband and built-in undies!
Hoka Running Shoes: What I always call my "moon shoes" haha. They are lightweight and completely have changed my ability to run long distance without knee pain!
Feetures Socks: They don't budge or slip!
PILATES/LOW IMPACT STRENGTH TRAINING
HIGH INTENSITY STRENGTH TRAINING/MIXED CARDIO
Ultracor Leggings: No budging during any jumping or running! These are meant to be tight – the compression silk is what makes them so flattering. Go with the Ultra High waistband if possible – it's thicker and higher!
APL Athletic Shoes: My staples for HIIT workouts and strength training. I love my Hokas to run but they're a little too cushioned for holding planks and side lunges! These have always been TTS for me.

---
MY CURRENT AT HOME WORKOUT SCHEDULE
MONDAY: 20 minute Abs series, 3 mile afternoon walk
TUESDAY: 3-4 mile run, 10 minute Arms series (back/shoulders), 3 mile afternoon walk
WEDNESDAY: 20 minute Lower Body series (lunges/squats), 3 mile afternoon walk
THURSDAY: Long run 4-6 mile run, 20 minute arm series (biceps/triceps), 3 mile afternoon walk
FRIDAY: 3-4 mile run, 20 minute Lower Body series (booty, inner/outer thighs), 3 mile afternoon walk
SATURDAY: 20 minute Abs series, 3-4 mile morning walk
SUNDAY: Long run (4-6 miles on average), 3-4 mile late morning walk (MILEAGE DAY! lol)
Mind you even though we're three weeks into quarantine I am still trying to figure out a schedule outside of the studio. I've been so lucky enough to be in the PilatesBarre studio with access to BarreFormer and Cardio classes every day… so my "schedule" is still very much a work in progress!!
MY FAVORITE ROUTINES
You can find my at home low-impact routines on The Savvy Spoon Instagram here – click the story highlight called "WORKOUTS" to go through the routines! I try to post a 10-20 minute routine a few times a week for you to have on hand! I'm also looking into filming a full-length, full-body workout for IGTV so stay tuned 🙂
Music That Moves You
I truly believe a good song will keep my legs moving beneath me especially towards the end of the workout. I create playlists weekly for my PilatesBarre classes so I'm constantly adding to my collection even at home!
I have playlists based on your running pace, for walking, for floor exercises and even for relaxing! Follow me on Spotify here.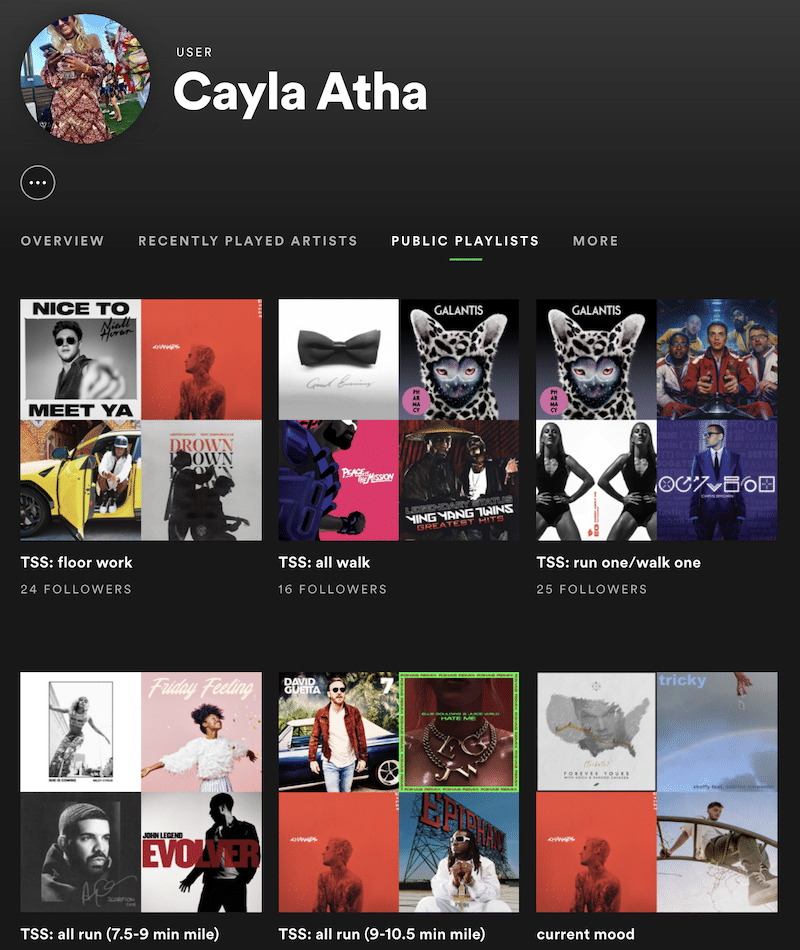 WHEN TO EAT: BEFORE VS. AFTER
There are lots of theories that justify both eating before a workout and eating after, but I still have my reservations about ascribing to just one method — mainly because for me it depends on my workout and my stomach, who definitely has a mind of her own haha.
Many doctors believe you get the most out of your workouts by exercising first thing in the morning on an empty stomach. They believe you're more likely to tap into your fat burning zone using fat for fuel instead of the carbohydrates you eat, which is great in theory!!
But during this period of time where all of our schedules are jumbled — many are having to homeschool and/or care for their kids without help, balance time with spouses, juggle actually working at home, you name it — working out first thing in the morning just might not be an option. I'm a firm believer in fitting in workouts when they work for you, not the other way around. If that means a post-lunch 15-minute booty sculpt series or a pre-dinner walk around the neighborhood, you're moving and that's what matters.
A lot of people feel nauseous without eating something small pre-workout — especially if you're doing heavy weight lifting, a HIIT workout or something equally as strenuous. On the flip side, if I eat too close to a run I will without a doubt get a side stitch cramp, so I try to run on an empty stomach or when it has been at least 3 hours since my last meal. Other people have no problem hitting the pavement after a power-fueled breakfast — this is where you have to feel out what works for YOU and not abide by someone else's "rules."
bottom line: You do you.
I hope this post helps you form your new norms in this crazyyyy world we're living in right now!
Lots of love from Dallas!