Does juicy, crispy chicken topped with a syrupy wine sauce and gooey onions and garlic sound up your alley? okay great then we're on the same page!! enter my Roasted Chicken with Caramalized Onion Sauce that will make your house smell nose-gasmic. let's get after it!
I was flipping through one of my Barefoot Contessa cookbooks (btw if you haven't seen @heathermcmahon's impression of Ina, it's very impt) and I was inspired by Ina's veal chops with caramelized shallots – the wine reduction was exactly what I wanted to drizzle over our roasting chicken! so here's my pantry-friendly version.
P.S. I think roasting chicken with bone-in and skin-on is the ULTIMATE way to cook chicken, even if you discard the skin. this method traps in the juices like no other way!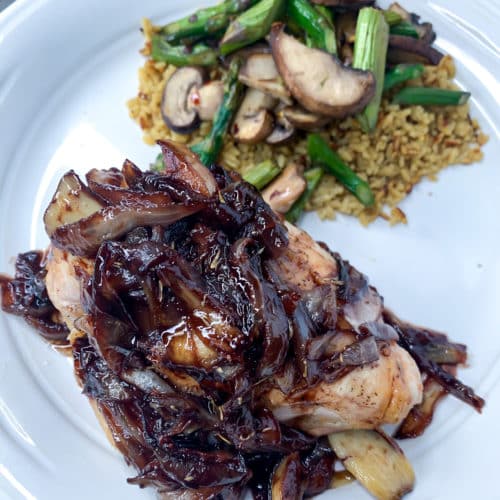 Roasted Chicken with Caramelized Onion Sauce
Juicy, crispy chicken topped with a syrupy wine sauce, melted onions and garlic!
Ingredients
2

bone-in, skin-on chicken breasts

olive oil

salt and pepper
caramelized onion sauce
1

onion

6

whole cloves

garlic

peeled

½

cup

red wine

¼

cup

sherry vinegar

can sub champagne vinegar or white wine vinegar

¼

cup

balsamic vinegar

1

tbs.

brown sugar

4

tbs.

butter or ghee

2

tsp.

dried thyme
Instructions
Preheat oven to 400 degrees. On a sheet pan lined with foil, place chicken breasts and drizzle with olive oil, using a brush to coat. Season both well with kosher salt and pepper.

In a large skillet, melt 2 tbs. of butter or ghee. Slice the top off your onion, then slice through the root to half. Peel off paper from onion then slice with the grain to make long strips. Add the onion slices and whole garlic cloves into the pan and season with 1 tsp. salt and 1 tsp. pepper. Cook over medium high heat for 2-3 mins.

Place both the pan of chicken breasts and the sauté pan with onions and garlic into the oven. Cook the onions for 30 mins then remove, letting chicken cook for another 10 mins (40 mins total).

Finish sauce on the stove by adding remaining 2 tbs. butter, vinegars, red wine and bring to a boil. Lower heat to simmer for 6-8 minutes or until the liquid has reduced. Stir in brown sugar and thyme and keep on low heat until chicken is ready. After you pull chicken from oven, wait 5-10 minutes before serving or slicing.

To serve, spoon the caramelized onion sauce over top of the roasted chicken breasts! I suggest serving with something to sop up the extra sauce, like @rightrice or couscous!