Because sometimes you want a little CRUNCH without the CARBS.
I'm all about easy weeknight dinners that feel elevated without taking a lot of time, steps or ingredients and this Pecan-Crusted Dijon Chicken checks all of those boxes. Yall have loved my Hummus-Crusted Chicken recipe and this one is similar– you'll smear on something sticky (in this case, dijon mustard) to chicken breasts, then dip into something crunchy (enter: pecan bits). Not a pecan person? Swap them out for walnut, pistachio or even almond pieces!
You'll need just THREE ingredients for an elegant dinner: boneless, skinless chicken breasts, dijon mustard and crushed nuts! You'll get the same crispy taste of breadcrumbs and the crust helps to trap in the chicken's juiciness.
Here's how you'll make Pecan-Crusted Dijon Chicken:
Season the chicken breasts and lather on the mustard
Dip the mustard-sided breasts into the pecan bits
Bake the chicken breasts for 22 minutes!
TIPS FOR MAKING PECAN-CRUSTED DIJON CHICKEN
It's easiest to use a basting brush to paint on the dijon mustard, but a knife will work too!
Make sure you only put mustard and pecans on the top side of the chicken (putting on the bottom would make the crust mushy!)
If you chicken breasts seem on the smaller or larger side than normal, adjust your cooking time by subtracting or adding 2 minutes before taking temperature. Remember the chicken continues to cook as it cools.
This recipe is super customizable! Swap pecans for walnuts, pistachios, or almonds – just make sure they're chopped up well.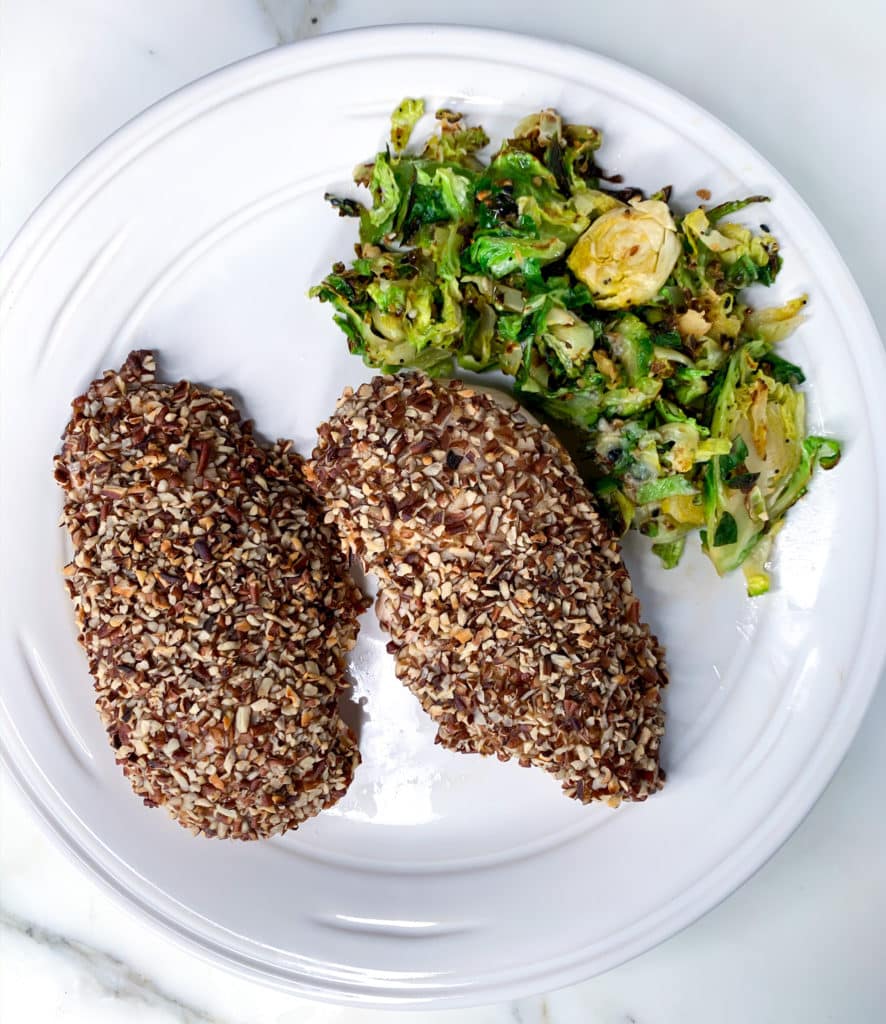 We paired our chicken with sauteéd brussels sprouts, a glass of wine and Jack Ryan season two — and I couldn't recommend the pairings enough!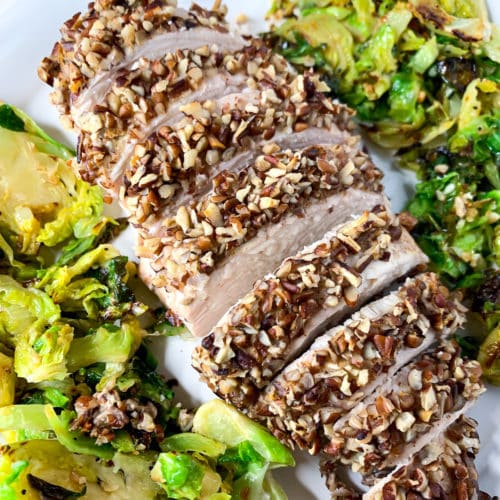 Pecan-Crusted Dijon Chicken
Crunchy, nutty pecan bits and creamy dijon mustard create a low-carb crust for juicy chicken breasts!
Ingredients
2

boneless, skinless chicken breasts

trimmed of fat

¼

cup

dijon mustard

I used Grey Poupon

½

cup

crushed pecan bits

salt and pepper
Instructions
Preheat your oven to 350 degrees.

Season chicken breasts on both sides with salt and pepper. With "pretty" side up, take a spatula and paint on an even layer of dijon mustard onto each chicken breast.

On a plate or shallow bowl, pour pecan bits into an even layer. Place the chicken dijon-side down into the nuts and press gently so they adhere.

Lay chicken with nutty-side up on a cooking sheet lined with foil and greased with cooking spray. Place into oven and bake for 22 minutes, then remove and let cool for at least 5 before slicing!