If we can't physically travel, then let us at least send our tastebuds to the Mediterranean – what do ya say!?
Is anyone else getting a weeeee bit comfortable with our stay-at-home mandate? I think Tyler and I are just such creatures of habit that I desperately try to get used to something new as SOON as possible. I think we've finally gotten into a *groove* with somewhat of a routine (even though that has included staying up late, sleeping in and wine every night – what are we vacationing!? haha).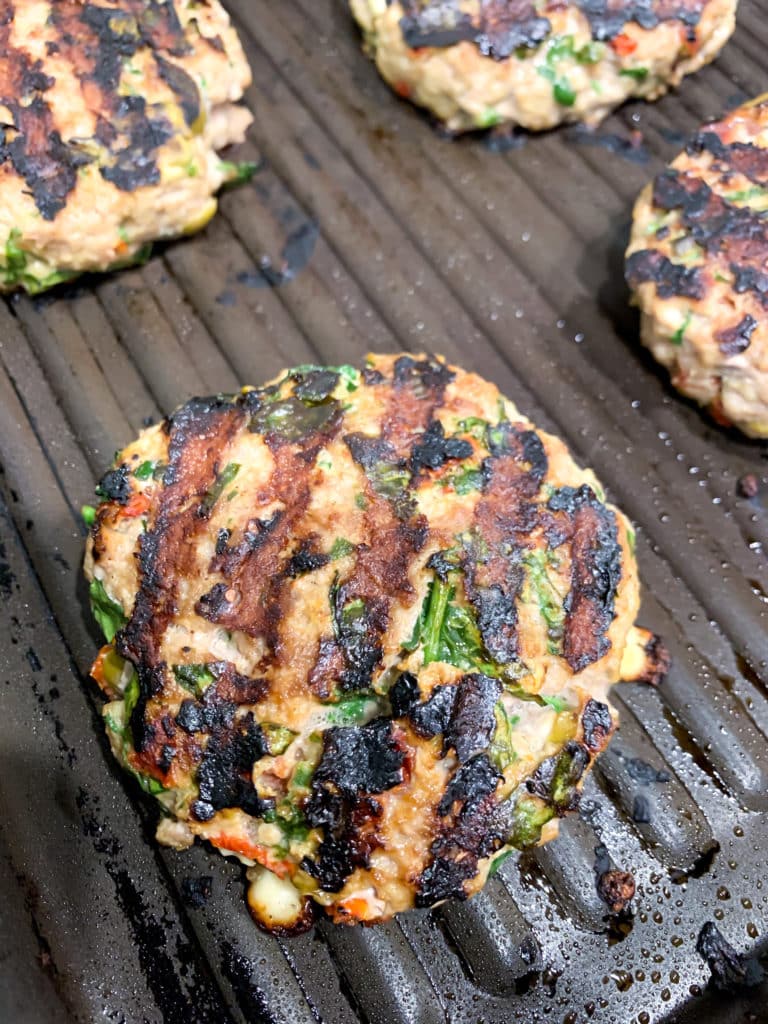 Well maybe a little extended vacay-mindset is what we're working with but that's okay. Anything to feel normal and happy is okay with me!!!!
So let's get down to brass tacks with these burgers. Do people still say "brass tacks" lol? I digress. We love Greek flavors in our household, especially salty bites of creamy feta and scoopable hummus, so I thought what better way to mix up our standard turkey burgers? I personally love the briny bite the chopped green olives bring to the mix but skip if the flavor is too strong!
As for the bunless part of the recipe — honestly I was out of buns haha but with the rich flavors of the burgers, you really won't miss them!! The creamy Greek yogurt sauce made them taste even more decadent.
Here's how you'll make the burgers:
Mix together flavorings with ground turkey meat.
Separate the meat into four even sections to create your patties.
Grill the patties on a skillet or grill pan to char, then cook through in the oven for 5 minutes.
Top with the spicy Greek yogurt sauce!
TIPS FOR MAKING BUNLESS GREEK BURGERS:
Start by mixing together all burger flavors (including the egg) minus the meat, adding it last to avoid over-mixing.
Preheat your oven to 350 degrees as soon as you start pulling ingredients out to start cooking.
Spray your pan well with cooking spray, even if it is a nonstick pan.
Cover your cooking sheet with tin foil or parchment paper for super easy clean up!
If using bread buns, toast in the same pan you grill burgers for extra flavor!
Hope you enjoy these patties with a taste of paradise!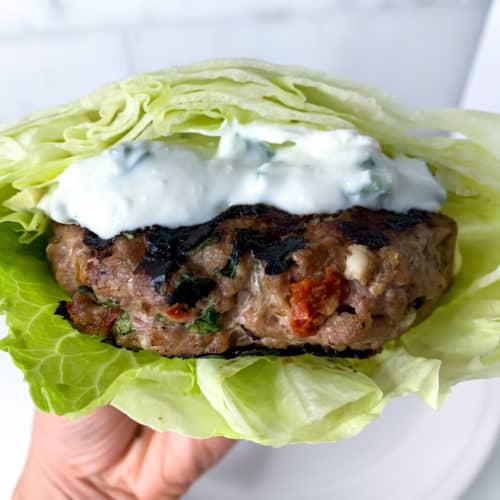 Bunless Greek Burgers
Taste the Mediterranean with turkey burger patties flavored with feta, sundried tomatoes, hummus and briny olives!
Ingredients
1

lb.

ground turkey

use thigh if possible (lean, not extra lean)

1

egg

½

cup

chopped spinach leaves

2

tbs.

chopped sundried tomatoes

2

tbs.

hummus

any flavor

2

tbs.

crumbled feta

I buy block feta

1

tbs.

chopped green olives or olive tapenade

optional

iceberg lettuce

for serving
spicy greek yogurt sauce
½

cup

Greek yogurt

I use 2% milkfat

¼

jalapeño

minced

1

clove

garlic

minced

1

tsp.

salt

½

tsp.

pepper
Instructions
Preheat oven to 350 degrees.

In a mixing bowl, combine all ingredients (including the egg) for burgers minus the ground turkey. Use a fork to break up the egg, then add in ground turkey and mix with hands. Be careful not to over-mix!

Segment the burger mixture into four even sections to create your patties. Pull one section out, roll into a ball and then shape into a patty about 1" thick. Place onto lined sheet pan and continue to create all four burgers.

Heat a skillet or grill pan sprayed well with cooking spray over medium high heat. Add all four patties to pan and cook for 3 minutes. Turn carefully and cook for another 2 minutes, then place pan into oven. Cook burgers for another 5 minutes in oven.

Remove burgers from oven and let rest for 5 minutes to allow juices to reabsorb! Meanwhile, mix together ingredients for spicy Greek yogurt sauce.

Top burgers with sauce and wrap with iceberg lettuce!