Another edition of LAZY GIRL eats! Roasted spaghetti squash, ground turkey, marinara, spinach and cheese combine for an easy weeknight low-carb meal.
By the end of the week, quarantined or not, I'm toast.
Fridays are reserved for staying in about 99% of the time. It takes some serious motivation to pull me off the couch and out of the house!
I love to cook on Fridays though, especially when we've been reserving our "fancier" pick up night for Saturday throughout our stay-at-home mandate (gotta have something to look forward to and if it's food it's food!). As long as the Friday recipe I'm cooking doesn't take forrreeevvvveeerrrr or require a lot of brain cells, I'm in.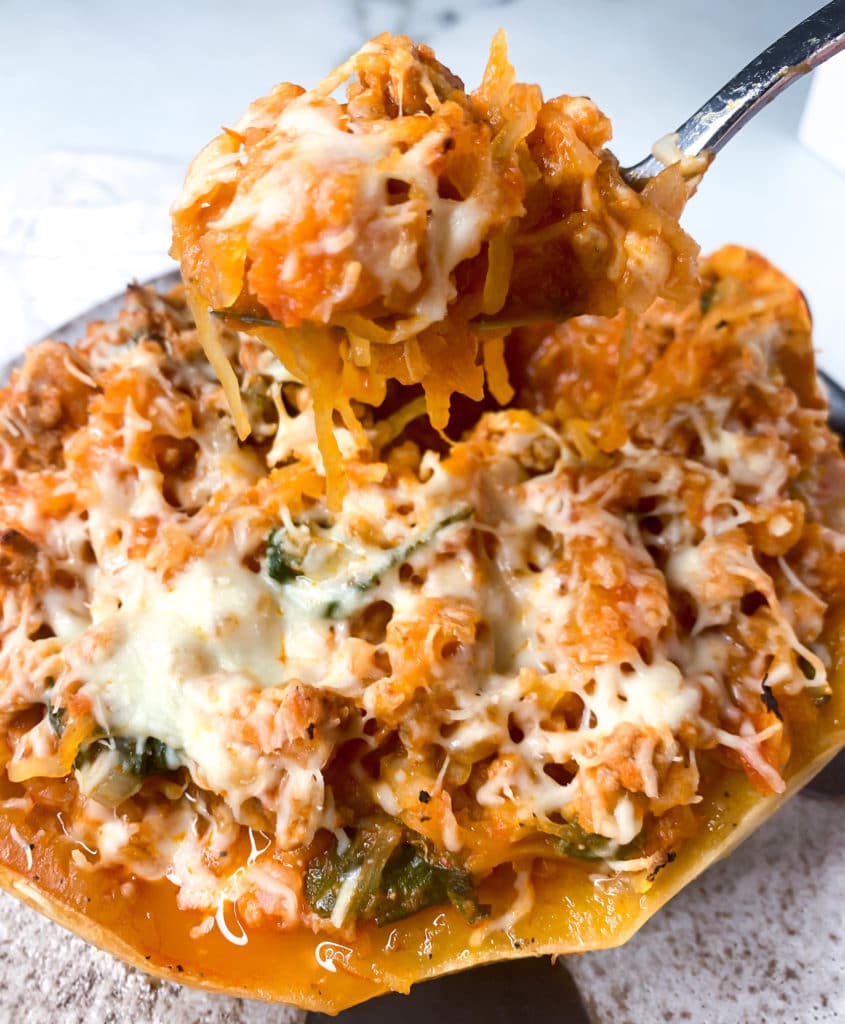 This lazy girl dish is more than just a means to an end though – it's a crowd pleaser! You'll need just five (ish) staple ingredients for this stuffed spaghetti squash:
Spaghetti squash
Ground turkey
Marinara sauce
Spinach
Cheese (mozzarella + parmesan)
Okay so six if we're getting technical but who's actually counting. Five just has a better ring to it! Also it's worth noting that I'm not including olive oil, salt, pepper or red pepper flakes in this equation because more likely than not, they're already sitting in your cabinet. Semantics.
If you know and love spaghetti squash then I'm preaching to the choir, but if you aren't as famil let me break this veggie it down: when roasted, the flesh of the squash produces pasta-like strands that look like spaghetti noodles. They have very little "squash" flavoring and make for a delicious low-carb substitute for the real deal.
So it's later on a Friday evening and I'm craving the couch (the white one now that you know my house from our home tour!), a glass of wine and a new show to binge (update: we've started Defending Jacob on AppleTV+ and it is great). I wanted to cook to use some more of our groceries from earlier in the week (still getting used to having a lot of food at once) but I had very low patience!
Enter: spaghetti squash. One of my favorite "set it and forget it" dishes since the squash takes just a second to prepare and then roasts for about 40 minutes. Meanwhile you make the 10 minute sauce and as soon as the squash is ready, so is dinner!
You'll make the Stuffed Spaghetti Squash by:
Roasting the seasoned squash for 40 minutes at 400 degrees.
Cooking your sauce by sautéing ground meat, spinach + marinara sauce.
Create spaghetti "strands" and mix with sauce.
Stuff your squash bowls and top with cheese!
TIPS FOR MAKING STUFFED SPAGHETTI SQUASH
The keys to success with this dish are a) well seasoned squash and b) a high-quality marinara sauce. Check these boxes and you're golden!
You can swap ground turkey for ground chicken, ground beef or even ground pork!
Same with the spinach — feel free to sub kale or even arugula.
You can roast your squash ahead of time – you'll only need 1/2 for this recipe so the other can be saved for another sauce.
I'm finishing up some leftovers as I type out this recipe and mmmmm do they taste good! I love when leftover pasta really soaks up the flavor of the sauce. Hope you enjoy this recipe!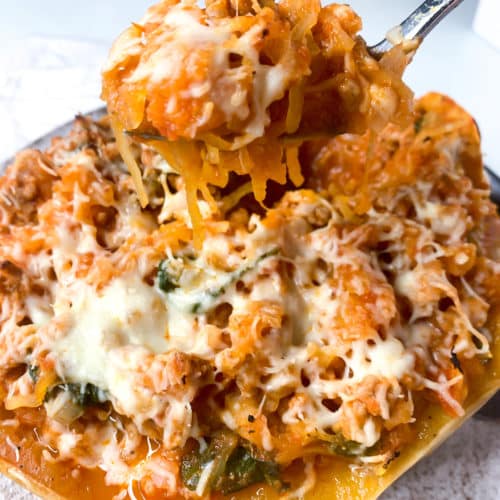 Five Ingredient Stuffed Spaghetti Squash
Roasted spaghetti squash, ground turkey, marinara, spinach and cheese combine for an easy weeknight low-carb meal!
Ingredients
1

spaghetti squash

cut in half lengthwise

1

lb.

ground turkey

1

jar

high quality marinara sauce

like Rao's

2

handfuls

fresh spinach leaves

¾

cup

shredded mozzarella cheese

divided

2

tbs.

parmesan cheese

grated, shredded or shaved

olive oil

salt and pepper

red pepper flakes

optional
Instructions
Roast spaghetti squash:
Preheat the oven to 400 degrees. Cut the squash in half lengthwise and scoop out seeds and anything slimy with a dining spoon. On a sheet pan lined with foil, drizzle each side with olive oil and sprinkle well with salt + pepper. Lay squash cut-side down on the pan and roast for 40 minutes.

When squash has finished roasting, remove from oven and flip the squash over to let cool. Take a fork and run from the top of the edge down to the center (with the grains) to create your strands.

Make sauce:

In a deep skillet over medium heat, warm 1 tbs. olive oil then add in ground turkey. Break up with wooden spoon as it cooks and season with 1 tsp each salt + pepper, plus a pinch of red pepper flakes.

When turkey is cooked, pour in marinara sauce and fold in spinach. Add 1/2 cup mozzarella and 1 tbs. parmesan cheese to mixture.

Add strands from 1/2 the squash to the sauce and mix altogether before stuffing the empty squash boat with the mixture.

Top with remaining cheese and broil to melt, about 5 minutes!