Salt and pepper beef and pork meatballs are glazed in a rich but lightened up gravy sauce poured over gluten free egg noodles!
The Sweeds know what is UP with their meatballs.
Not that I've ever been to Sweden – it's on the list. But I've been to IKEA. Not *quite* the same I'm sure… but THE MEATBALLS. Oh my they're heaven.
Now if you haven't had the pleasure of tasting IKEA meatballs post a modern furniture labyrinth then well honey, you haven't quite lived yet. LOL. But here's what you're missing: salt and pepper seasoned light and tender meatballs swimming in a richly flavored beef gravy, usually with some sort of noodles to bring the dish to life. Truly, I'm drooling just typing!!
But here's the thing — there's a LOT going into that sauce that makes it so scrumptious: butter, butter, flour, heavy cream, sour cream and some more butter just for that extra touch. I knew we could make a lightened up version of the gravy that would be just as satisfying!
Well not to toot my own Scandinavian horn but I think we've done it. It will require butter, just not a pound of it. You'll use a little flour for the roux… but we're going gluten free. And for the creaminess? Greek yogurt instead of sour cream. Easy, healthier swaps!
here's how you'll make these Lightened Up Swedish Meatballs:
Combine ingredients for the meatball mixture.
Form meatballs into 2″ rounds.
Brown meatballs in skillet for 2 minutes per side.
Cook pasta according to package directions.
Make gravy in the same skillet you cooked your meatballs.
Add noodles to sauce, place meatballs in noodles and top with garnish!
I think you'll find rolling the meatballs to be relaxing! I love doing a repetitious task while listening to a podcast or watching TV – you'll feel like it takes you no time. Hope you enjoy!
TIPS FOR MAKING LIGHTENED UP SWEDISH MEATBALLS
I used a combination of beef and pork for an authentic tasting meatball, but you could easily swap either (or both) for ground turkey for an even lighter dish.
Use any noodles you have on hand, just note the cooking time on your individual package and subtract two minutes for the noodles to finish in the gravy.
You can mix and roll your meatballs ahead of time and store either in the refrigerator or the freezer until ready to brown.
Feel free to swap out the butter for ghee or a non-dairy substitute. Same with the Greek yogurt!
Thank you for being an amazing reader of The Savvy Spoon! If you loved this post, I would so appreciate you rating it below and/or leaving a comment! Be sure to follow me on Instagram and Facebook for more recipes, twin mom and healthy lifestyle content!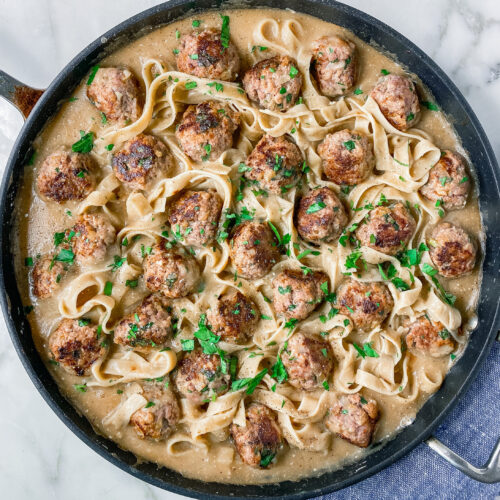 Lightened Up Swedish Meatballs
Salt and pepper beef and pork meatballs are glazed in a rich but lightened up gravy sauce poured over gluten free egg noodles!
Ingredients
¾

lb.

ground beef

I used 90/10%

¾

lb.

ground pork

2

egg yolks

3

cloves

garlic

minced

¼

tsp.

nutmeg

1

tsp.

salt

1

tsp.

pepper

⅓

cup

panko breadcrumbs

2

tbs.

parsley leaves

chopped finely

1

lb.

gluten free fettuccini noodles

olive oil
gravy sauce
3

tbs.

butter

3

tbs.

gluten free flour

I like Trader Joe's or Bob's Red Mill

3

cups

low sodium beef stock

⅓

cup

Greek yogurt

1

tsp.

kosher salt

1

tsp.

pepper
Instructions
Mix together all ingredients for the meatballs: ground beef, ground pork, egg yolks, garlic, salt, pepper, panko and parsley. Use hands to mix gently.

Use a tablespoon to measure meatball mixture. Scoop 1 tbs. of mix out and roll into a ball. Place onto a sheet pan lined with foil, then continue to form all meatballs. You should have between 25-30 total!

In a large skillet, heat 1 tbs. of olive oil. Place meatballs in pan and cook for two minutes before turning over carefully. Cook for another two minutes, then turn onto pink side. Cook for another two, then remove from pan back onto tin foil.

Meanwhile, bring a large pot of water to boil over high heat (it will heat faster with the lid on). Cook pasta according to package directions minus two minutes.

In the same skillet you browned your meatballs, melt 3 tbs. of butter over medium heat. Whisk in flour to create your roux. Slowly pour in beef broth while whisking to create your gravy. Season with salt and pepper then cook, whisking occasionally, until thickened – about 5 minutes.

Once sauce has thickened, turn heat to low. Stir in Greek yogurt and whisk until smooth.

When pasta has cooked, drain and place directly into thickened gravy. Place meatballs into pasta and sauce and cook for another 3-4 minutes. Top with chopped parsley and serve warm!