And Tips for perfect pan roasted chicken!
Gluten free chickpea orzo pasta is mixed with garbanzo beans, chopped cherry tomatoes, cucumbers, kalamata olives, shallots and avocado to create a deliciously hearty side or light main dish!
This is your new favorite (and embarrassingly easy) Greek-inspired side dish!
I love Mediterranean food — there's something so light and health-conscious yet deliciously satisfying about it. Add in pasta (a gluten free chickpea pasta, nonetheless!) and I am in heaven.
Orzo is just a rice-shaped pasta that cooks quickly and happens to go great with anything Greek. You can use any orzo you have on hand but I have been loving the Banza rice! It's made from chickpeas but tastes and feels just like orzo or rice and it's lower carb, higher protein and gluten free. Hard to beat!
Here's what you'll need to make my Chopped Greek Salad with Orzo:
Orzo
Garbanzo beans (aka chickpeas)
Cherry tomatoes
English cucumber
Avocado
Shallot
Jalapeño
Red wine vinegar
Salt and pepper
You'll chop all of your veggies up and place them in a mixing bowl with salt, pepper, vinegar and an optional drizzle of olive oil while the orzo cooks on the stove. Once you've cooked the orzo or rice, you'll rinse with cold water, let drain then add to the veggies!
Now for the simple pan roasted chicken…
It's super simple to cook boneless, skinless chicken breasts stovetop with the right pan, a timer and the right amount of heat underneath! Here are my tips:
Tips for perfectly cooked stovetop boneless, skinless chicken breasts
BRING TO ROOM TEMPERATURE. The colder your chicken is the more the oil will splatter when you place them into the pan which is SUCH a mess! Bring them to room temp which usually takes about 10-20 minutes.
SEASON WELL. Chicken is the most commonly eaten protein because it can be flavored millions of ways… because it's pretty stinking plain to start. It's amazing what a good pat of salt and pepper can do to bring out the juiciness of the chicken! I also love using paprika for a nice color and slightly zesty flavor.
OIL YOUR PAN. Yes, even a really good non-stick pan needs oil or at least a heavy hand of cooking spray! Heat your pan over medium heat, then add oil or spray and cook a minute longer before adding in chicken PRETTY SIDE DOWN. Always cook the smooth side of the breasts first!
NO TOUCHING! Once the chicken has been placed into the hot pan, don't move it or finick with it until it's time to flip over. This will help to create your nice crispy crust!
SIZE MATTERS. Ugh I know. This is what can make cooking seem daunting — these days there's not just one "normal" breast size so they'll cook for different amounts of time. Use this guide for timing: 2 breasts at 1/2 lb. each should cook for *around* 6 minutes per side, plus or minus depending on how hearty they are. The best thing you can do is try to purchase breasts that look equal in size to one another so they cook at the same rate!
REST IN PEACE. Once the breasts have cooked through, remove them from the heat and let them rest on your cutting board for at least 5 minutes before slicing. This time allows the juices to penetrate back into the chicken so it's moist, otherwise when you slice you'll have dry chicken sitting in a puddle of au jus.
I hope you find these tips helpful!
Thank you for being an amazing reader of The Savvy Spoon! If you loved this post, I would so appreciate you rating it below and/or leaving a comment! Be sure to follow me on Instagram and Facebook for more recipes, twin mom and healthy lifestyle content!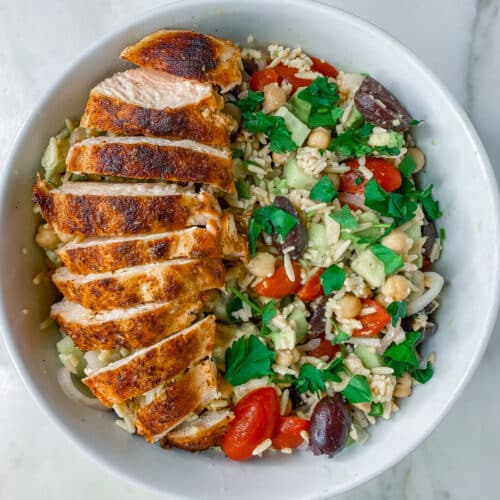 Chopped Greek Salad with Orzo
Gluten free chickpea orzo pasta is mixed with garbanzo beans, chopped cherry tomatoes, cucumbers, kalamata olives, shallots and avocado to create a deliciously hearty side or light main dish!
Ingredients
1

cup

orzo pasta

I used Banza chickpea rice

1

15-oz. can

garbanzo beans or "chickpeas"

1

pint

cherry tomatoes

halved

½

English cucumber

peeled and diced

1

avocado

diced

1

shallot

sliced thinly

½

jalapeño

deseeded and minced

3

tbsp.

red wine vinegar

kosher salt and pepper

drizzle of olive oil

fresh parsley leaves
Instructions
Bring a medium pot of water to a boil over high heat. Add a hefty pinch of salt then add orzo. Cook according to package directions then drain and rinse under cool water.

Meanwhile, chop all veggies and drain and rinse garbanzo beans placing everything into your serving bowl. Once orzo has cooled, add to the veggies.

Season with 1 tsp. salt and pepper each, red wine vinegar and drizzle of olive oil. Serve at room temperature or cool!