with Cauliflower Gnocchi!
You're just four ingredients away from this classic hearty Italian soup with a twist — cauliflower gnocchi!
I love when dinner comes together with just a handful of ingredients.
What's even better? A delicious, hearty, crowd pleasing dinner using LESS than a handful of ingredients — all in one pot.
Enter my Zuppa Toscana (which simply means "Tuscan Soup" in Italian) with cauliflower gnocchi! This brothy, meaty soup is made even more delicious with pillows of cauliflower gnocchi. Did I mention there's kale in this too? So basically it's a salad soup. Or something like that 😉
Many Zuppa Toscana recipes have lots of ingredients like kale, zucchini, cannellini beans, potatoes, celery, carrots, onion, tomatoes, toasted Tuscan bread, and rigatino, spices — you get the picture. And they're insanely delicious, don't get me wrong! But sometimes you just want things… faster. Easier. Simplified. And skinnied up too, while you're at it haha!
This recipe uses just four ingredients: chicken broth, kale, ground sausage + cauliflower gnocchi, to create a flavorful soup with texture and depth! You can add on to it with additional ingredients or enjoy it as is.
Here's how you'll make my 4 Ingredient Zuppa Toscana:
Brown the ground sausage (you can use turkey, chicken, or pork)
Toast the cauliflower gnocchi.
Bring the broth to a boil then simmer and add kale leaves.
Add sausage and gnocchi to finish!
Four steps, four ingredients, one pot and many happy faces around the table (or in the mirror!). Let's get to it!
Thank you for being an amazing reader of The Savvy Spoon! If you loved this post, I would so appreciate you rating it below and/or leaving a comment! Be sure to follow me on Instagram and Facebook for more recipes, twin mom and healthy lifestyle content!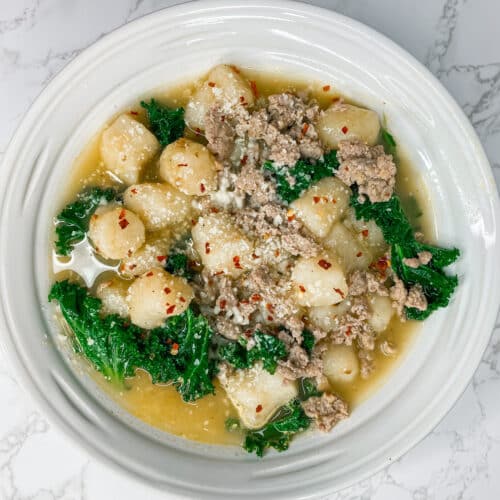 4 Ingredient Zuppa Toscana
You're just four ingredients away from this classic hearty Italian soup with a twist — cauliflower gnocchi!
Ingredients
1

lb.

uncooked turkey sausage links

can also use chicken or pork!

8

cups

low sodium chicken broth

2

cups

kale leaves

ribs (thick stems) removed

2

packages

Trader Joes frozen cauliflower gnocchi

olive or avocado oil for sautéing
optional toppings
red pepper flakes and grated parmesan cheese
Instructions
In a deep sided pot or dutch oven, warm 1-2 tsp. oil over medium heat then add uncooked sausage, removed from casings. Use a wooden spoon to break up into small pieces. When no longer pink, use a slotted spoon to remove sausage from pot. Set aside onto large plate.

In same pot, add 1-2 more tsp. oil then add the two packages of frozen cauliflower gnocchi in one even layer. Let cook for 2-3 minutes then flip over to toast opposite side. Once cooked, remove gnocchi from pot and place onto plate with sausage.

In the same pot, add the 8 cups of chicken broth and use wooden spoon to scrape up any brown bits left from the sausage and/or gnocchi. Bring to a boil then lower heat to simmer, adding in kale leaves.

Once kale has wilted (about 2 minutes), add in sausage and cauliflower gnocchi into the broth. Serve in bowls and optionally top with parmesan and red pepper flakes!