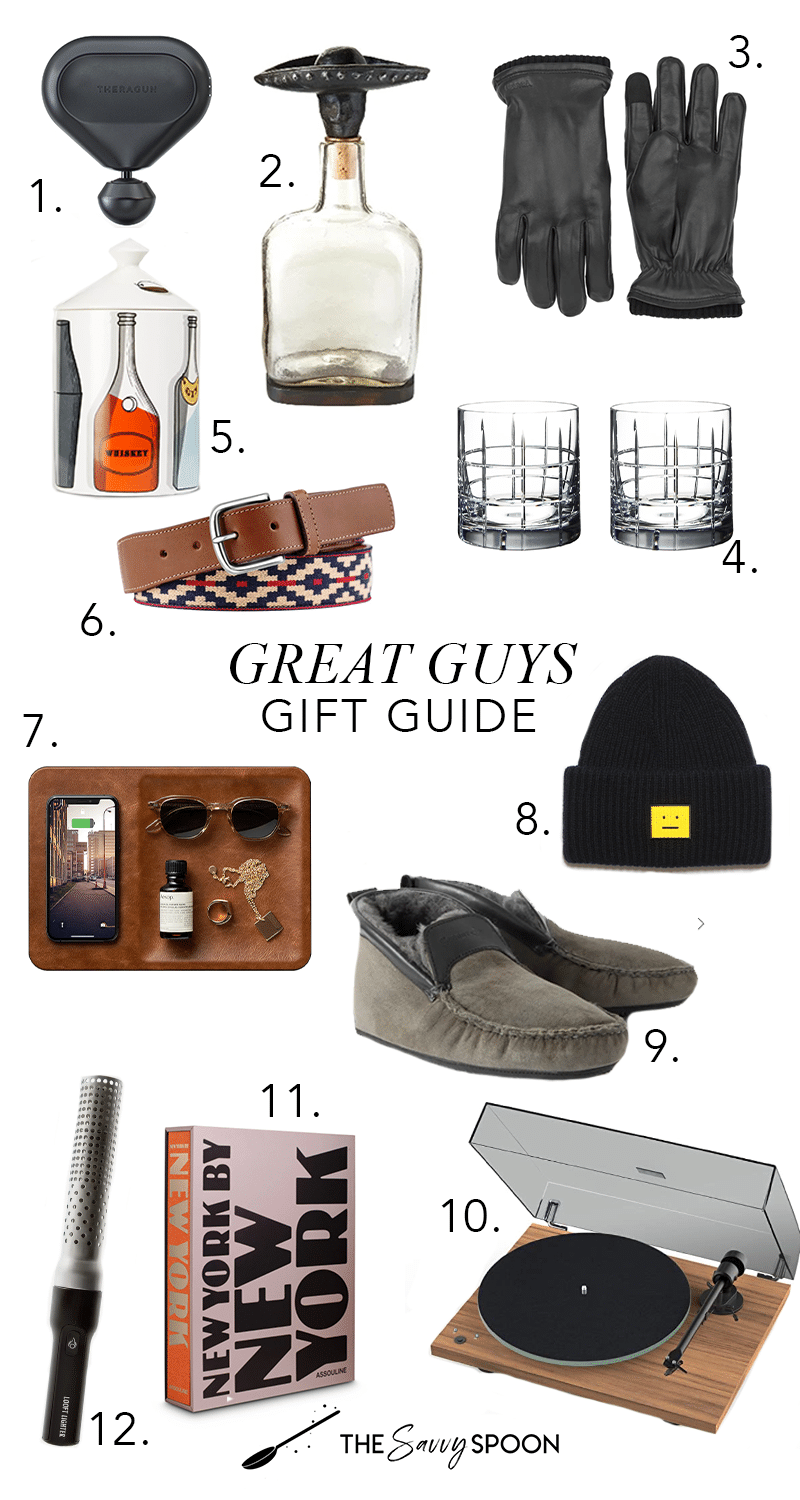 The Theragun Mini is not just for guys but loved by anyone who works out. It's small but mighty size relaxes muscles in a pinch!
If your guy loves a good cocktail, this Jan Barboglio Decanter can keep his spirits bright (and beautiful) on the bar.
Keep his fingers cozy and the phone accessible with these good looking Tech Finger Leather + Cashmere Gloves.
A pair of Gorgeous Cocktail Glasses are fun to pull out of the cabinet and even more fun to sip from.
Speaking of drinks, this handsome Cocktail Inspired Candle by Fornasetti looks great and smells masculine.
Ty loves his La Matera Woven Belt that jazzes up simple outfits with a little personality.
This good looking Leather Catch-all and Wireless Charger helps corral his trinkets while charging his phone without wires.
If your guys is a hat guy, this cute Acne Studios Wool Beanie feels Justin Bieber-esque and comes in lots of fun colors.
Everyone loves house slippers, even dudes! These High Top Slippers have a little more edge than your standard boat shoe look.
I had this on my gift guide last year and it's back because it's so good! If your guy has a Sonos system, this Sonos Record Player brings back the nostalgia of records but integrates seamlessly into his wireless speakers.
If your guy likes to read or enjoys travel, this New York Coffee Table Book would make a great gift (and is enjoyable to thumb through for you too).
Got a guy who grills? We have this Electric Firestarter and it's a game changer for getting the grill started quickly and safely. And what guy doesn't like playing with fire!? Lol.