I made this dish last night to eat while we finished @themorningshow (I mean woah that ending) and our bowls were perfectly comforting. not to mention it took right around 10 minutes for me to make!
I am so enjoying the sun staying out longer and getting to take early evening walks with Ty. it's crazy how many people are out and about (staying safely away from each other ha) between 4-6pm… the neighborhood is LIT with walkers
anyway we started making dinner a later than usual and because I needed the couch #stat I went with a stir fry – they cook up in no time! I LOVE coconut milk and the slight sweetness that it adds, balancing any spice out perfectly. I think the fresh basil adds a really nice brightness to the dish!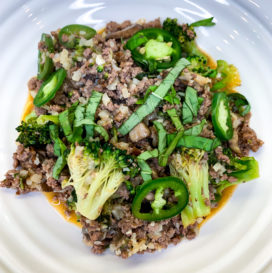 Coconut Basil Beef and Broccoli
Rich, flavorful with a hint of sweetness – you'll have a pantry-staple dinner ready in 15 minutes!
Ingredients
1

lb.

ground beef

can sub ground turkey

1

cup

chopped broccoli florets

1

cup

sliced crimini mushrooms

2

cloves

garlic

minced

1

tbs.

ginger paste or 1" knob ginger, peeled and chopped

1

tbs.

liquid aminos, coconut aminos or soy sauce

1

can

light coconut milk, shaken to mix

2

tbs.

chopped basil leaves

2

tbs.

coconut oil

2

tsp.

sriracha sauce

salt + pepper

sliced jalapeños, for serving
Instructions
Start by melting coconut oil in wok or deep sauté pan over medium high heat. then add in ground beef, using a wooden spoon to break up, and season with salt and pepper. cook until no longer pink, and then add in garlic and ginger paste, then cook for another minute.

Lower heat to medium and add in broccoli and mushrooms, tossing in. add in liquid aminos (or soy sauce), coconut milk and 2 tsp. of sriracha; bring to a boil then turn heat to low. let everything simmer, cooking the coconut milk down to a rich, thick sauce.

Once thickened, about 6-7 minutes, add in basil and fresh jalapeños before serving!

I served ours with some cauliflower rice I steamed separately with salt and pepper, but this would taste amazing over jasmine or brown rice!