This meal is giving me major 'Breakfast For Dinner' vibes.
To make our carbonara sauce we're using eggs and bacon — or in this case, prosciutto. I wasn't going back to the store because of some curing differences haha. We're working with what we've got these days!
Quarantining has really forced me to improve on my grocery shopping hauls. PQ (pre-quarantine) I was a "go to the store everyday" kinda gal. Well DQ (during) and AQ (after) I'm a changed woman!
Well a work-in-progress at the very least.
So when we ended up getting back to the house wayyyy past when I would normally start dinner (a detoured walk can really set your time back) I scrambled to find what I could whip up – WITHOUT running to the market like PQ me would.
I dug up some frozen cauliflower gnocchi from the depths of our freezer and realized I hadn't defrosted any meat… so into the depths of my refrigerator I went! I unearthed an opened, airtight package of prosciutto and I knew we could make something work.
A little pasta, some prosciutto, a couple eggs and some parmesan — fifteen minutes later we were plopped onto the couch with our big bowls of yum.
I love finding new ways to make cauliflower gnocchi because it really is such a blessing to have in the freezer, tucked away for those nights that you just don't have much in you!
TIPS FOR MAKING CAULIFLOWER GNOCCHI
For every recipe, regardless of the sauce, I sauté the gnocchi in olive oil for a few minutes each side FROM FROZEN until golden browned.
I find it best to season the gnocchi as it softens in the pan, rather than while it's frozen or later when it's fully cooked.
The gnocchi will always continue to cook in your sauce, so take be mindful. You don't want to overcook them or they'll turn to mush.
I hope you enjoy this simple yet incredibly satisfying cauliflower gnocchi recipe!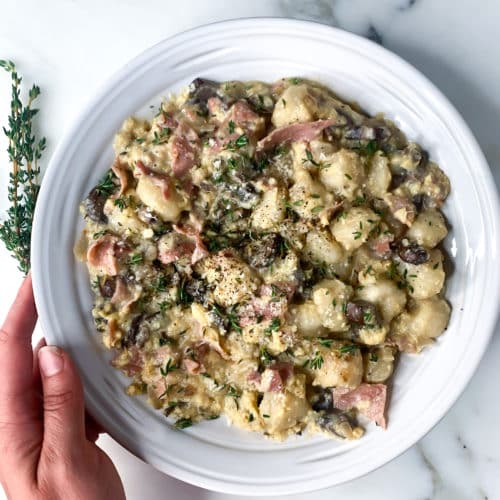 Cauliflower Gnocchi Carbonara
Creamy, cheesy and elegant, this cauliflower gnocchi dish whips up in 15 minutes and is packed with flavor!
Ingredients
1

package

frozen cauliflower gnocchi from Trader Joe's

2

eggs

whisked

½

cup

grated parmesan cheese

plus more for serving

6

crimini mushrooms

chopped (optional)

2

cloves

garlic

minced

1

shallot

minced

½

cup

chicken stock

4-6

slices

prosciutto

chopped

fresh thyme leaves

for serving
Instructions
In a non-stick pan, heat 2 tbs. olive oil. Add frozen gnocchi and cook for 2 or so minutes per side or until golden. Season with salt and pepper while they cook. When done cooking, remove them from pan and set aside.

In the same pan over medium low heat, add minced garlic, shallot and chopped mushrooms. Cook until soft, about 3 minutes.

Meanwhile, in a bowl combine the whisked eggs and the grated parmesan cheese. Mixture will be thick!

Add the chicken stock to the pan then turn off the heat. Slowly pour in egg/cheese mixture, using a spoon to stir and create your sauce. Mix for 1-1.5 minutes, then add gnocchi back to pan, along with the diced prosciutto, and continue to stir to coat.

Top everything with fresh thyme leaves and more parmesan!