Summer on a stick!!
I LOVE pineapple. I've been known to crush containers of the fruit on the reg and will eat the sweet and sour pieces until my tongue feels funny because I can't. get. enough. So when I figured out that grilling pineapple creates this insanely intensified flavor, there was no turning back.
Grilling fruit might feel like a weird concept but just like veggies, their flavor concentrates with heat. Add a little char onto the sweet slices and you've got a whole new enhanced flavor!
We love eating kebabs in the summer but to be honest, grilling uneven chunks of chicken and beef can prove to be difficult. Unless the dices are PERFECTLY symmetric, it's tough to cook all the pieces at the right temperature and for the right timing without leaving some pieces under or over done. That's where shrimp comes in handy!!!
Shrimp already cooks at lightening speed and is inherently consistent in size, which makes grilling them basically foolproof. Pair up your juicy shrimp with sweet grilled pineapple and you have a crowd pleaser!
Also — no grill? No problem!! I know a lot of people either can't have a grill at their place or just don't feel comfortable using one which is totally okay. A sauté or grill pan on the stove will do the trick. All you really need is heat!
Here's how you'll make Teriyaki Shrimp + Pineapple Kebabs:
Soak kebab sticks in water for 30 minutes (if grilling over flame).
Marinate your shrimp for 10-15 minutes in teriyaki soy marinade.
Thread on pineapple cubes on a few kebabs and shrimp on the others.
Grill to perfection!
We served our kebabs with a creamy pearl couscous that helped soak up every last bit of flavor from the shrimp and pineapple — I HIGHLY recommend! Anything starchy will help catch all the drippings from the kebabs creating perfect bite after perfect bite!
Thank you for being an amazing reader of The Savvy Spoon! If you make this recipe and love it, I would so appreciate you rating it below. Be sure to follow me on Instagram and Facebook for more recipes, workouts and lifestyle content!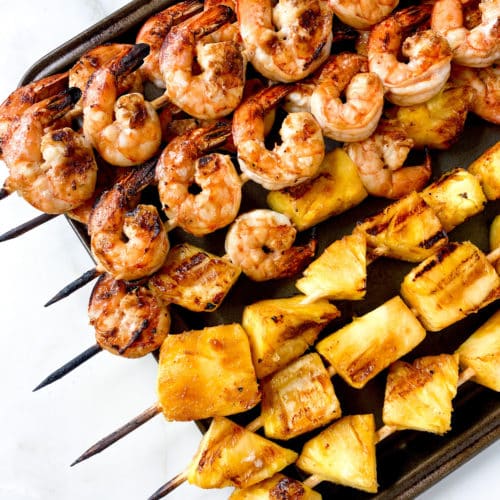 Teriyaki Shrimp + Pineapple Kebabs
Juicy teriyaki-marinated shrimp and sweet + sour pineapple are grilled to perfection to create a quick dinner!
Ingredients
1

lb.

peeled + deveined shrimp

rinsed and dried

2

cups

pineapple chunks
teriyaki marinade
¾

cup

teriyaki sauce

¼

cup

liquid aminos, coconut aminos or soy sauce

1

tbs.

minced ginger

1

clove

garlic

minced

1

tbs.

sesame oil
Instructions
Place all kebab skewers onto a cookie sheet and cover in water. Place something heavy onto sticks to submerge them and let soak for 30 minutes. You can skip this step if you're cooking on the stove!

Pat shrimp dry and season with salt and pepper. Place all ingredients for marinade into a medium bowl and whisk to combine. Place shrimp in bowl and put bowl into refrigerator for 10-15 minutes.

Start by threading the pineapple cubes onto skewers (using up to 5). Then thread shrimp by skewering from above the head through above the tail. Continue with the rest of the shrimp and place all kebabs onto (dry) cookie sheet.

If using a gas or charcoal grill, heat over medium high and spray wiht canola oil. Place shrimp and pineapple onto grill. Cook for about 4-5 minutes per side for shrimp or until shrimp is pink and plump. Grill for a few minutes a side for pineapple, just until you create some char marks on each cube.

If working on stovetop, use a sauté or grill pan and heat over medium high heat (turn oven fan on). Spray with cooking spray and cook for 4-5 minutes per side for shrimp or until shrimp is pink and plump. Cook for a few minutes a side for pineapple, just until you create some char marks on each cube.

Let shrimp and pineapple cool slightly before serving!