On Wednesdays we EAT GREEK!
If you didn't read that with Mean Girls in the back of your mind then you probably have better taste in movies than I do. But I digress.
Okay! Today we're talking Greek Yogurt Marinated Chicken Pitas. First, we must talk about PITAS. Even the word "pita" evokes a strong fuzzy feeling inside. Warm, fluffy, soft, squishy, doughy bread. Knead I say more?????
(Yes, that was a bread joke. This, perhaps sadly, is who I am.)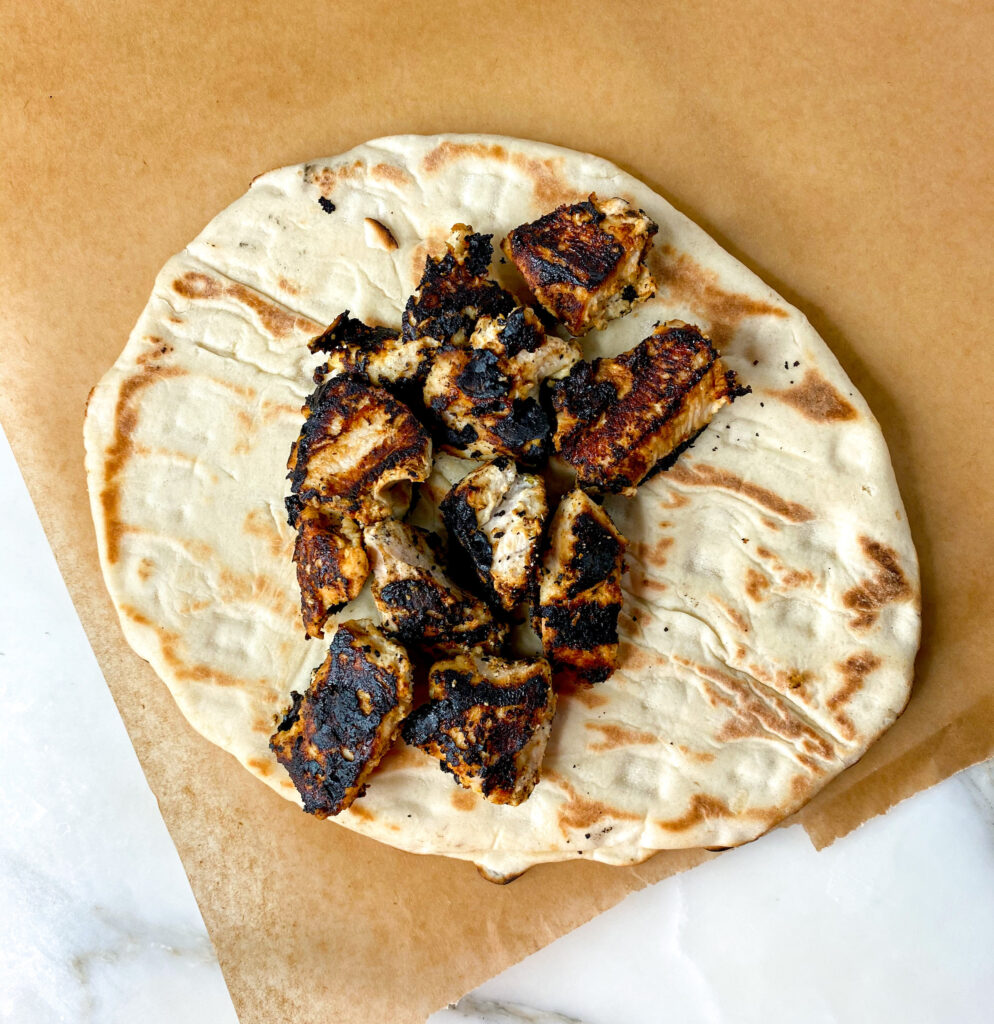 Now changing gears to this chicken… why marinate in yogurt, you ask?
Well the acids in yogurt (and trusty lemon juice!) help to break down toughness in the chicken meat, tenderizing and juicifying (not a word but roll with me) each bite by increasing the water content. Acid does some serious work to soften meat on a molecular level! Nerdy? Yes. Tasty? YAS.
Grilling the already tender chicken adds amazing charred flavor, even just grilling on the stove top. Top everything off with garlicky, cucumber greek yogurt sauce and you have an explosion of flavor!
So let's get to it.
You'll make these Greek Yogurt Marinated Chicken Pitas by:
Marinating the chicken for 30 minutes (or longer).
Mixing together ingredients for the tzatziki sauce.
Slicing your desired toppings.
Grilling your chicken on a grill pan.
Creating your perfect pitas!
No grill/grill pan? No problem! Use a sauté pan and cook for the same amount of time. You won't get the same char marks on the chicken but you'll still create a nice deep flavor!
On a no bread kick?? #swimsuitszn I get it. Make a Greek bowl instead! Layer chicken onto dressed greens and top with cucumbers, shallots and plenty of tzatkizi sauce!
MORE GREEK-INSPIRED RECIPES:
Hope you enjoy every juicy bite!
Thank you for being an amazing reader of The Savvy Spoon! If you make this recipe and love it, I would so appreciate you rating it below. Be sure to follow me on Instagram and Facebook for more recipes, workouts and lifestyle content!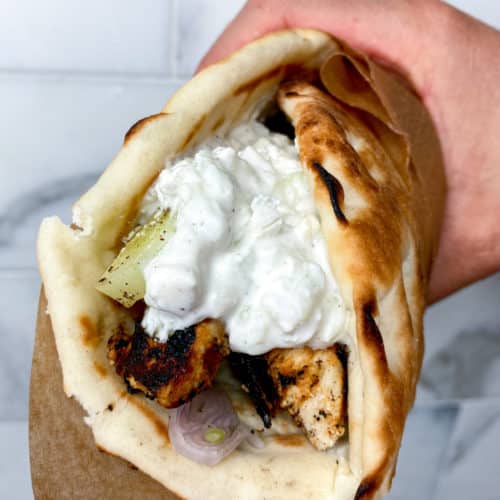 Greek Yogurt Marinated Chicken Pitas
Juicy chunks of chicken marinated in tangy greek yogurt are grilled and stuffed into a doughy pita and topped with creamy tzatziki sauce!
Ingredients
2

boneless, skinless chicken breasts

diced into 1" pieces

1

cup

full-fat or 2% greek yogurt

½

lemon

juiced

3

tbs.

olive oil

2

tsp.

dried oregano

1

tsp.

salt

1

tsp.

pepper
for serving
warm pita bread, sliced cucumbers, sliced shallots or red onions, feta cheese crumbles, tzatziki sauce (recipe below)
tzatziki sauce
1

cup

full-fat or 2% greek yogurt

1

clove

garlic

minced

½

English cucumber

peeled + grated

1

tbsp.

feta cheese crumbles

1/8

tsp.

each of salt + pepper
Instructions
Mix together 1 cup greek yogurt, 1/2 lemon juiced, 3 tbs. olive oil, 2 tsp. dried oregano in a mixing bowl. Season diced chicken with 1 tsp. salt + 1 tsp. pepper, then add to marinate. Place into refrigerator for 30 minutes (up to 4 hours).

If making tzatziki sauce: start by placing the grated cucumber onto a clean kitchen towel. Wrap it up and wring it out over the sink to try and remove as much liquid as possible. Then add to a bowl with remaining tzatziki ingredients. Place into refrigerator.

Slice cucumbers and shallots. Wrap bread in damp paper towels and put into microwave (don't heat just yet).

When chicken has marinated for at least 30 minutes, pull from refrigerator. Prep your grill pan by heating on the stove over medium high heat and spray with cooking spray. When hot, take tongs and place chicken pieces on pan, giving each piece space. Grill for 3-4 minutes, then flip pieces and grill another 3-4 until chicken has cooked through.

Let chicken cool slightly while you heat pitas for 30 seconds in the microwave. Layer pitas with a few pieces of grilled chicken, cucumber and shallot slices and tzatziki sauce. Top with feta cheese crumbles and enjoy warm!