Restaurant Guide + Hikes & Activities
This post was updated August 2022!
Ahhhhh Aspen. What a treat you are. A fashionable, foodie paradise nestled up in the Rockies with the most unreal scenery and unlimited fun. Most people might think of snow covered peaks and fur-lined parkas when they imagine the city, but Aspen in the summer truly has my heart. Warm days, chilly nights and endless activities (hiking, biking, stand up paddle boarding, white water rafting, paragliding, camping… not to mention the eating drinking shopping!!) you really can't go wrong with a few well deserved days in Ute City.
Ty and I were lucky enough to spend ten magical days in Aspen this summer and if not for our people in Dallas you might be calling us locals LOL. The locals might think slightly differently about the August Texas Invasion of their city but when an 85 degree day sounds like a cold front, you have to understand why we escape! So let's get to it.
We'll start first with food as for us, it really is what sets Aspen apart from other perfectly great Colorado towns. We haven't been everywhere, so you will see places missing — please add your faves in the comments so this post can be a massive resource to anyone headed!
TO EAT + DRINK
(in alphabetical order)
Acquolina Italian, upscale casual, great for lunch or dinner, $$-$$$
Acquolina has one of the most extensive pasta menus I've ever seen and is truly a truffle-lover's paradise! Right now they have a big, extended patio (thanks, coronavirus) with lots of umbrellas to protect your shoulders from the strong mountain sun. We've always had great service and usually eat here on a more casual night when we still want a good glass of wine!
TSS ORDER: Prosciutto and Jamon, Anneli Calamari, Colorata Salad, any pasta with FRESH shaved truffles!
Ajax Tavern American Bistro, casual, great for lunch, $$-$$$
You've seen the pics — Ajax Bistro sits right at the base of the Ajax Mountain gondola and are known for their EPIC truffle fries and happy yellow Veuve-Clicquot branded umbrellas and wine buckets. This is our favorite first stop in Aspen – there are tons of tables, lots of umbrellas, a wide variety of dishes (but really you must try the burger) and always great people watching. It's a celebrity fave too – always a bonus.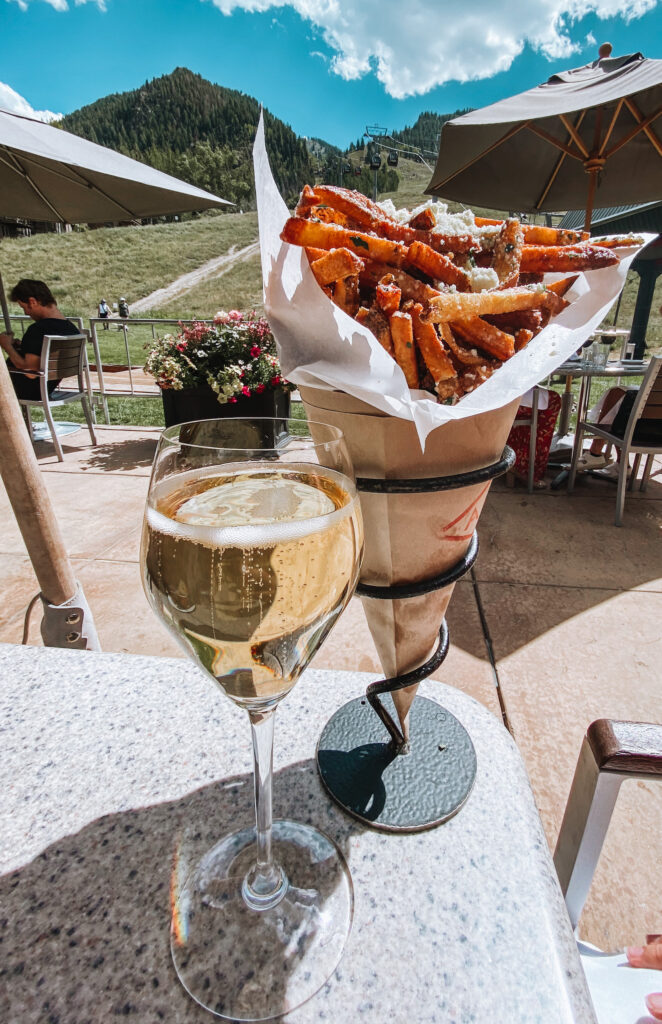 TSS ORDER: Glass of Veuve Clicquot, Ajax Burger with Lettuce Wrap and Kale Caesar, Truffle Fries for the table
>>>>> SPECIAL FOR SUMMER 2020: Dinner + A Movie at Ajax Tavern! K this was seriously insane. Imagine looking up at the mountain, cozied up with a blanket sipping champagne and watching an old fave like Jurassic Park… I die! Ty and I did this on our last night and it was quintessential Aspen: a bottle of Veuve champs, a bucket of fried chicken, kale slaw, potato salad, brownies and popcorn for $150. One of our most favorite memories for sure!!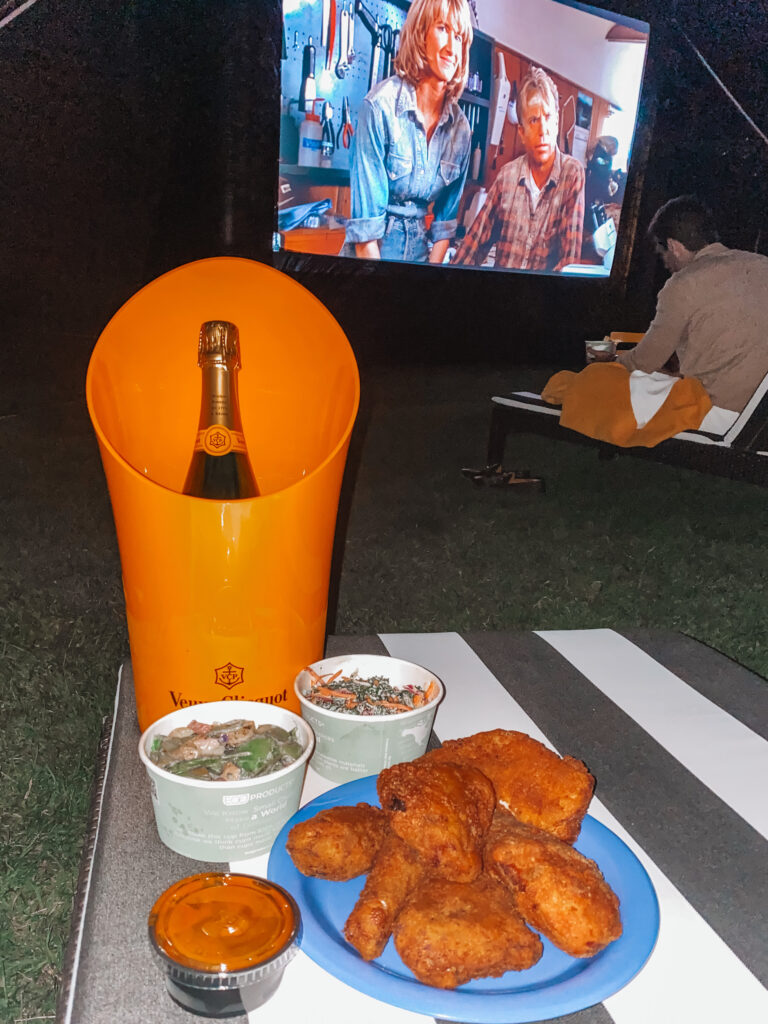 Betula French-inspired, super swanky, fun DJ, sunset views, great for dinner or just fun pre or post din drinks, $$$
Best way to describe Betula is VIBEY. You'll be wiggling in your seat as you dance to the fun DJ that's not too loud or obnoxious. You'll be sipping a hand crafted, creative cocktail while you nibble on tuna tacos and burrata with beets. Order whatever their specials are – you can't go wrong. Their website describes Betula as "a cozy-chic sensory experience" and while that might not say much about the food, it is just about perfect.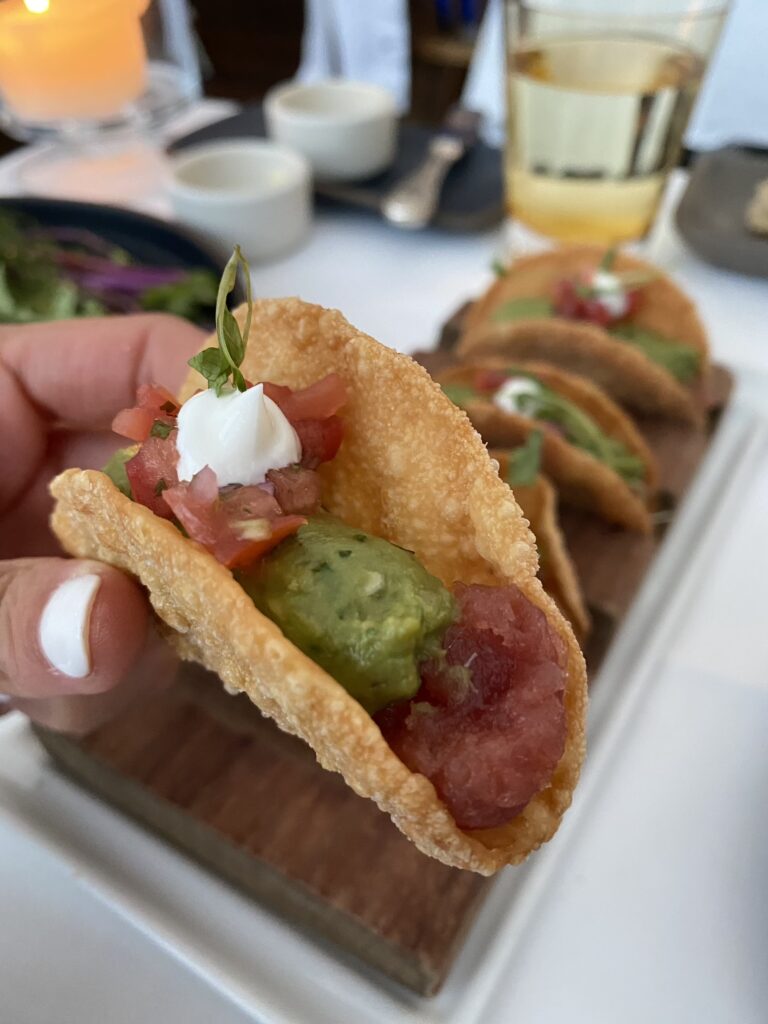 TSS ORDER: Hamachi Tiradito, Tuna Tacos, Peach + Tuscan Green Salad, Halibut Special, Warm Caramelized Apple Napolean
BIG WRAP Wraps, Bowls and Salads, To-Go Food, Great Prices, $
We tried Big Wrap and absolutely loved it! It's a little cash-only spot downstairs right by the gondola and truly seems like a hidden gem. We couldn't believe the prices and the $8 wrap was a relief from our pricier dinner the night before. We got our wraps with chips and salsa to-go and picked up a bottle of rosé before posting up in the park to eat and people watch. Couldn't recommend more!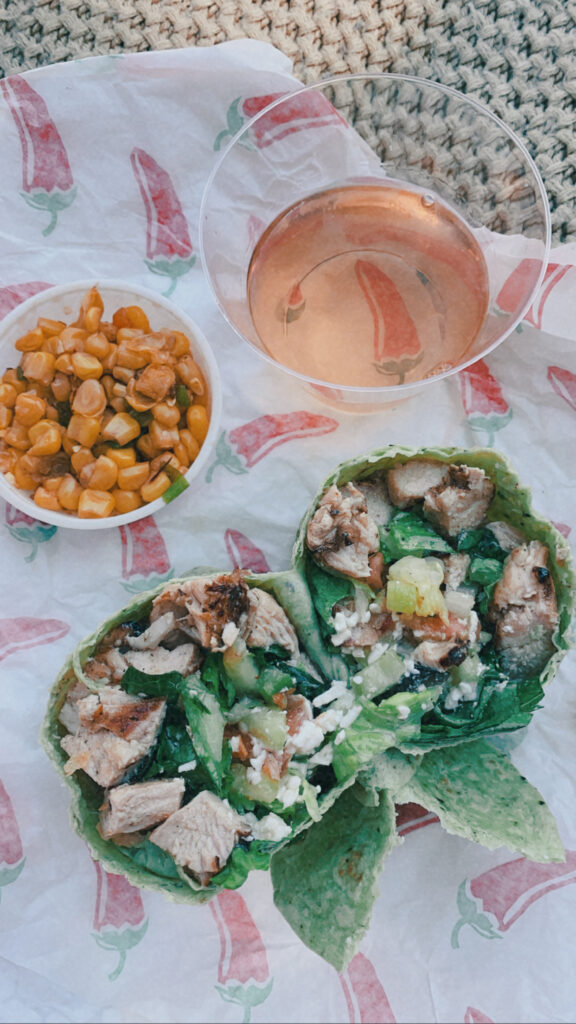 TSS ORDER: Garden Of Eden Wrap no quinoa, To Thai For Wrap no rice, chips and salsa
Butcher's Block Gourmet market, TO-GO FOOD, Great sandwiches, $-$$
If you're planning to be in Aspen for an extended time and you have a kitchen, you'll probably be hitting up Butcher's Block more than once – their selection of meats, fish and gourmet market finds (think chanterelles and saffron) is a foodie's dream. On the right side of the market, you'll find the sandwich counter – don't sleep on these sammies!! They are absolutely perfect for packing if you're doing a longer hike and want to have lunch on the go. Dallas friends — think of this as your Aspen Eatzi's sandwich counter!
Pro tip: get your condiments on the side and dress your sammy on the hike to avoid any mushiness. Oh and their horseradish might make you cry.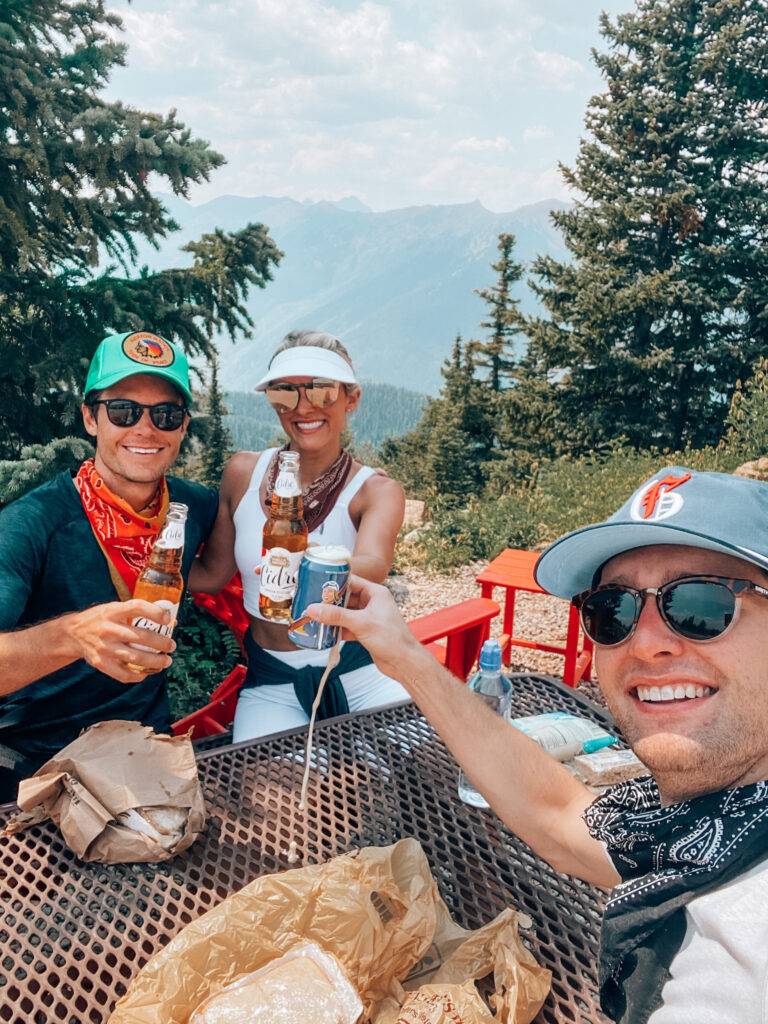 TSS ORDER: Make Your Own Sammy with multigrain, honey maple turkey, pepper jack cheese, horseradish, lettuce, onions and dijon mustard on the side
Campo di Fiore Italian, upscale casual, big patio, Good for Groups, celeb mecca, $$-$$$
Campo was the first restaurant I ever ate dinner at in Aspen so it holds a special place in my heart. The food is great but the espresso martini is INCREDIBLE. Not to mention we ate next to a big table of cute guys in a little known group called The Chainsmokers and a couple tables away from Goldie Hawn – pretty epic. Definitely sit outside as the inside vibe (just due to COVID) is a little quiet. The bartender will take care of you and you won't have a bad bite! Great for small or big groups.
TSS ORDER: Espresso Martini, Insalata Pesca, Calamari Fritti, Papardelle Bolognese, Risotto Tre Funghi
Casa Tua Italian, Upscale Casual, Big Patio, Cozy Vibes, Great for Couples or Small Groups, $$-$$$
On paper Casa Tua and Campo look very similar, but Casa Tua has a romantic, cozy element that made our date night dinner so special whereas Campo is the perfect big group spot. At Casa Tua, our service was great, the Espresso Martini was my favorite in town and I can still taste the burrata pasta with chewy guanciale. Sit on the front patio under the string lights and watch the busy town from your chic table. I haven't been for lunch but it is always busy then too – you really can't go wrong!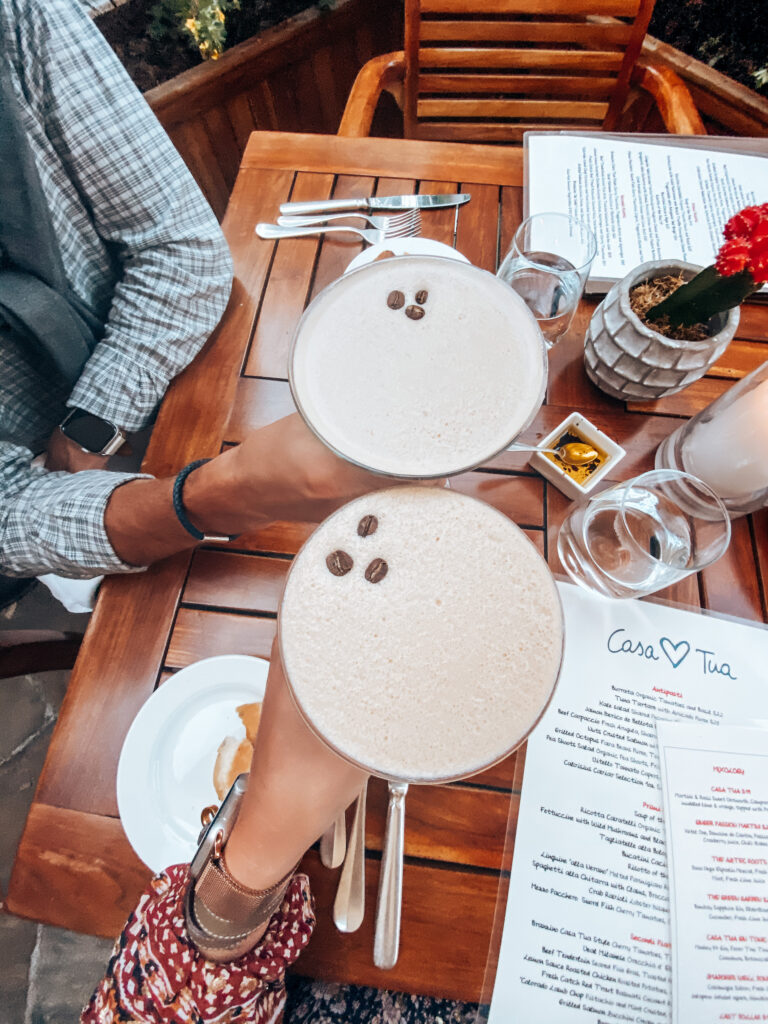 TSS ORDER: Espresso Martini, Tuna Tartare, Pasta Special (it will be amazing), Halibut Special or Fresh Catch Red Trout
Catch Steak

Lighter, brighter take on the classic steakhouse experience, Indoor/Outdoor, $$$-$$$$
New to Aspen in 2022! If you have ever been to Catch in LA or NYC, you'll love their Colorado outpost just as much! The vibes are GOOD with fun music, dim lighting, very chic atmosphere and fun waiters. Oh and the food? Insane. I love getting to eat sushi and steak in the same meal!! Drinks were delicious as well – we tried their dirty martini called Talk Dirty To Me (which comes with truffle blue cheese olives omg) and Passion Project, their citrusy tequila drink we loved!
TSS ORDER: Pacific Hamachi Crudo, Blue King Roll, Catch Roll, King Salmon Rice Cakes, 6 oz. Dry Aged Prime Rib Cap
Clark's Aspen American Oyster Bar, Upscale Casual, Great Outdoor Seating, $$-$$$
Clark's is so good we went for dinner with friends and then back for lunch on Ty's birthday! Inside you've got cozy oyster house vibes with lots of natural light and waiters in cute striped aprons. Outside you've got tables and lounge seating covered by bright yellow umbrellas. The spicy marg was delicious and I couldn't have been more satisfied by my buttery burger and blue point oysters. Dallas friends – think Hudson House + Up On Knox with a hint more Colorado.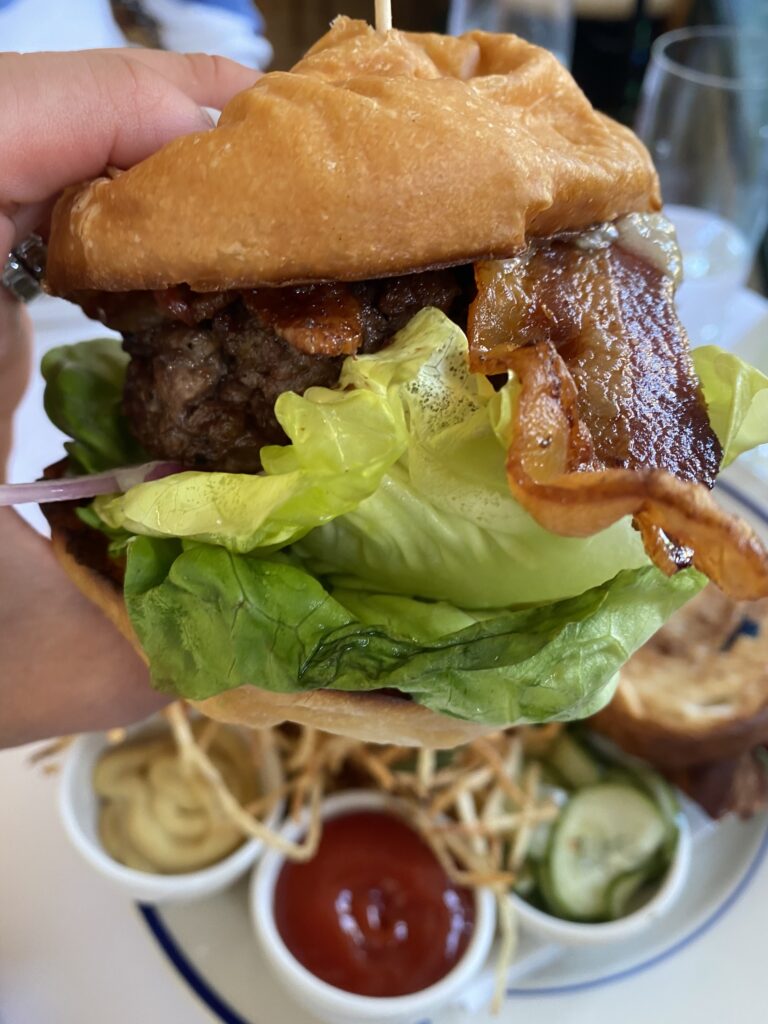 TSS ORDER: LUNCH: Rosé, Pan Roasted Black Angus Burger, Washburn Oysters // DINNER: Spicy Margarita, Crab Cake, Shells and Cheese with Lump Crab
I was so excited to get to try Creperie this trip and it did not disappoint! Ty and I went for dinner just the two of us and shared the mussels, cheese fondue, steak la plancha (grill your own juicy steak pieces) and a nutella strawberry crepe that dreams are made of. The vibe is cozy chalet chic and there is a TON of outdoor seating (not sure if it was there pre-COVID or not but it looks v established). I was told lunch is great too – the paninis look scrumptious – but we had the best time for dinner!! A true experience.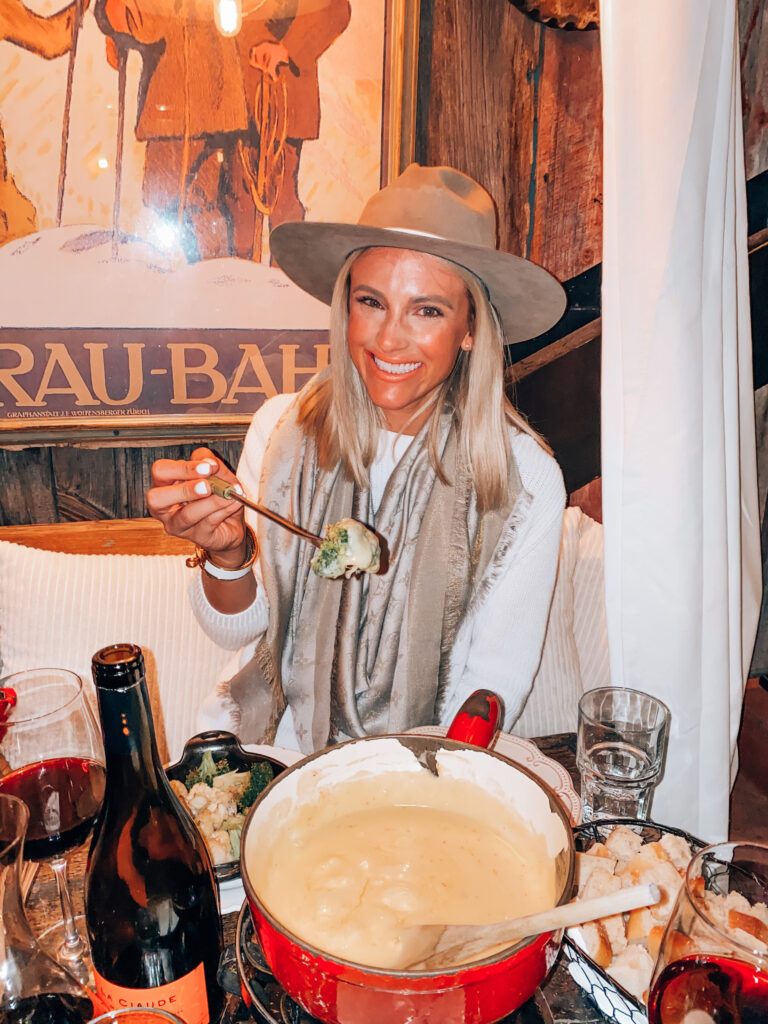 TSS ORDER: Moules Frites, Cheese Fondue (for one to share), Steak a la Plancha (for to one to share), Nutella Dessert Crepe
J Bar at Hotel Jerome Outdoor Patio Bar, Great Music, Fun cocktails, yummy Snacks, $$
We loved going to J Bar before dinner so much we ended up there three times this trip! It's all outdoors right now and has a ton of seating with great tunes playing in the background. I liked the mix of tables and lounge seating – we never ended up waiting on a place to sit either! Loved my Aperol Spritz and spicy marg here.
TSS ORDER: Aperol Spritz, Spicy Margarita
Jing Asian Fusion, Sushi, Upscale Casual, Friendly Staff, Big Patio, Great for Lunch or Dinner, $$-$$$
We made our first trip to Jing based on a few friend recommendations and it did not disappoint! They've newly revamped their name, menu and vibe and I'm here for it. We sat inside VERY socially distanced from other tables and enjoyed the vibe. The Aspen Roll was one of my favorite bites of food the entire trip!! The owner, Frank, was very fun and social with all the tables and teed us up for a (unneeded) sake bomb. Too fun.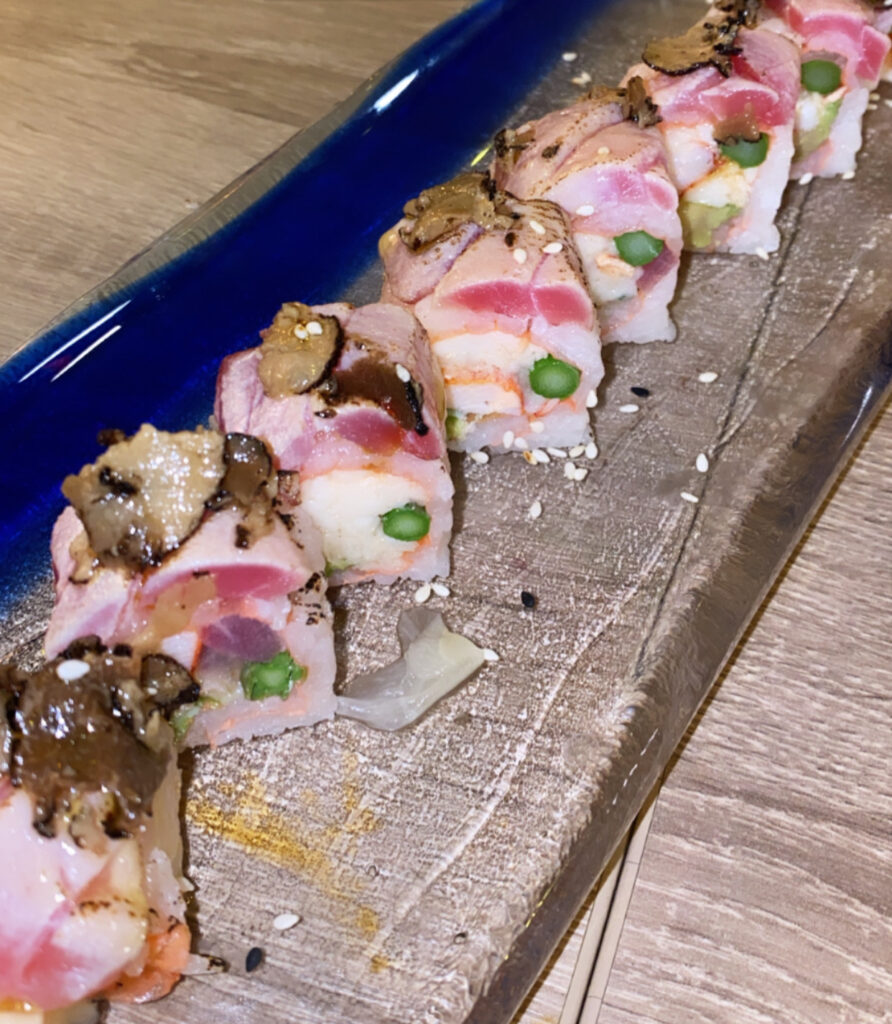 TSS ORDER: Miso Black Cod Prawn Dumplings, Pork Soup Dumplings, Spicy Tuna with Crispy Rice, Frank's Truffle Kale Fried Rice, Aspen Roll, Surf and Turf Roll
Matsuhisa Asian Fusion, Sushi, Upscale, Upstairs/Outside Only, Nobu Family, $$$
If you follow me on Instagram you might have seen my post regarding our not so amazing experience with the staff at Matsu — we were really disappointed in the service from a Nobu restaurant that we've eaten at probably the most out of any other restaurant in Aspen! I'm going to chalk it up as an anomaly and let the food shine because man, does it ever. Thank gosh. You'll find Nobu favorites and fun cocktails here – just sit outside if you can and disregard any snootiness. Just close your eyes and taste that Tiradito melt in your mouth!!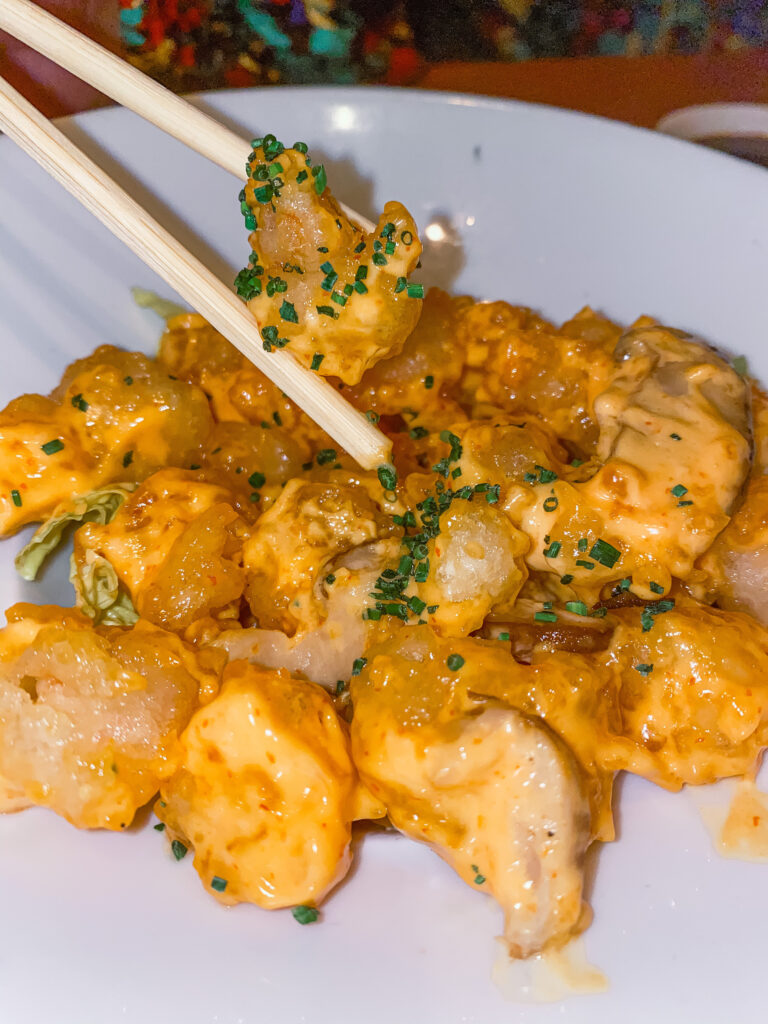 TSS ORDER: Spinach Salad (with or without grilled shrimp), White Fish Tiradito, Shishito Peppers, Tempura Rock Shrimp with Creamy Spicy Sauce (get the butter ponzu on the side!), Cruncy Tuna Roll and Dynamite Roll
Meat and Cheese Casual, Charcuterie + Sandwich Spot, Market, Great Patio, $$
Meat and Cheese is one of our favorite lunch spots in town — their boards and sandwiches never disappoint and they always have great special menu items. We like to sit outside and order a cheese board or the rotisserie chicken board (depending on our hunger levels) with a glass of rosé or a spritz! They also have great snacky items to-go if you're into a picnic in one of the many parks.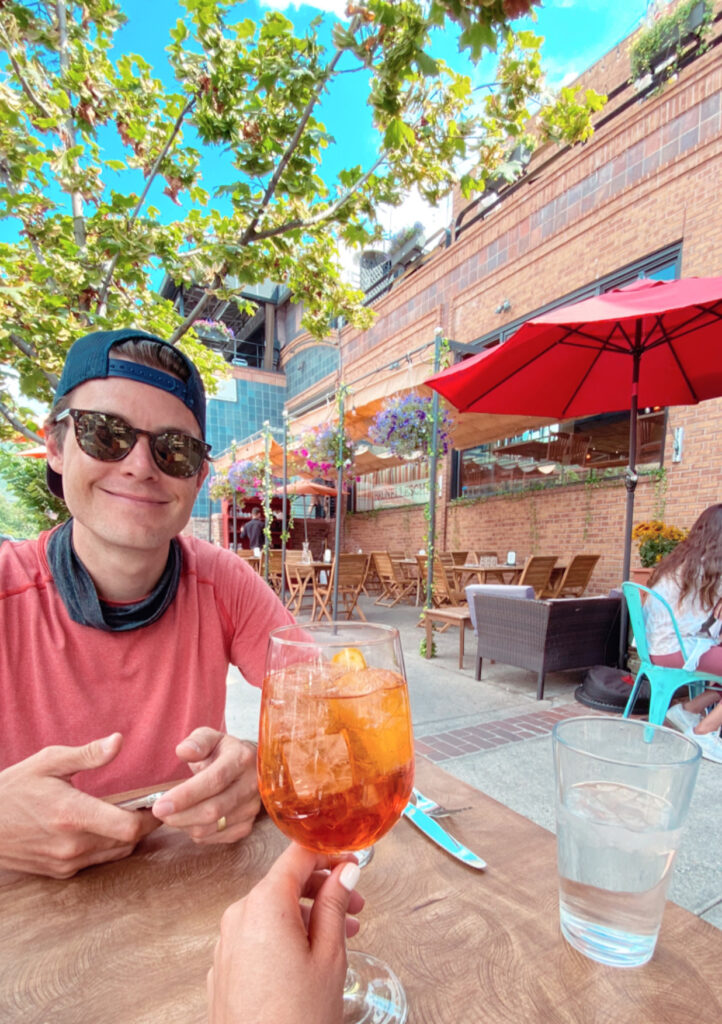 TSS ORDER: Aperol Spritz, Rotisserie Chicken Board, Ty loves the Thai Chicken Soup
Las Montañas

Family friendly, Austin-inspired TexMex $$-$$$
We loved this new spot in town where Jimmy's used to be above Meat and Cheese! Cute decor, delicious frozen margaritas and huge fajita platters all made this one of our favorite lunch spots. We brought the twins in their double stroller (which Ty did carry up the two flights of stairs :/ due to no working elevator) but they were very accommodating finding us a table inside to park it next to. The prices do seem a little steep for Mexican food (even for Aspen) but portions were big and we enjoyed our time immensely!
TSS ORDER: Frozen Margarita, Chicken Fajitas (easy to split)
Pine Creek Cookhouse Casual, Incredible Views, Great Patio, Alpine Gourmet Food, $$-$$
We didn't make it out to Pine Creek Cookhouse this year but when we were in CO last summer it was one of our fave experiences. About 25 minutes out of town, PCC is nestled in the mountains down Castle Creek Road and makes for an awesome (e)bike ride to lunch pre or post hike! The views are picturesque and the food was exceptional. Make a whole day out of it by ebiking to the Cathedral Lake trailhead, hiking up to the lake and then treating yourself to a lunch at Pine Creek!
TSS ORDER: Buffalo Momos, Kurt Russels Home Ranch Beef Burger, Apple Crisp
St. Regis Hotel Cozy Chic, Big Patio, Serving Drinks and smores all day, $$
You'll see St. Regis pop up again in to-dos because of their incredible spa, but we ended up on the St. Regis patio more than once for drinks and smores throughout our trip! At 5pm every night they do a champagne sabor with their resident Bernese Mountain Dog assisting with licks and their service was always great. We loved roasting our marshmallows and making our smores with our espresso martinis!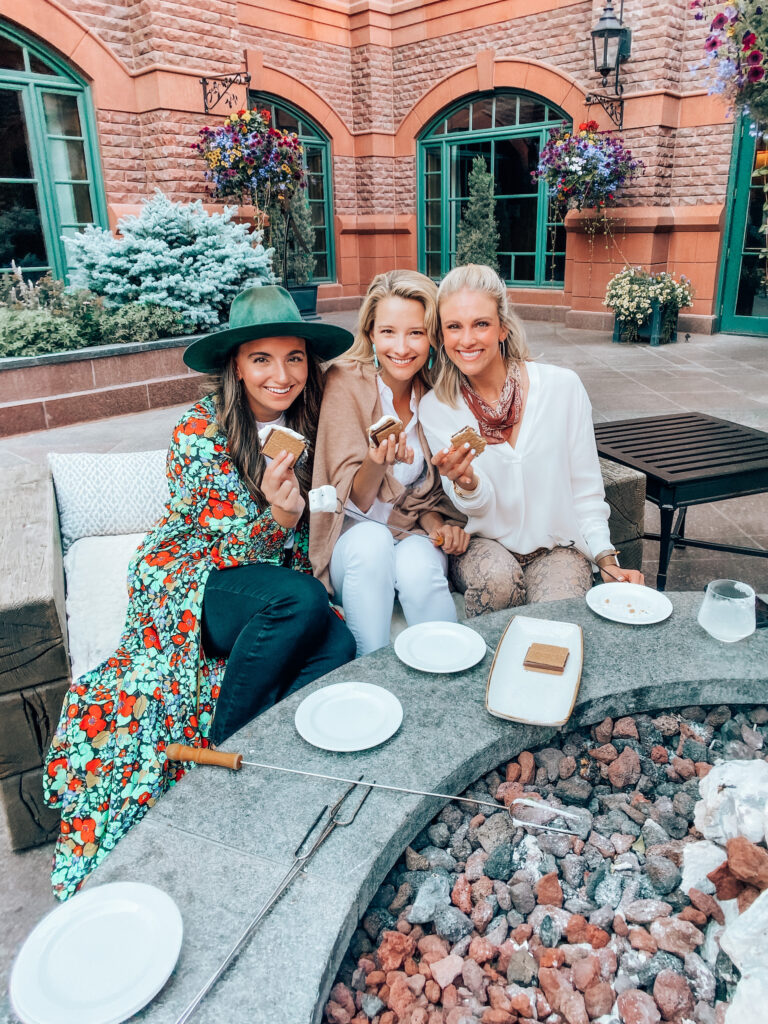 TSS ORDER: Espresso Martini or Cabernet Sauvignon, DIY Smores
W Hotel Great Rooftop, Mountain/Downtown Views, Cheapest Drinks in Town, $
The W Hotel is fairly new in town and they are definitely making an impression with their $8 margarita!!! Aspen is known for a lot of things but cheap drinks ain't one of them. We loved our pre-dinner margs watching the sunset on Ajax mountain. We didn't order any food so can't report there!
TSS ORDER: $8 Margarita or pitcher!
The Wild Fig Cozy and Swanky, Very Indoor/Outdoor, Great Staff and Insane Dessert, $$-$$
We weren't able to get a dinner reservation at Wild Fig but we did make it there for wine and dessert after our not-so-friendly Matsu dinner and I'm SO glad we did!!! What a fun and swanky spot with great mood lighting and super friendly staff. We sat outside, got a bottle of red and two desserts (for four of us LOL) while we laughed and laughed. Great memories for the hour we were here!
TSS ORDER: Red Wine, Beignets with Crème Anglaise, Chocolate Tartufo!!
White House Tavern Casual, Always Reliable, Hillstone Restaurant, Perfect for Lunch or Afternoon Drinks, $-$$
White House Tavern is a Hillstone Restaurant… need I say more!? It's in a cute white house right on the corner with a wrap around patio and new extended lounge seating outside. Inside has high top bar tables and cushy booths with quick service and outstanding food.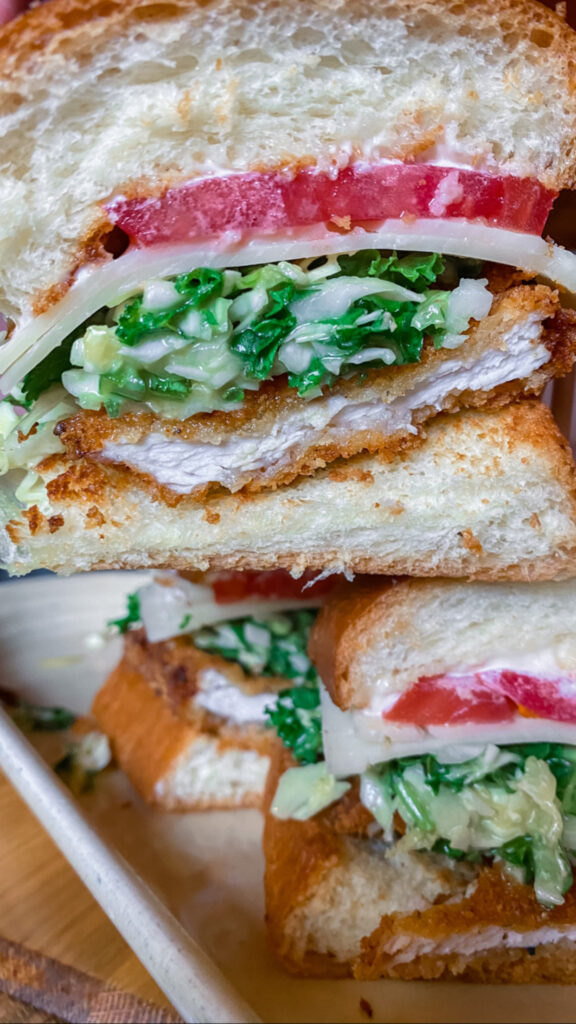 TSS ORDER: Jackrabbit or Margarita, Dip Duo, Macho Salad, Chicken Meatballs + Kale Cashew Salad, Burger with Lettuce Wrap
Woody Creek Tavern Casual, Hole in the wall vibes, outside of town (perfect for a bike ride), strong margs, $
Woody Creek is always a good time! We typically bike ride out on the Rio Grande Trail and then treat ourselves to mile high nachos and strong margaritas. The inside is like a sensory overload with so much nostalgia! We took e-bikes this year and it made a big difference on the ride back haha!!
TSS ORDER: Loaded Nachos + Margs!!
TO HIKE + DO
(in alphabetical order)
Ajax Hike (Ute > to top of Ajax > gondola down) // 1.5-2 Hours: Brutal, no getting around it. But oh so worth it. You start the first 30 minutes hiking up the Ute Trail (top of the rock!) and then continue up through meadows and aspen groves to the top of the gondola. We enjoyed our Butcher's Block sandwiches with a crisp cider from the sundeck and man did I eat every bite. The views are insane and if you are wanting a good workout, don't skip it!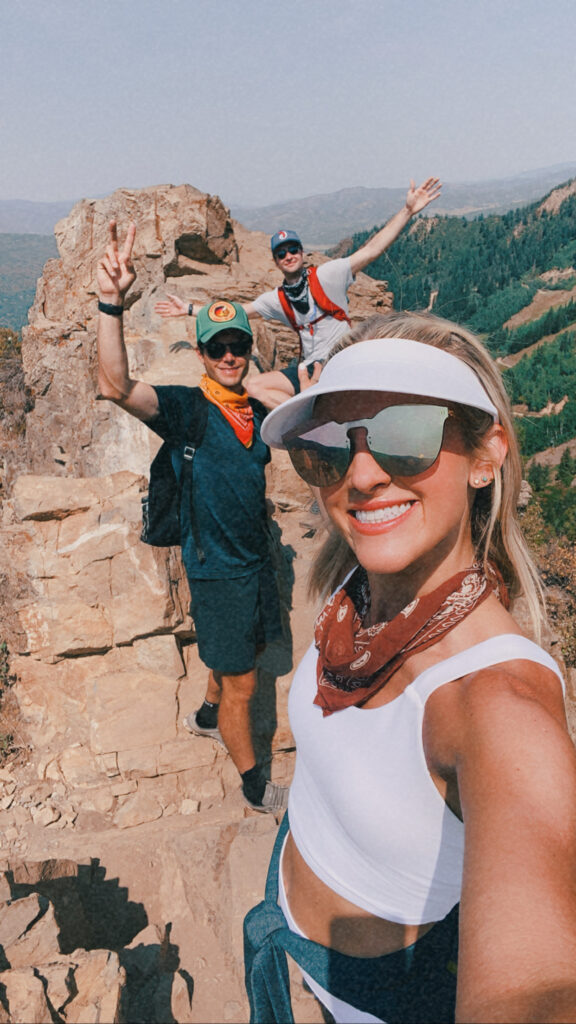 Bike Ride to Woody Creek Tavern // 40 mins each way + lunch: Such a fun activity! We got electric bikes this year and really cherished them on the way back from lunch (it's uphill!!) and after a few margs 😀 you gotta stop at the waterfall on the way to lunch!
Cathedral Lake Hike (up and down) // 2+ Hours: Another tough hike just outside of town. You'll need a car or a bike to take you to the trailhead, then expect lots of switchbacks (back and forth on the mountain) with some steeper parts. Once you get to the lake, make sure you take lots of pics!! It's some of the most beautiful scenery I've ever encountered.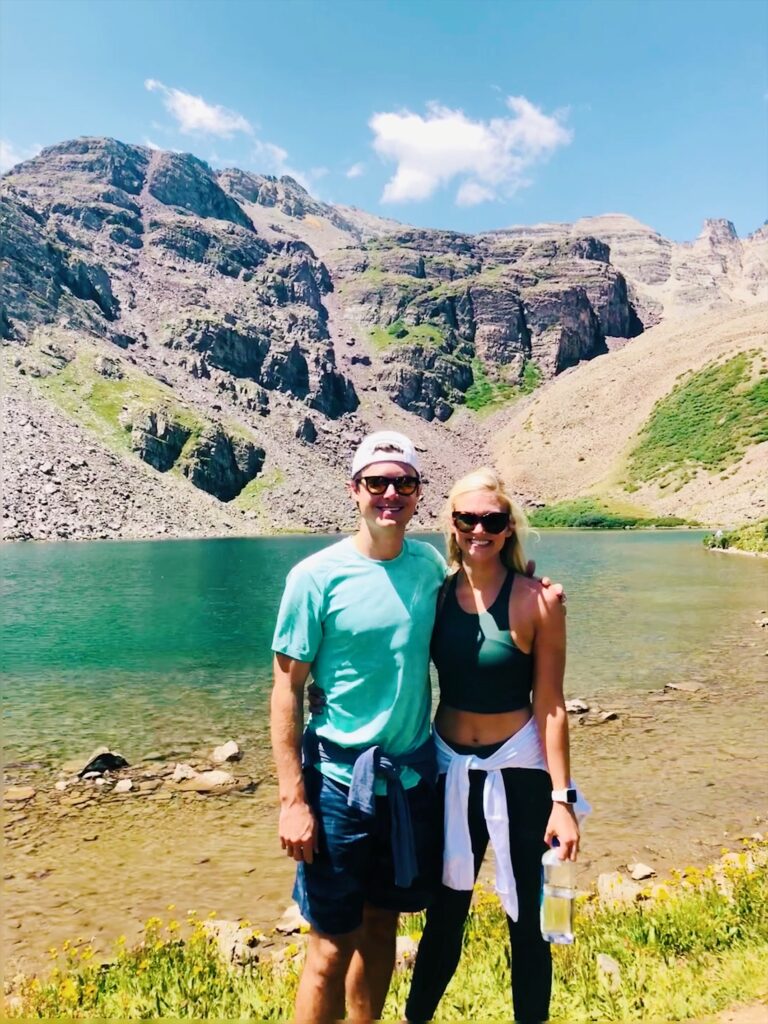 Lower Hunter's Creek Hike (up and down) // 1 Hour: Very mellow and moderate hike along the creek with soothing sounds and beautiful views. Loved this easy going hike over lots of pretty bridges! Totally manageable.
Hunter's Creek to Smuggler (loop) // 1.5 Hours: You'll start at Lower Hunter's Creek trailhead (or Smuggler trailhead) and continue up and over down the other side. I loved that this hike was a loop and that the scenery changed for the way down!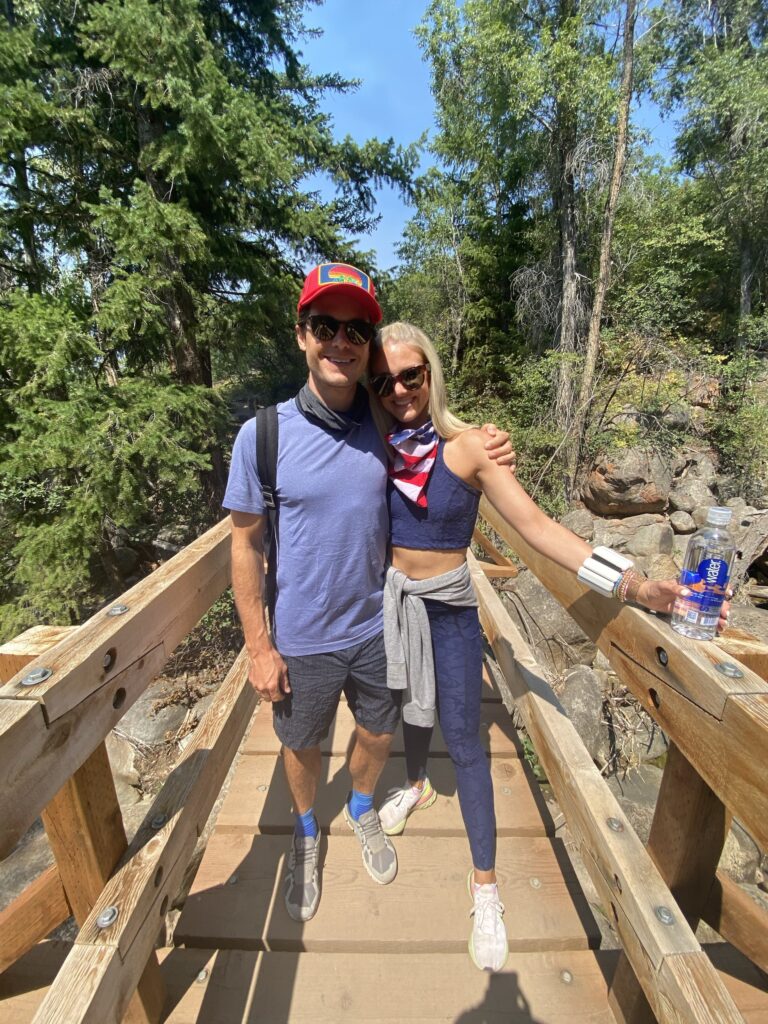 Maroon Bells/Crater Lake Hike (out and back) // 1.5 Hours: So, so insanely gorgeous. You have to make a reservation for the Maroon Bells shuttle but it's easy to do so online. Ty and I took the RFTA bus from Rubey Park in the center of town to Aspen Highlands where you then get on the Maroon Bells shuttle. All in all the shuttle process takes about an hour, then you have the hike from there – then you can expect the same process on the way home so plan accordingly! I promise the trek isn't bad and the views of the bells and Crater Lake are absolutely worth it, especially if it's your first time to Aspen.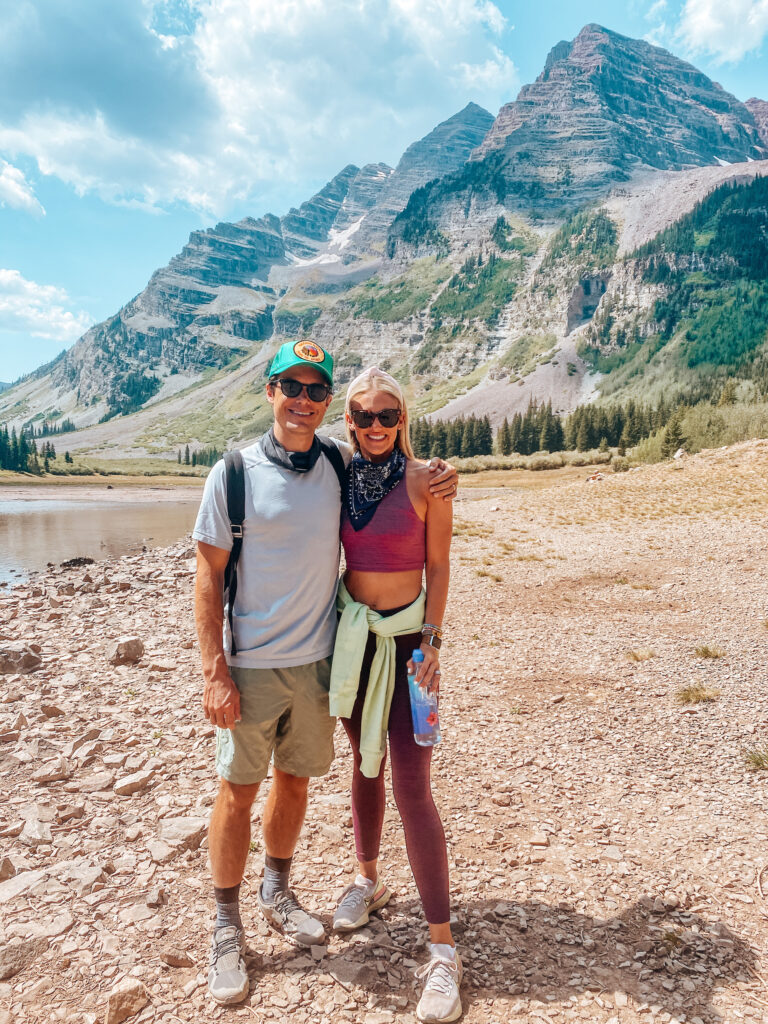 Neighborhood Walk in West End: We have family that live in this neighborhood (also home to some insane celebrity houses!) and we loved getting our coffee at Local and putsing around. You'll be drooling over some of these homes!
Picnic in Rubey Park: So great we did it twice. Pick up from Butchers Block, Meat and Cheese or Big Wrap, grab a bottle of rosé and post up under a huge evergreen tree. There was always so much fun activity to watch while we listened to music and sipped.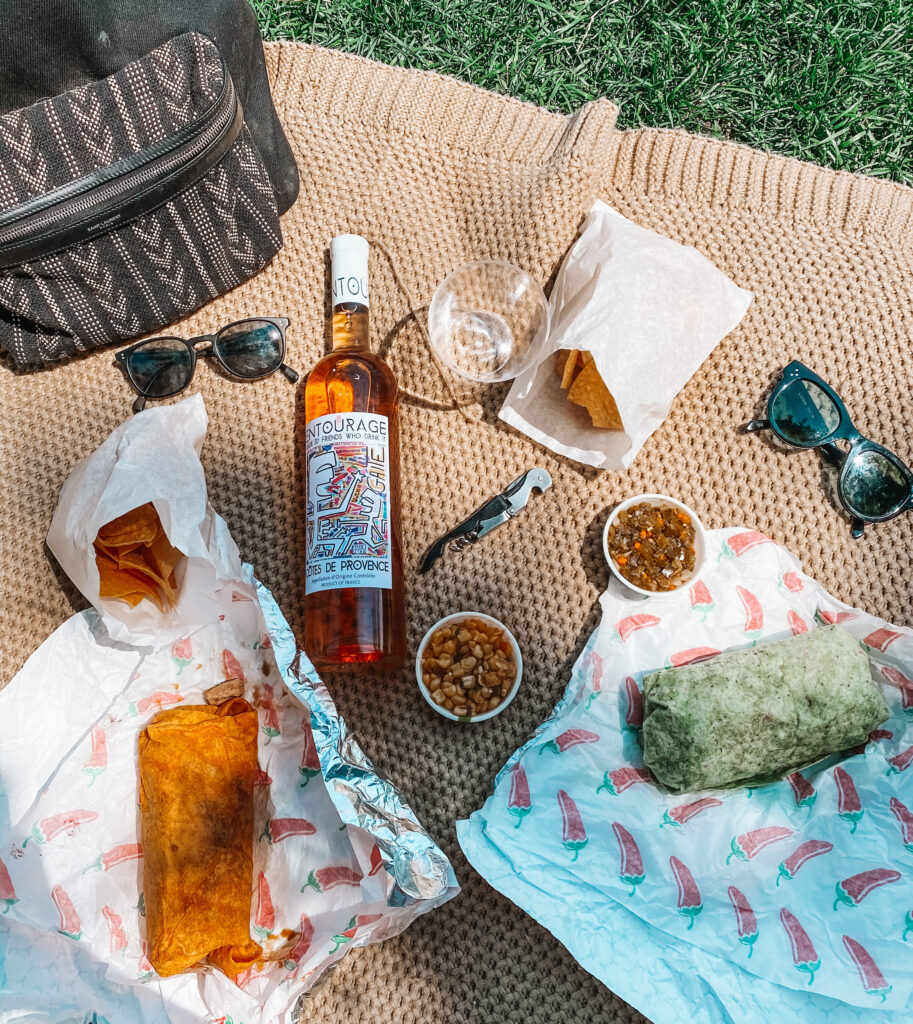 Smuggler Trail Hike (up and down) // 1 Hour: Great beginner trail with the overlook deck as the summit. It's basically a dirt road though with very little tree coverage (if any?) so go before noon or take Hunter's Creek to Smuggler down and back into town.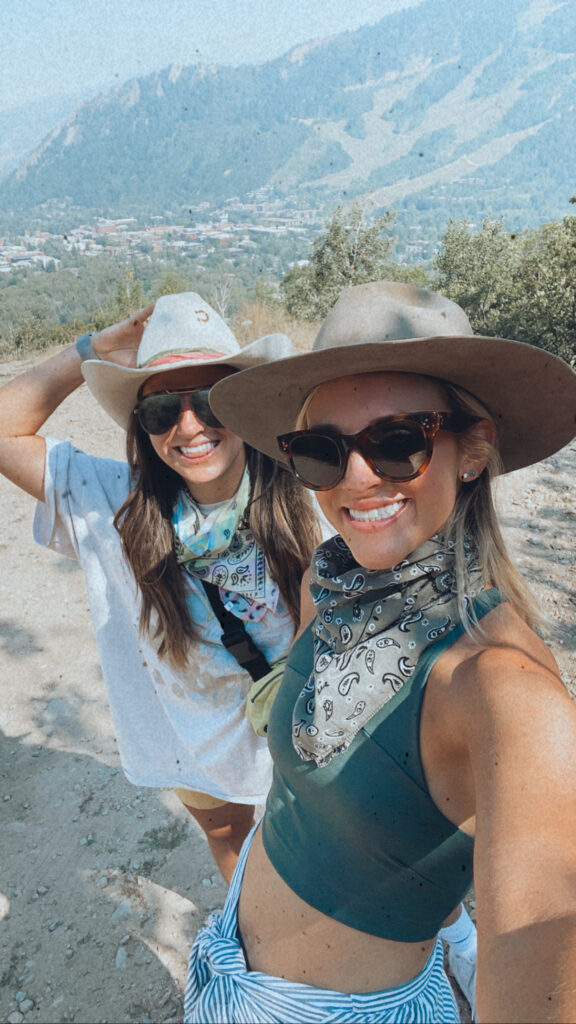 Spa at St. Regis: I think I could write a whole post on just the spa at St. Regis. REMEDÉ is worth every single penny – the massage, the service, the facilities are all very VIP! Ask for Agnes for your massage. Drink the free champagne. Ask for the dark chocolate covered coconut flakes while you post up in the oxygen lounge. Make this a must if you have time!
Ute Trail Hike // 1+ Hour: Basicallly 30 minutes of steep switchbacks – get ready for a butt kicking in the best way. Don't – I repeat, DON'T – do this on your first day in Aspen. Maybe not even your second. It's steep but it's shady and not too rocky. The swing and the views from the rock on top are worth every sweaty step!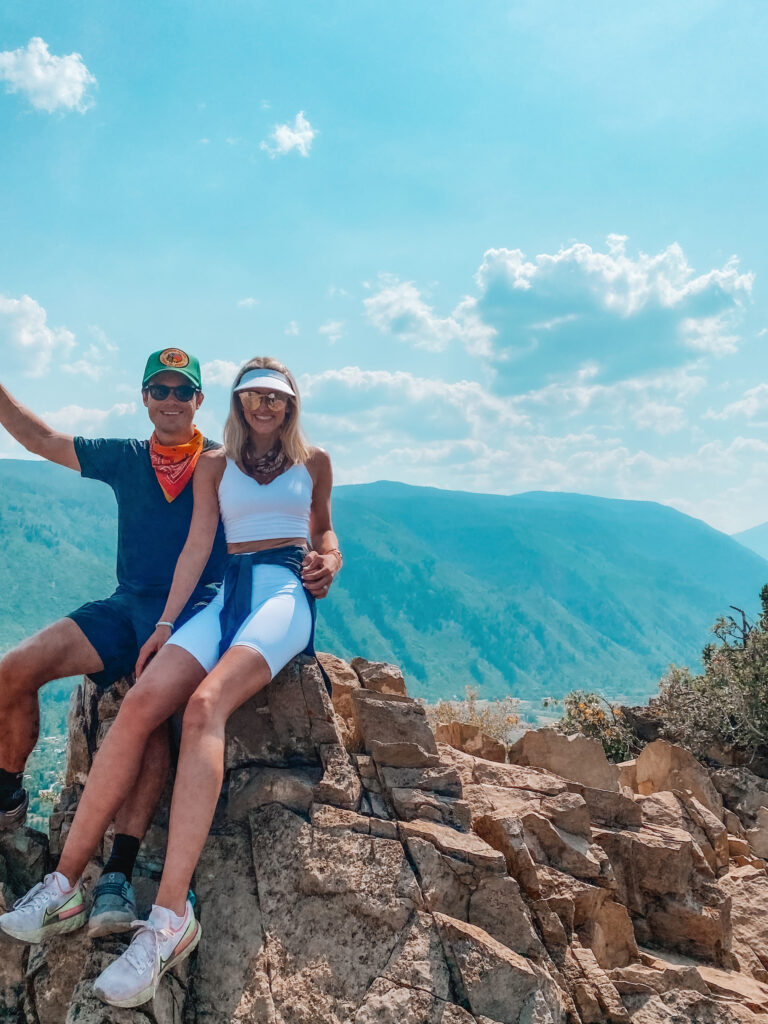 TO SHOP
(in alphabetical order)
I hope this helps you plan your Aspen adventure! We love the mountains so much and I pray you have some Colorado time in your future. If I missed anything please add to the comments and I can update!
xx Cay
Thank you for being an amazing reader of The Savvy Spoon! If you this guide and love it, I would so appreciate you commenting below or sharing with a friend. Be sure to follow me on Instagram and Facebook for more recipes, workouts and lifestyle content!