Pan seared in butter and olive oil and topped with a mint + basil pesto, this crispy-skinned, flakey halibut comes together in 10 minutes!
I'm REALLY into fish that cooks in a flash.
I'm pretty sure most do, but if you didn't notice already I'm newer to cooking fish on my own. Don't get me wrong, I LOVE to order it — but for some reason I had built up that it was difficult to cook/easy to wreck making it on my own. If you have shared any of the same sentiment, this is the perfect recipe to get comfortable with.
I posted a recipe for pan seared sea bass recently on Instagram and followed the same easy steps to a T for this halibut: season with salt + pepper, melt butter and oil in pan, sear skin side up for 4-5 minutes then flip and cook another 4-5! It resulted in a light, flakey, butter, tender inside with the *perfect* crispy outside.
While the fish seared, I pulsed together fresh basil, mint, garlic, parmesan cheese and raw walnuts a few times to chop them up. Then I drizzled in olive oil to the food processor to help smooth and create a homemade pesto! Literally takes 3 minutes or less and tastes out of this world.
Every time I cook fish I'm shocked at how quickly dinner comes together – chicken would take twice the amount of time to cook through on the stove top! Not to mention how healthy yet filling the halibut filets are… even with the buttery crust 😉
Quick note about the Greek Chopped Salad – we loved the mix of freshness and flavors that the veggies brought to the crispy fish! I use this recipe a lot as a base for chopped, lettuce free salads, swapping out ingredients based on what I have on hand. You can add quinoa or couscous for a heartier side and the dressed salad will keep pretty well in the fridge for a day or two!
TIPS FOR MAKING PAN SEARED HALIBUT WITH HERBY PESTO:
I asked the fish monger at Whole Foods for two 4 oz. fresh halibut filets. He pushed back a little and said that 6 oz. was a normal size but honestly, they were perfect for us with our big chopped salad.
If you do choose to get bigger 5-6 oz. pieces, have them cut into "brownies" for you versus logs – that way the cooking time stays the same for this recipe!
Feel free to use a combination of any fresh herbs you'd like for the pesto — parsley, cilantro, basil, mint, even arugula would all be delicious together. The pesto adds SUCH a brightness on the crispy crust!
Same thing goes for the walnuts — you can swap for traditional pine nuts, pistachios or cashews.
The pesto will save in the refrigerator for up to a week!
I hope you have as much fun cooking fish as I do!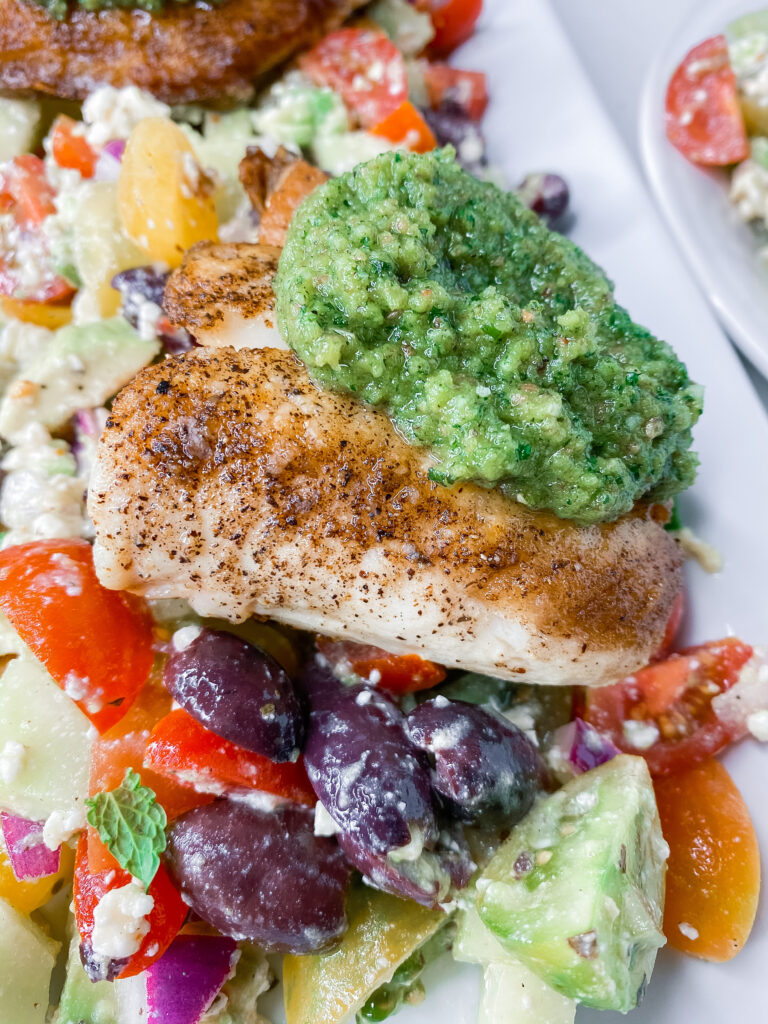 Thank you for being an amazing reader of The Savvy Spoon! If you loved this post, I would so appreciate you rating it below and/or leaving a comment! Be sure to follow me on Instagram and Facebook for more recipes, twin mom and healthy lifestyle content!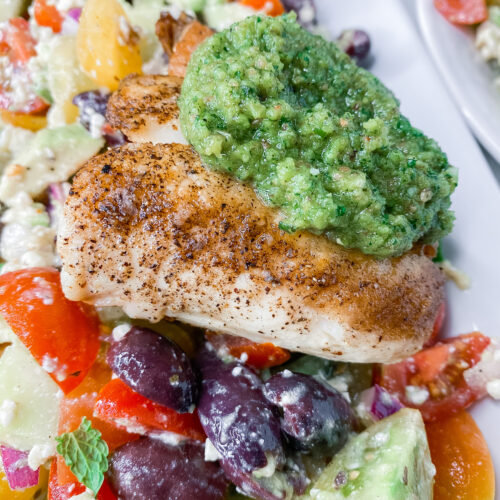 Pan Seared Halibut with Herby Pesto
Pan seared in butter and olive oil and topped with a mint + basil pesto, this crispy-skinned, flakey halibut comes together in 10 minutes!
Ingredients
2

4 oz.

fresh halibut filets

each cut into a "brownie" square

1

tbs.

olive oil or avocado oil

2

tbs.

butter or ghee
herby pesto
¼

cup

fresh basil leaves

¼

cup

fresh mint leaves

¼

cup

grated parmesan cheese

sub nutritional yeast for Whole30

¼

cup

raw walnuts

2

cloves

garlic

chopped

extra virgin olive oil

about 4 tbs. to 1/4 cup

kosher salt and pepper
Instructions
Pat halibut filets dry with paper towel and season them with kosher salt and pepper.

Heat a non-stick pan over medium heat. When hot, melt butter and olive oil. Place filets skin-side up in the pan and cook for 4-5 minutes (4 minutes for my 4 oz. was perfect). Flip, placing skin-side down, and cook for 4-5 more minutes. Remove from pan and place onto plate.

In a food processor, combine all ingredients for pesto except for the olive oil. Pulse a few times to chop ingredients, then season with 1 tsp. of salt and pepper each. Put top back on.

With blade running, start to slowly drizzle in olive oil through the top. Add until desired texture is achieved, adding roughly 1/4 cup more or less!

Serve halibut filets with a spoonful of pesto on top of each!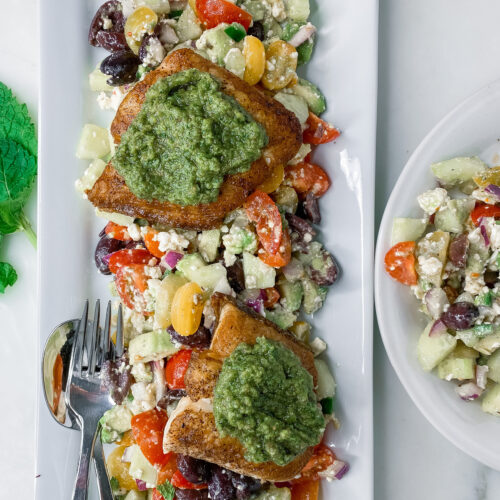 Simple Greek Chopped Salad
No lettuce, no problem! Mix together a few simple fresh ingredients for the perfect tangy, creamy side Mediterranean veggie side dish.
Ingredients
1

avocado

diced

½

English cucumber

peeled and diced

½

pint

cherry tomatoes

halved or quartered if larger

½

cup

pitted kalamata olives

halved

½

jalapeño

minced

¼

red onion

diced

3-4

tbs.

crumbled feta

drizzle of olive oil

drizzle of red wine vinegar

kosher salt + pepper
Instructions
Chop all ingredients for salad except the avocado, adding to a mixing bowl as you go. Dice avocado last right before serving to preserve color. Add feta crumbles.

Season with kosher salt and pepper, then drizzle everything with a little high quality olive oil and red wine vinegar (go light, you can always add more). Toss together and let sit until you're ready to serve. Add avocado right before serving, tossing gently.