Sometimes you need a pizza to yourself. If you're going to devour one solo, make this the pizza.
Crispy cauliflower crust (hello… veggies!), melty, gooey mozzarella cheese, crunchy, salty bacon and juicy chicken marinated in tangy buffalo sauce.
Are you drooling yet?
Buffalo sauce deserves its own pizza… tbh it deserves its a gold metal for bringing the FLAVOR. Spicy (but not too spicy), tangy (but not too vinegary) and totally crave-worthy.
I added bacon to the pie because… well… bacon. No insane backstory here folks, it's bacon — it sells itself haha. Crunchy, crispy and perfectly salty.
Because I didn't skimp on the cheese I thought I'd balance all the ooey gooey scrumptiousness with some veggies in the form of a cauliflower crust. It took me awhile to perfect cooking the cauli crust so it doesn't come out super mushy, but we've finally nailed it: prebaking the crust directly on the oven rack makes for an insanely crispy bottom and softer base for the toppings.
Here's how you'll make the Buffalo Chicken + Bacon Pizza:
Prebake the cauliflower crust for 10 minutes each side.
Meanwhile, cook the bacon and the marinated chicken chunks.
Top the cooked crust.
Bake to melted perfection!
TIPS FOR MAKING BUFFALO CHICKEN + BACON PIZZA:
If you're using a cauliflower crust, bake it for 10 minutes each side DIRECTLY on the oven rack — skip the baking sheet!
You can marinate the chicken for only 10 minutes or up to 24 hours if you plan ahead.
It is ESSENTIAL that you pick a buffalo sauce that you love and could basically drink alone because it is such a star in this recipe — use high quality like Frank's or Tabasco Buffalo (not hot) sauce.
Feel free to add more toppings like blue cheese crumbles, green onions, red bell pepper strips or even mushrooms.
Happy chomping!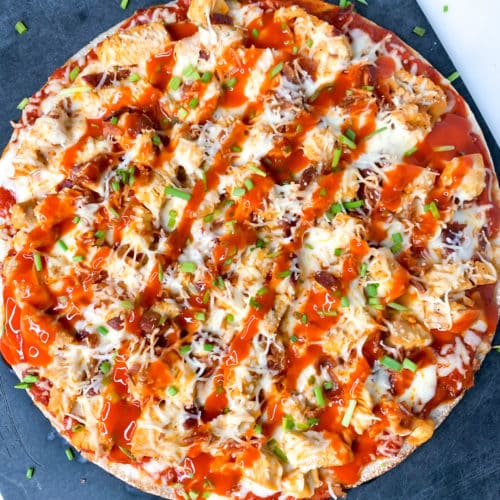 Buffalo Chicken and Bacon Pizza
Crispy cauliflower crust topped with gooey mozzarella cheese, crunchy, salty bacon and juicy chicken marinated in tangy buffalo sauce!
Ingredients
1

frozen cauliflower pizza crust

½

cup

pizza sauce

I used Rao's

½

cup

buffalo sauce like Frank's

plus more for drizzling

1

boneless, skinless chicken breast

3

slices

bacon

½

cup

shredded mozzarella

2

tbs.

minced chives or green onions

1

tbs.

olive oil
Instructions
If you're using a cauliflower crust: Preheat oven to 450 degrees. Place the frozen cauliflower crust directly on the oven rack and bake for 10 minutes on each side, turning carefully.

Dice chicken breast into 1" pieces and place into large ziplock bag or mixing bowl. Season with salt and pepper and pour 1/2 cup buffalo sauce over top. Let marinate for at least 10 minutes (on the counter) or up to 24 hours in the refrigerator.

Warm 1 tbs. olive oil in a skillet over medium heat, then add buffalo chicken using tongs to shake off extra sauce. Cook for about 5 minutes, tossing to cook all sides. When cooked, remove from heat.

Meanwhile, cook the bacon your preferred cooking method — I placed the bacon on paper towel on a plate and cooked in the microwave for 2.5 minutes per side. Let cool and then crumble.

After the cauliflower crust has cooked, top with 1/2 cup of pizza sauce, then the cooked buffalo chicken, bacon crumbles, then the mozzarella cheese. Bake for 10 minutes or until cheese is melted and bubbly. Drizzle on more buffalo sauce and green onions, then let cool slightly before slicing!