With Caramelized Onions and Arugula!
Mini seasoned beef patties are pan seared in butter then topped with creamy goat cheese, sweet fig jam, peppery arugula and caramelized onions! Try your sliders on pretzel buns for the ultimate umami experience!
Man do I crave burgers often. For someone who really doesn't crave red meat all that often, I get WEAK in the knees over a juicy grilled burger. These mini patties are no exception because though they might be small, they're bursting with flavor!
First you've got creamy, tangy goat cheese that melts juuuuuust enough on the hot burger. Then a jammy fig spread to bring in some unexpected sweetness. Crunchy arugula adds the best peppery bite and then caramelized onions are just the icing on the cake. You won't even think about a condiment because these burgers are so juicy and flavorful!
To make these Goat Cheese and Fig Jam Sliders, you'll need:
1 lb. ground beef, 90%/20% and organic preferrably
garlic salt
crushed red pepper
1 yellow onion
balsamic vinegar
plain or herbed goat cheese log
fig jam or spread
handful of arugula leaves
slider buns! we opted for pretzel buns for these
Though the onions will take a bit to caramelize, the sliders will cook in about 7 minutes on the stovetop. Skip the onions if you're in a hurry!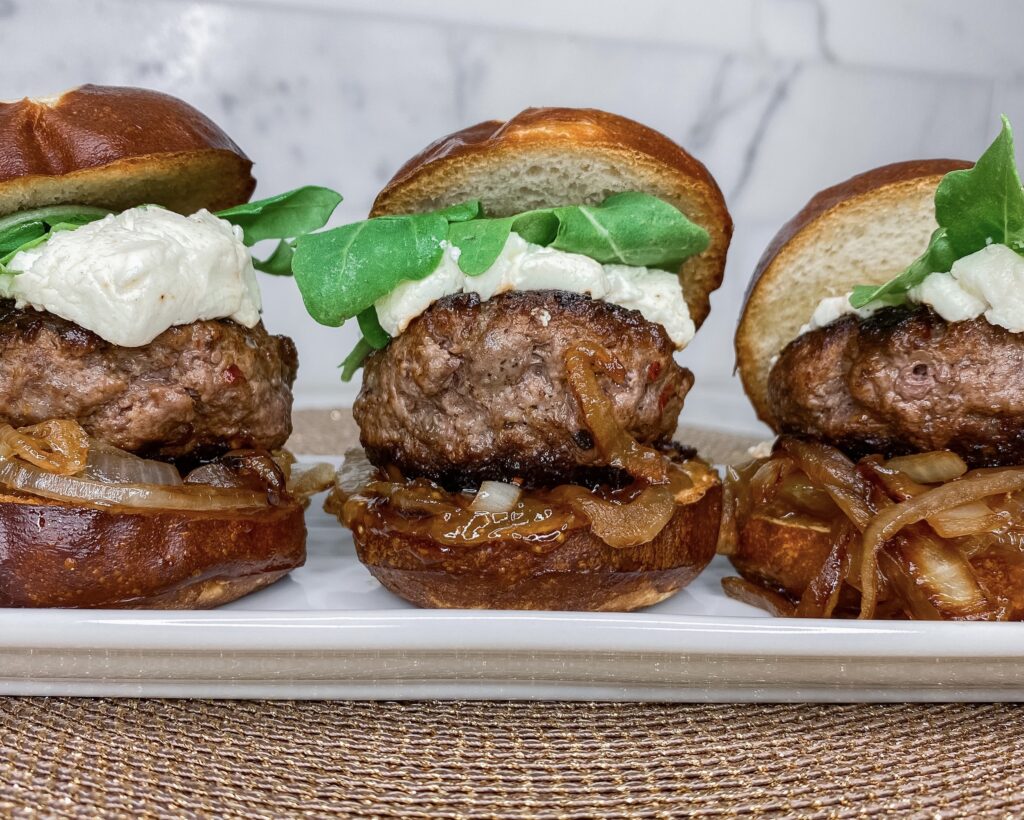 Some tips for cooking these (or any!) burgers:
Bring ground beef out of the refrigerator about 30 minutes before you start cooking, if you can remember! The closer the beef is to room temperature, the more evenly the patties will cook.
Don't overmix! Sprinkle in seasonings then use your hands to essentially "squish" the seasonings into the meat. Don't overmix or the burgers will end up tough.
Divide and conquer. I divided my seasoned ground beef into 5 equal sections, then rolled into balls before forming patties. If you divide evenly in the bowl, then you're not adjusting the size of the burgers to make more even once you've formed the patties! Remember, the less you have to form/touch the meat, the juicier the burgers.
Butter makes it better. Use a slick non-stick pan and melt butter down before adding in the patties. The butter gives each burger a nice salty crust.
No smooshing! These are not your flat-top steak patty style burgers where you want to press down on them in the skillet. Place them, let them cook without budging, then flip to finish.
Feel free to use this recipe for four normal sized burgers as well! Simply segment the meat into fourths (quarter pound each) and roll from there.
Enjoy these insanely umami-rich burgers!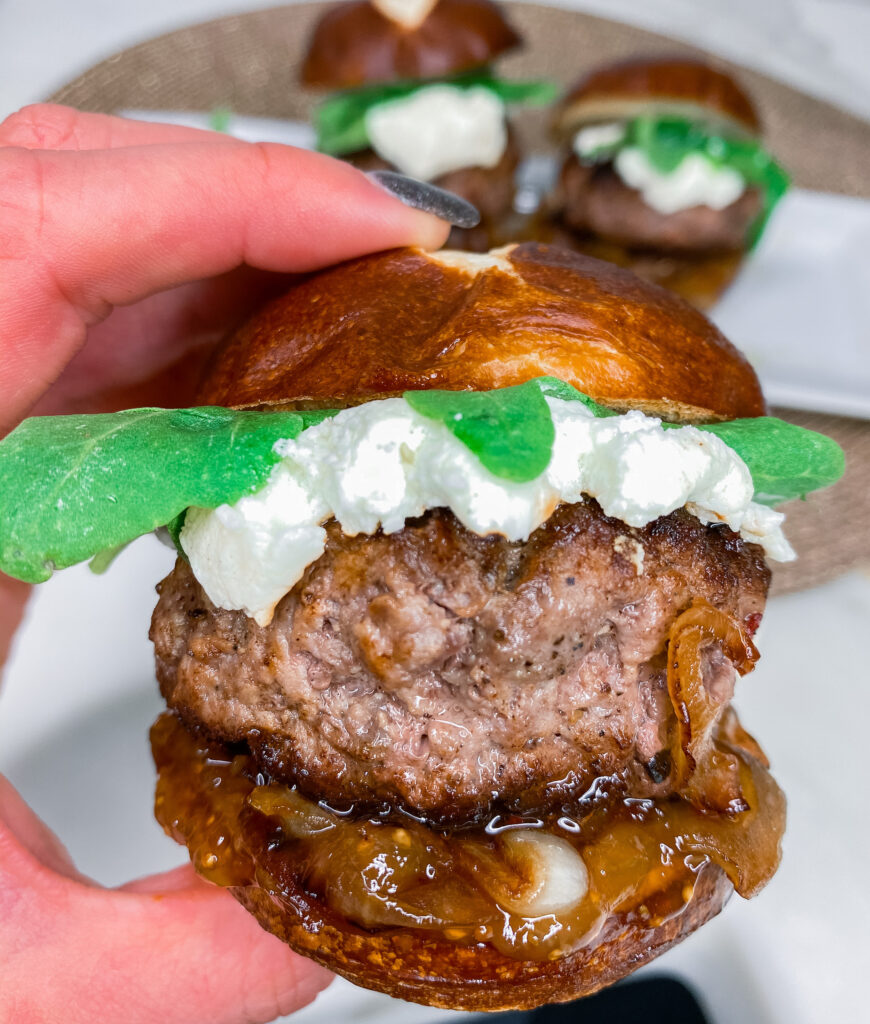 Thank you for being an amazing reader of The Savvy Spoon! If you loved this post, I would so appreciate you rating it below and/or leaving a comment! Be sure to follow me on Instagram and Facebook for more recipes, twin mom and healthy lifestyle content!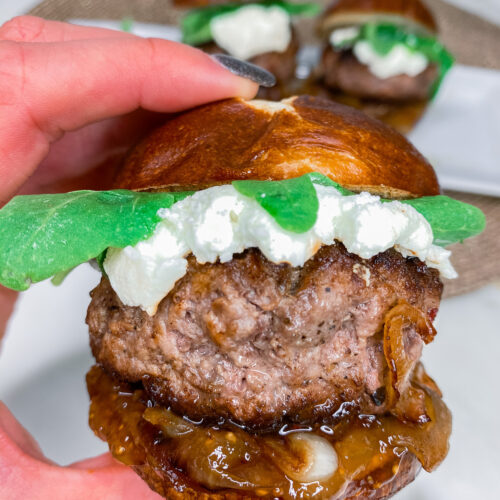 Goat Cheese and Fig Jam Sliders
Mini seasoned beef patties are pan seared in butter then topped with creamy goat cheese, sweet fig jam, peppery arugula and caramelized onions! Try your sliders on pretzel buns for the ultimate umami experience!
Ingredients
1

lb.

organic ground beef

90%/10% preferably

1

tsp.

garlic salt

1

tsp.

pepper

1

tsp.

crushed red pepper flakes

2

tbsp.

butter

5

tbsp.

plain goat cheese

from a log (not crumbles)

5

tbsp.

fig jam or spread

1

handful

arugula leaves

5

slider buns
caramelized onions
1

yellow onion

sliced

1

tbsp.

olive oil

1

tbsp.

balsamic vinegar
Instructions
Preheat oven to 350 degrees. Place slider buns onto a sheet pan and spray lightly with cooking spray. Place in oven 10 minutes before you're ready to serve.

If you're making caramelized onions, heat a skillet over medium low heat then add 1 tbsp. olive oil. Add onion slices with a little salt and pepper and cook for 15 minutes, stirring occasionally. Add balsamic vinegar and cook for another 5 minutes or until liquid has absorbed and onions are soft.

In a mixing bowl, place ground beef, garlic salt, pepper and crushed red pepper flakes. Use your hands to gently mix together. Separate meat into 5 even sections.

Form patties by scooping out one section at a time. Roll into a ball first then press down gently to form a round patty about 1 inch thick. Continue with remaining beef.

In a non-stick skillet, melt 2 tbsp. butter then add beef patties. Don't move them once they're placed and cook for 3 minutes. Flip carefully, top each patty with 1 tbsp. of goat cheese, then cook for another 3-4 minutes depending on your desired doneness.

To assemble, take toasted bottom bun and spread on fig jam. Place on caramelized onions (if using) then top with burger patty. Place arugula leaves on top of patties (and cheese) then top with toasted top bun!