I'm waking you up with one of new favorite side dishes that is so flavorful (and fancy looking with very little effort)! The cauliflower is tossed in spices like chili powder and garlic then roasted in the air fryer to tender perfection in just 8 minutes. Then the pearl couscous — tiny little balls of pasta — is tossed in a lemony, homemade vegan pesto. Serve this as a side dish to your favorite protein or enjoy as a filling salad!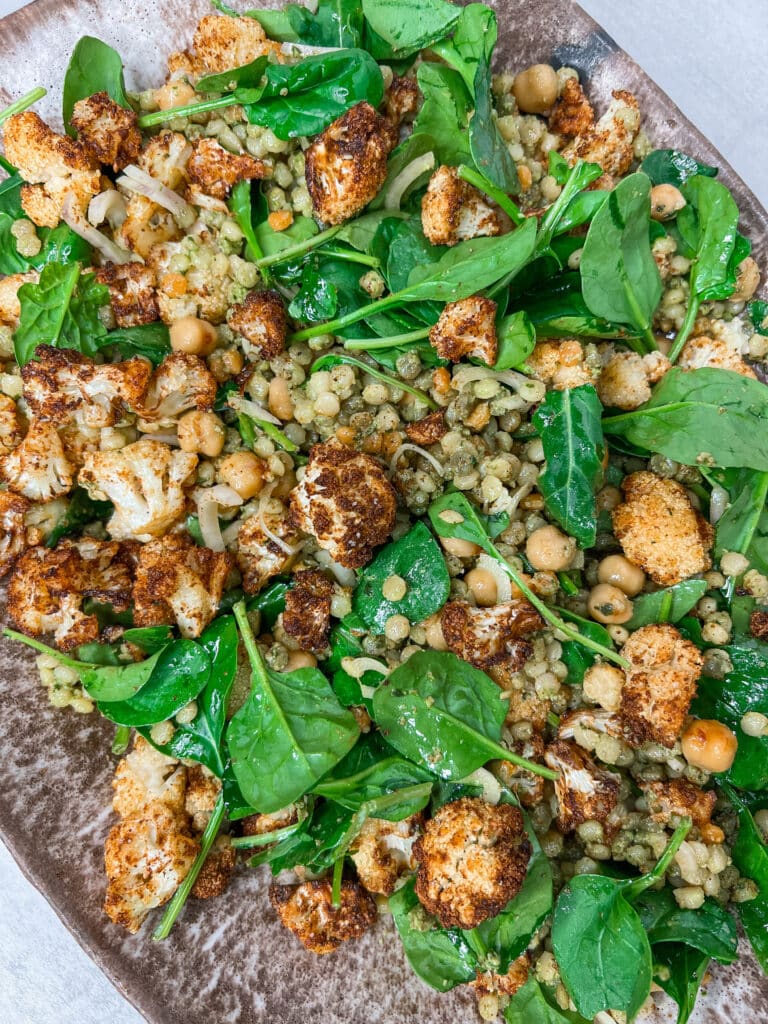 Let's dive into the elements of this salad:
Air Fryer Cauliflower
I used a combination of chili powder, paprika, granulated garlic and salt to flavor the otherwise mild cauliflower. You'll chop the florets into bite-sized pieces, drizzle with avocado or olive oil, and toss in the spice mixture before air frying for 8 minutes at 400º.
If you don't have an air fryer, no problem! You can easily roast the cauliflower in the oven at the same temperature for 15 minutes or until tender.
Pearl Couscous
Couscous is a tiny type of pasta that is prepared very quickly with liquid on the stovetop. There are two types of couscous — classic and pearl — and though the classic is delicious and fluffy, I liked the presentation of the pearl couscous for this salad dish! It also clings onto the vegan pesto nicely so each little pasta ball is bursting with lemony, herby flavor. You'll bring some broth to a boil, add the pearl couscous, then lower heat to simmer until tender.
Vegan Pesto
Pesto is one of those ingredients that tastes good when purchased pre-made but absolutely fantastic when made at home — and it couldn't be simpler. You'll combine all of the ingredients together in a food processor (I love this mini version) or a blender and voilá! You've got your sauce. This pesto is vegan because it uses nutritional yeast for the cheesy flavor instead of parmesan, but feel free to substitute with the real thing if you'd prefer.
Garbanzo Beans
For this salad I also added fresh garbanzo beans for extra protein and heartiness. I seasoned them in the same chili powder mix I used for the cauliflower to further enhance their flavor!
Spinach and Shallots
I love adding fresh spinach into recipes wherever I can because it adds so much nutrition without altering the flavor of the dish. The shallots, a mild onion, add a delicate oniony flavor and a subtle crunch to the salad as well!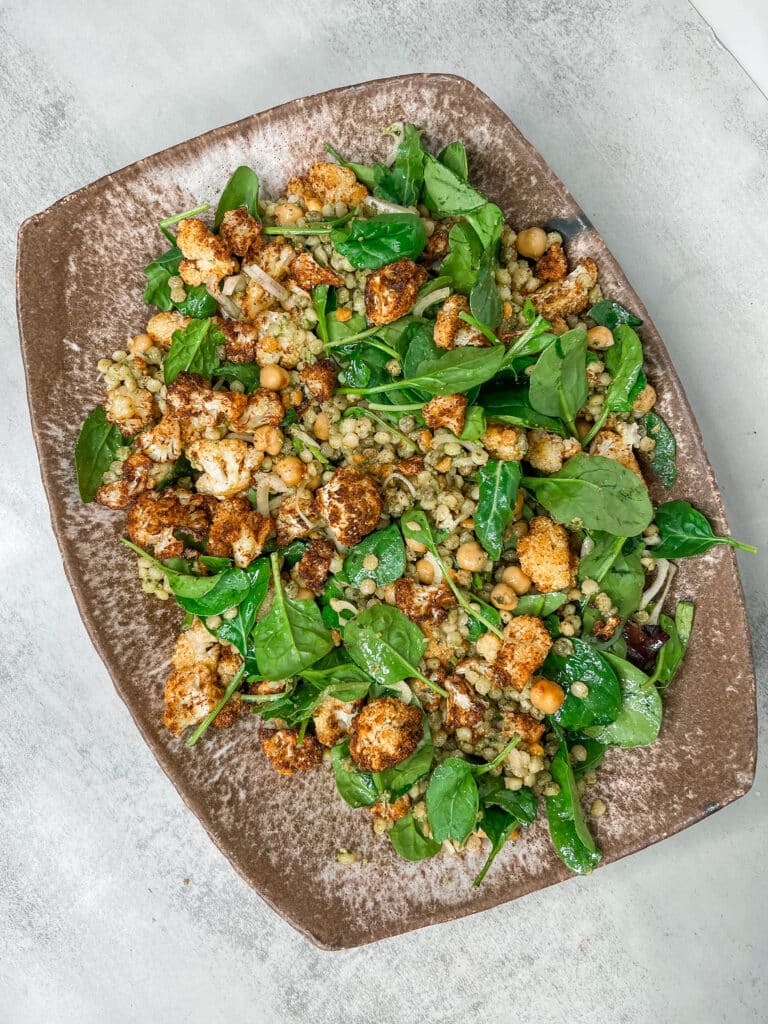 I hope you love this dish! If you try and love, please post a comment for other readers 🙂 thank you!
Thank you for being an amazing reader of The Savvy Spoon! If you loved this post, I would so appreciate you rating it below and/or leaving a comment! Be sure to follow me on Instagram and Facebook for more recipes, twin mom and healthy lifestyle content!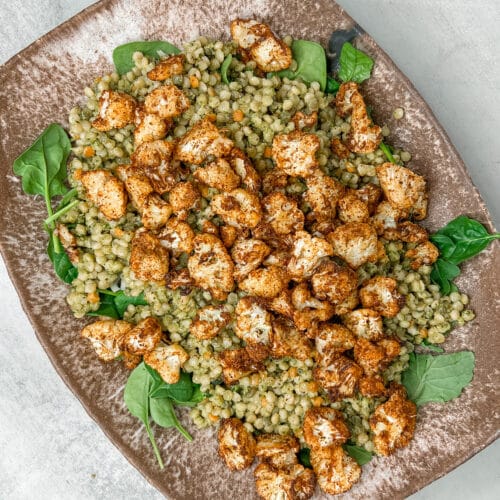 Air Fryer Cauliflower + Pesto Pearl Couscous Salad
Tender, seasoned cauliflower is tossed with chewy pearl couscous in a vegan pesto sauce. I hope you love this flavorful salad or side dish!
Ingredients
1

head

cauliflower

chopped into florets

1

cup

pearl couscous

1 1/2

cups

chicken broth

1/2

cup

garbanzo beans

1

cup

fresh spinach leaves

2

tbsp.

avocado oil

1

small

shallot

sliced thinly

1 1/2

tsp.

chili powder

divided

1 1/2

tsp.

paprika

divided

1 1/2

tsp.

granulated garlic

divided

1

tsp.

kosher salt

divided
for vegan pesto
1

cup

fresh spinach leaves

20

basil leaves

1/2

cup

walnuts

can sub pinenuts, cashews

2

cloves

garlic

chopped

1/2

lemon

juice only

1/3

cup

nutritional yeast

can sub grated parmesan cheese

1

tsp.

kosher salt

1/3

cup

avocado oil
Instructions
Start by preheating your air fryer to 400º by setting it to 15 minutes.

Prepare your cauliflower by adding the florets to a bowl then drizzling with 2 tbsp. avocado oil. Season with 1 tsp. each of chili powder, paprika, and granulated garlic, along with 1/2 tsp. of kosher salt. Toss gently.

Spray air fryer grates with cooking spray before adding cauliflower in one layer. Depending on the size of your air fryer, you might need to divide into two batches. Cook for 8 minutes.

Mean while, start couscous by bringing the chicken broth to a boil in a small saucepan. Once boiling, add in your pearl couscous and lower heat to simmer. Cover and cook until tender, about 15 minutes.

Prepare your pesto by adding all ingredients into a food processor or blender and combine until smooth. Add 1/2 cup to the cooked couscous and save the rest — it's delicious on meat + sandwiches!

Season garbanzo beans in the same bowl you seasoned cauliflower in with 1/2 tsp. each of chili powder, paprika and granulated garlic, along with 1/2 tsp. kosher salt.

Assemble salad by laying fresh spinach leaves down first, then adding shallots and garbanzo beans. Add pesto couscous and top with roasted cauliflower and toss gently to serve!