Juicy, succulent, and bursting with flavor, this easy weeknight dinner will transport you straight to the tropics!
On lazy nights, it's easy to get stuck in the "pasta rut," as I like to call it. Now, there's nothing wrong with a nice, hearty plate of pasta; however, sometimes I'm just craving something a bit brighter. Enter: my 5 Ingredient Pineapple Pork Bowls. Ready in minutes and vibrantly flavorful, this tropical bowl is sure to take your lazy weeknight dinners up a notch.
I love this simple, family-friendly meal that's bursting with flavor thanks to juicy pork tenderloin and sour-sweet pineapple. Roasted broccoli adds a nice crispness and fluffy jasmine rice makes the meal heartier. For my GF friends, swap the Soyaki for tamari + fresh minced ginger + minced garlic. Hope you love!
Here's how you'll make my 5 Ingredient Pineapple Pork Bowls:
Preheat your oven to 400º
Cube your pork tenderloin and pour Soyaki over it to marinate
Chop broccoli into florets and roast for 20 minutes
Cook rice by boiling water then simmering
Cook pork in large skillet and let caramelize before adding pineapple and sauce
Assemble bowls by layering rice, broccoli, pork and pineapple!
Thank you for being an amazing reader of The Savvy Spoon! If you loved this post, I would so appreciate you rating it below and/or leaving a comment! Be sure to follow me on Instagram and Facebook for more recipes, twin mom and healthy lifestyle content!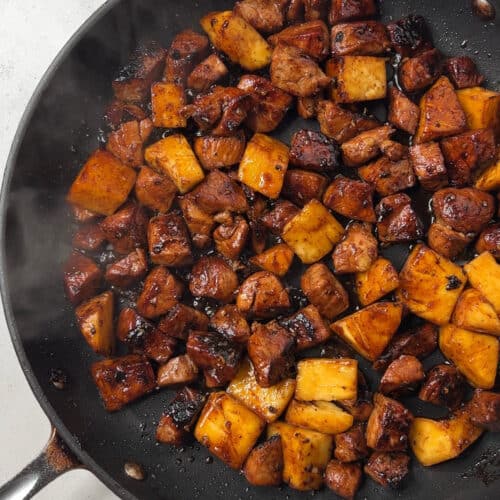 5 Ingredient Pineapple Pork Bowls
Juicy, succulent, and bursting with flavor, this easy weeknight dinner will transport you straight to the tropics!
Ingredients
1

pork tenderloin

about 1 lb.

1

Cup

soyaki sauce from Trader Joe's

1

Head

broccoli

1

Tbsp

avocado or olive oil

1/2

Tsp

salt and pepper

1/2 tsp. Each

1

Cup

Fresh pineapple

cubed

1

Cup

jasmine rice

2

Cups

water

pinch of salt
Instructions
Preheat oven to 400 degrees.

Cube pork tenderloin into 1" pieces and place into a medium bowl. Cover pork with soyaki sauce and place into refrigerator for at least 30 mins, up to a few hours.

Chop broccoli head into florets and place onto sheet pan lined with foil. Drizzle on oil and toss with hands. Season with salt and pepper then roast for 20 minutes.

Meanwhile, cook the rice by rinsing well then adding to a medium saucepan. Add 2 cups water and a pinch of salt. Bring to a boil, then lower heat to a simmer and cover. Cook for 20 minutes or until liquid has absorbed.

To cook the pork, heat a large skillet over medium high heat, then add the pork, shaking off extra marinade.

Let pork cook undisturbed for 3-4 minutes to help caramelize, then toss and cook another 3-4 minutes. Add in cubed pineapple and remaining marinade to pan. Cook 1-2 more minutes.

Assemble bowls by adding a scoop of rice, followed by roasted broccoli, then the pork and pineapple topped with a drizzle of sauce from pan. Enjoy!