Creamy, tahini and lemon-based dressing dresses up lacinato kale making each leaf more delicious! Browned chicken sausage disks, seasoned crunchy chickpeas and shaved parmesan make this recipe irresistible!
If you're looking for a new salad — one that you'll actually CRAVE — you've come to the right place.
The secret to a crave-able salad? Texture, texture, texture!!!!!! A mix of textures (think crunchy, creamy, chewy) and flavors (lemony, creamy, charred, spiced!) and flavors will make you actually desire your veggies. I promise! Here are the elements to this salad:
Tahini Lemon Dressing
The lemony, tangy, tahini-based dressing is creamy and rich and coats the kale leaves deliciously. Tahini is a sesame seed paste used often in Mediterranean cooking – it adds a tangy, hummus-like consistency to the dressing making it extra creamy without using a ton of olive oil. This particular type of kale is extra crunchy and cruciferous and pairs perfectly with a creamier dressing! Pro tip: after dressing, massage the kale leaves with either your clean fingers or tongs to help soften the leaves.
Chicken Sausage
I love how much flavor chicken sausage packs into each bite. I chose a chicken apple sausage because I love the slight sweetness the apple adds, especially in contrast to any char you get on the sausage after browning! You'll slice the pre-cooked sausage links into disks the brown each side for a minute or two in a hot pan. The result? Crisped, caramelized links still tender to the bite!
Spiced Crunchy Chickpeas
Chickpeas add such a great layer of protein to any salad, and when they're spiced and crunchy you will want to be sure to make extras to nosh on all day! You'll drizzle canned chickpeas with olive oil then season them with a mix of chili powder, garlic powder, paprika, salt & pepper. Once the chickpeas are coated, you'll cook them stovetop to get a nice crunch on their exterior. I'm salivating!!!
Parmesan Cheese
You can obviously skip the cheese if you're trying to keep this recipe dairy free, but if you're not… the parmesan sure does add a salty, creamy bite to the salad! I love shaved parmesan for it's presentation but really any variety — shaved, grated, shredded — can be used.
I hope you enjoy this recipe! You can watch a video of the salad being put together on my Instagram here 🙂
Looking for other salad recipes? Check these out!
Thank you for being an amazing reader of The Savvy Spoon! If you loved this post, I would so appreciate you rating it below and/or leaving a comment! Be sure to follow me on Instagram and Facebook for more recipes, twin mom and healthy lifestyle content!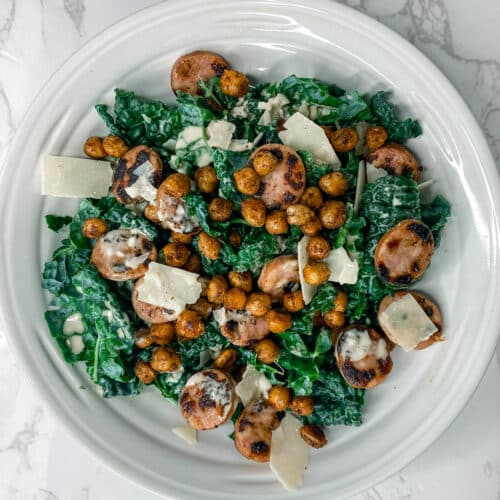 Creamy Tahini Kale Salad with Chicken Sausage & Crunchy Chickpeas
Creamy, tahini and lemon-based dressing dresses up lacinato kale making each leaf more delicious! Browned chicken sausage disks, seasoned crunchy chickpeas and shaved parmesan make this recipe irresistible!
Ingredients
4

cups

chopped lacinato kale

ribs removed; also called "dino kale"

2

links

cooked chicken sausage

any flavor; I used chicken apple

4

tbsp.

shaved parmesan cheese

or less if using grated/shredded
spiced chickpeas
1

15-oz. can

chickpeas/garbanzo beans

drained, rinsed and dried on a paper towel

2

tbsp.

olive or avocado oil

1

tsp.

chili powder

1

tsp.

garlic powder

1

tsp.

paprika

1

tsp.

kosher salt

1

tsp.

black pepper
creamy tahini dressing
1

tbsp.

tahini paste

aka sesame seed paste

1

tbsp.

plain greek yogurt

1

tbsp.

water

juice from 1/2 a lemon

1

tsp.

kosher salt

1/2

tsp.

black pepper

1

tsp.

honey

2

tbsp.

olive oil
Instructions
Start by slicing chicken sausage into 1/8" disks. Warm a skillet over medium heat and spray with cooking spray. Place disks into pan and cook for 2 minutes per side or until slightly charred. Remove from pan and discard any bits if necessary.

In a mixing bowl, make spiced chickpeas by combining chickpeas with olive oil and all spices. Use a spoon to mix well so all chickpeas are well coated.

In same pan you cooked chicken sausage, place chickpeas. Let cook, shaking the pan every 2 minutes or so, until chickpeas are crispy on the outside and tender on the inside – about 10 minutes total. Remove from heat.

Whisk together all ingredients for the creamy tahini dressing, adjusting the seasoning as needed. If too bitter, add a little more honey and/or yogurt.

While chickpeas roast stovetop, assemble salads: In two bowls, divide chopped kale making sure to only use leaves, not middle ribs. Top each bowl with a good amount of dressing and use salad tongs to massage and coat leaves well.

Arrange chicken sausage disks on top of salad, then add chickpeas and your shaved parmesan cheese. Add more dressing on top and enjoy warm or room temperature! Dressing will keep in refrigerator for 3+ days.