Brace yourself for a flavor explosion as we dive into these Street Corn Chicken Tacos. Each bite is loaded with mouthwatering goodness that will have your tongue dancing to a festive beat!!
Picture this: tender, chili, and paprika-seasoned chicken mingling with roasted bell peppers, and a healthier twist on creamy Mexican street corn, all nestled in the embrace of super pliable, gluten and grain-free Siete almond flour tortillas.
Watch a step-by-step video of how to make this recipe on The Savvy Spoon Instagram here!
How to Make the Marinated Chicken
Let's kick things off with the star of the show—the chicken! Take your boneless, skinless chicken breasts and give them a good trim before dicing them up. In a mixing bowl, let the avocado oil work its magic as you whisk it together with paprika, chili powder, cumin, and a pinch of kosher salt. Add the diced chicken, give it a toss, and let it marinate in all that flavorful goodness for a minimum of 30 minutes in the refrigerator.
Once it has marinated, let the chicken sit at room temperature for a quick 10 minutes to minimize oil splatters. Cook it in a sauté pan over medium heat for about 3 minutes per side, or until it's no longer pink in the center. Give the pan a quick wipe with a paper towel, and use it to warm up those tortillas, flipping them over to achieve that perfect touch of warmth.
The Street Corn & Roasted Bell Peppers
Now, let's turn up the heat—literally! Fire up your grill or grill pan, and let's get those corn cobs and red bell pepper in the game. Drizzle them with a touch of avocado oil, roll them around to coat every inch, and then generously sprinkle them with a dusting of chili powder and kosher salt. Grill those beauties until they're tender and kissed by char marks. Once they've cooled down a bit, slice the bell peppers into thinner strips and shuck the grilled corn, placing it in a bowl with the remaining street corn ingredients—Greek yogurt, a squeeze of fresh lime juice, chopped green onions, and crumbled cotija cheese. Give it all a good mix and get ready for the creaminess and zesty flavors to take your taste buds on a wild ride.
Assembling your Tacos
Now comes the fun part—assembly! Place those juicy slices of bell peppers, the succulent cooked chicken, and a generous scoop of the street corn concoction onto your tortillas. Don't forget to add a kick of heat with some jalapeño slices and a sprinkle of fresh green onions. Oh, and let's not neglect that final flourish—a shower of crumbled cotija cheese to take these tacos to new heights of flavor.
Grab hold of these fiesta-ready delights, take a bite, and let the explosion of flavors transport you to a world where every day feels like a celebration. So raise those tacos high and get ready to dive into a fiesta of flavors that will make your taste buds sing. Let the fireworks begin—enjoy these Street Corn Chicken Tacos to the fullest!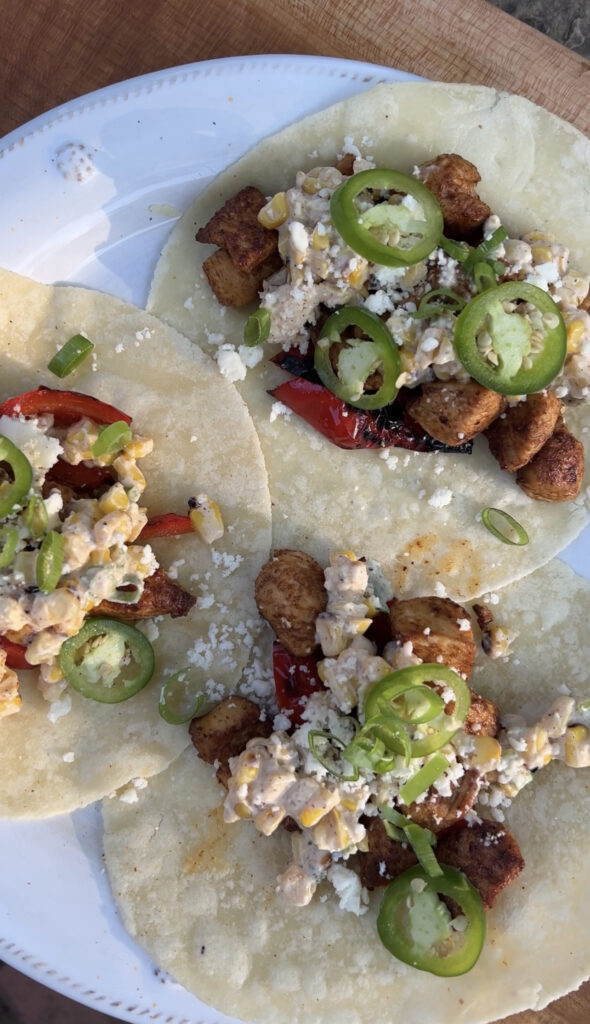 Thank you for being an amazing reader of The Savvy Spoon! If you loved this post, I would so appreciate you rating it below and/or leaving a comment! Be sure to follow me on Instagram and Facebook for more recipes, twin mom and healthy lifestyle content!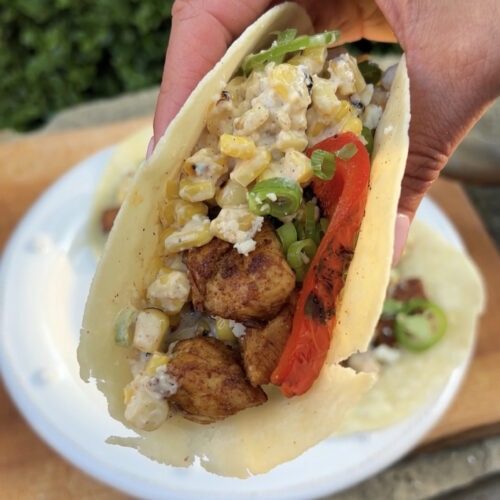 Mexican Street Corn Chicken Tacos
Chili-seasoned chicken is topped with grilled street corn dip, roasted bell peppers, jalapenos and cotija cheese! You'll love this festive taco recipe!
Ingredients
for the chicken
3

boneless, skinless chicken breasts

trimmed and diced

2

tbsp.

avocado oil

2

tsp.

paprika

1

tsp.

chili powder

1

tsp.

cumin

1

tsp.

kosher salt
for the mexican street corn & peppers
2

ears

corn

1

red bell pepper

seeds removed & quartered

Avocado oil 

Chili powder

Kosher salt

1/3

cup

greek yogurt

2

tbsp.

chopped green onions

2

tbsp.

crumbled Cotija cheese
for serving
6

gluten free tortillas 

I use OhLa! or Siete Foods

jalapeño slices, chopped green onions, crumbled cotija cheese
Instructions
In a mixing bowl, add 2 tbsp. Avocado oil and all chicken seasonings. Whisk before adding diced chicken, tossing to coat. Let marinate 30+ minutes in refrigerator.

Heat grill or grill pan. Place corn cobs and quartered red bell pepper onto sheet pan. Drizzle with avocado oil, roll & toss to coat, then season well with kosher salt and chili powder. Cook on grill or grill pan until soft with char marks. Let cool slightly before handling. Slice bell peppers thinner and place shucked grilled corn into bowl with remaining street corn ingredients, mixing well.

Let chicken sit at room temperature for 10 minutes before cooking to reduce oil splatters. Cook in sauté pan over medium heat for ~3 minutes a side, or until no longer pink through. Wipe pan with paper towel and use to heat tortillas on each side.

Assemble tacos by placing sliced bell peppers, cooked chicken, a scoop of street corn, more cotija cheese crumbles, jalapeño slices and green onions on top. Enjoy!!