Slightly spicy, slightly sweet, these Cava-inspired air fryer chicken meatballs make for the perfect weeknight meal on top of a big Mediterranean bowl!
Hold onto your taste buds, because I'm about to unveil my latest obsession: the magnificent @cava a la casa! Let me tell ya, once you've had a bite of Cava's tantalizing honey harissa chicken, there's no turning back. It's addictive, it's sensational, and it's about to get a meatball makeover like you've never seen before!
Watch a step-by-step video of how to make this recipe on The Savvy Spoon Instagram here!
Introducing my Air Fryer Honey Harissa Chicken Meatballs. Brace yourselves for a flavor explosion that will have your senses doing the happy dance. We're talking succulent ground chicken thigh, perfectly seasoned with a medley of minced shallots and garlic, and kissed by the fiery embrace of harissa paste (shout-out to my pals at @traderjoes for that spicy gem). But hold your horses, because there's a touch of sweetness too—just a tablespoon of honey to balance the heat. Sprinkle in some kosher salt, a dash of black pepper, and a sprinkle of panko breadcrumbs for that delightful crunch, and we've got ourselves a meatball masterpiece!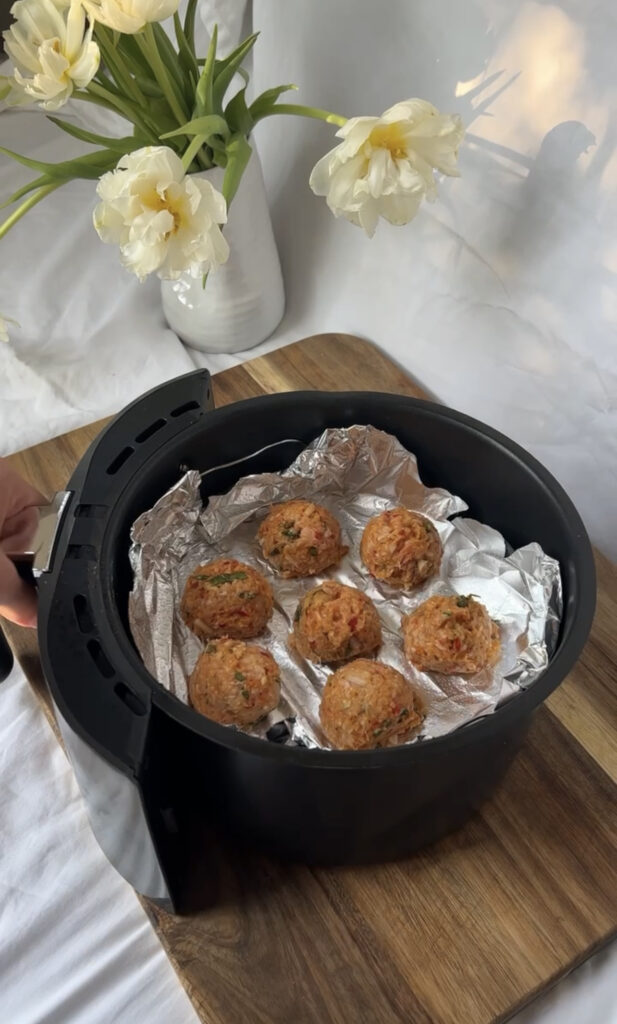 Here's how you'll make my Air Fryer Honey Harissa Chicken Meatballs
Whip up this flavor-packed feast by simply combining all the meatball ingredients in a bowl, giving it a gentle mix, and using a trusty cookie scoop to shape 18 perfect meatballs. Pop those babies onto a parchment-lined sheet pan and let the air fryer work its magic at 375º for a mere 10 minutes. And while you're waiting for those meatballs to sizzle, don't forget to prepare the star-studded supporting cast: tangy pickled red onions and a dreamy tzatziki sauce that will have you licking your lips!!
What else to include in your Mediterranean, Cava-inspired bowls
Now, let's talk bowls—because these meatballs deserve to be celebrated in all their glory. Picture a bed of vibrant spinach, a fluffy cloud of couscous, and a colorful medley of chopped tomatoes and cucumbers. Oh, and we can't forget the creamy diced avocado and the tangy pickled red onions that will have your taste buds dancing with joy. To top it all off, a dollop of heavenly tzatziki sauce to add that cool and refreshing finish.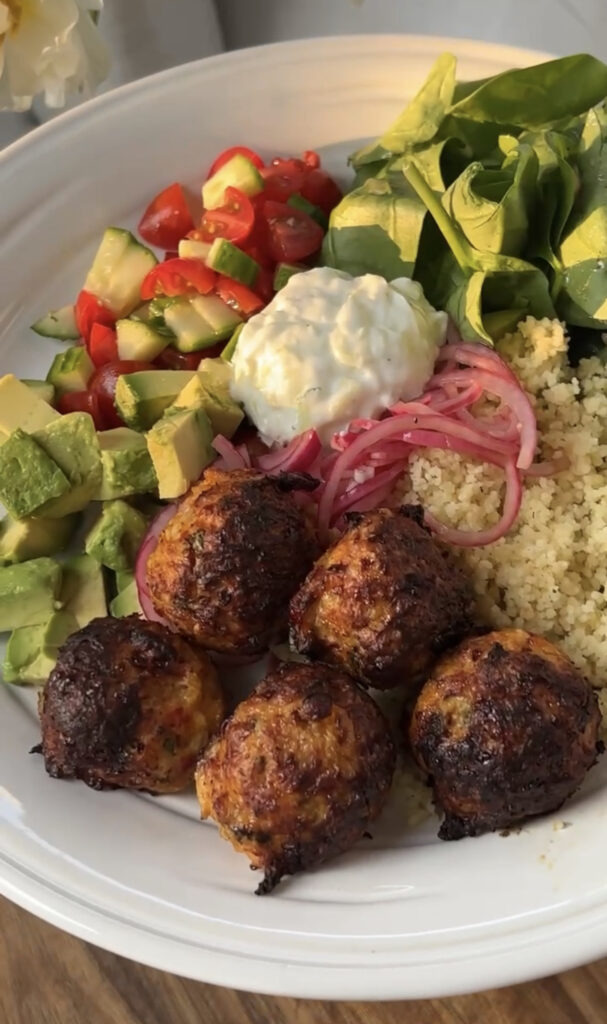 So get ready to embark on a culinary adventure that combines the best of @cava's addictive flavors with the whimsical charm of meatballs. Trust me, once you take that first bite, you'll be head over heels, tumbling down the rabbit hole of deliciousness. Buckle up babes and get ready to meet your new favorite meal, these Air Fryer Honey Harissa Chicken Meatballs!
Thank you for being an amazing reader of The Savvy Spoon! If you loved this post, I would so appreciate you rating it below and/or leaving a comment! Be sure to follow me on Instagram and Facebook for more recipes, twin mom and healthy lifestyle content!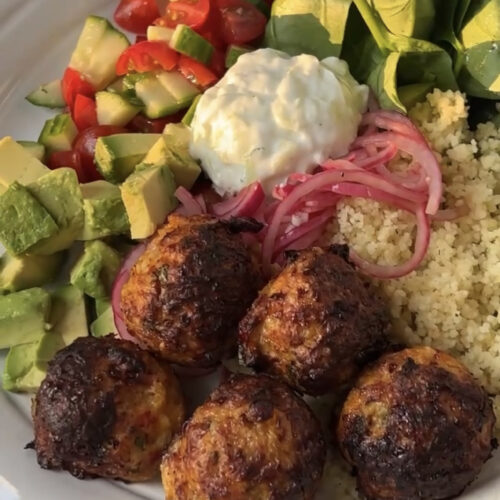 Air Fryer Honey Harissa Chicken Meatballs
Slightly spicy, slightly sweet, these Cava-inspired air fryer chicken meatballs make for the perfect weeknight meal on top of a big Mediterranean bowl!
Ingredients
1

lb.

ground chicken thigh

1

egg

1

shallot

minced

2

cloves

garlic

minced

2

tbsp.

harissa paste

I used Trader Joe's

1

tbsp.

honey

1

tsp.

kosher salt

1/2

tsp.

black pepper

1/4

cup

chopped parsley

1/3

cup

panko breadcrumbs
for bowls
Spinach, couscous, chopped tomatoes & cucumbers, diced avocado, pickled red onions, tzatziki sauce

recipes below
Instructions
Place all ingredients into bowl and mix gently to combine. Use a cookie scoop to form 18 meatballs, placing onto parchment-lined sheet pan. Air fry in batches at 375º for 10 minutes.
for pickled red onions
Thinly slice 1 red onion and place into shallow bowl. Cover with red wine vinegar, 1/4 tsp. salt & 1/4 tsp. sugar. Toss and place into refrigerator for at least 30 minutes.
for tzatziki sauce
Grate 1/2 english cucumber and squeeze excess moisture using clean kitchen towel. Add to 1 cup of greek yogurt with 1 minced clove garlic and salt/pepper.