If you're in the mood for lasagna but aren't looking to feed a crowd, try this scaled-down, rustic variation! Spicy sausage adds extra richness and fresh kale leaves omit any guilt. Buy fresh pasta sheets and cut them down to size for the ultimate indulgence!
You're going to flip over this scaled-down, slightly messier and totally shareable lasagna dish!
If you're in the mood for lasagna but aren't looking to feed a crowd, you'll love this rustic variation that uses torn lasagna noodles and just two layers of filling. The whole dish cooks in 25-30 minutes as opposed to its full rectangular cousin who can bake for up to an hour!
You'll use a round cake pan to create your lasagnette which you can slice right out of, or ditch the plates and dive right in with forks a la Lady + The Tramp.
I love the combination of rich and creamy ricotta + mozzarella with a spicy, crumbled Italian pork sausage, but if you're looking to keep it lighter you can swap for uncooked turkey or chicken sausage instead! I would suggest buying the "sausage" flavored ground meat though so you start with that great fennel-y, peppery spiced flavoring.
Last note — we LOVED the texture and taste that using fresh pasta sheets produced! I picked up three sheets at Jimmy's Food Store in Dallas, cut them into strips and boiled them for just 2 minutes before slicing to fit the lasagnette.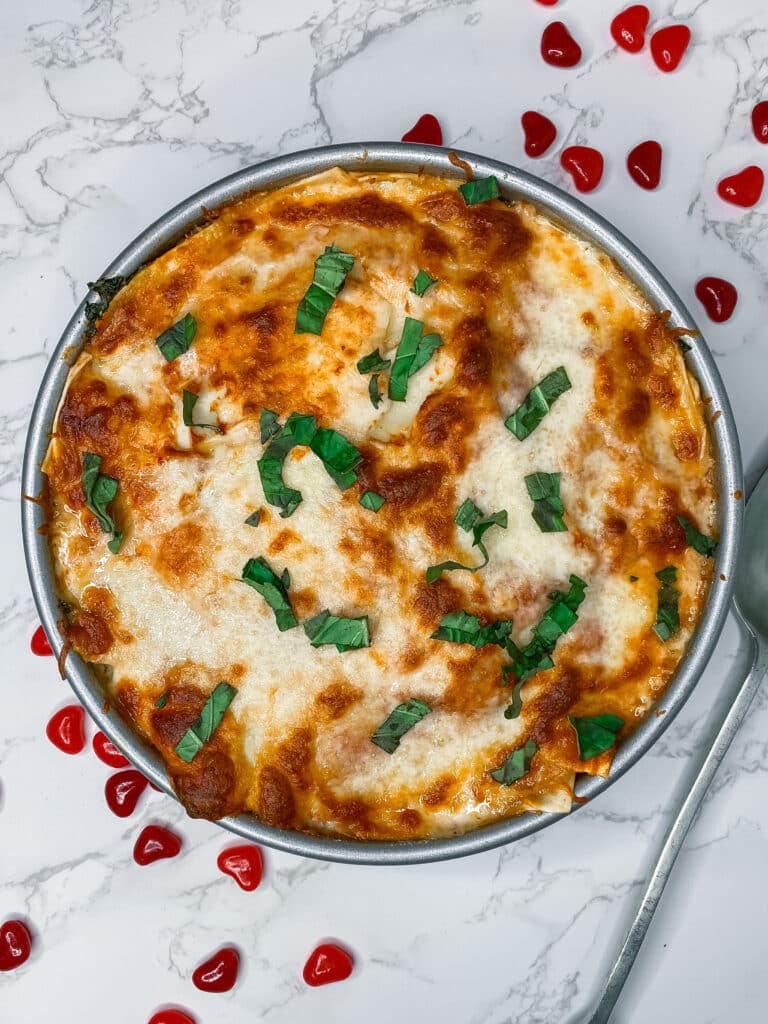 Here's how you'll make my sausage and kale lasagnette:
Preheat oven to 425 degrees.
Bring a pot of water to a boil on stove top.
Brown sausage in skillet.
Mix ricotta, salt, pepper and a splash of milk in a bowl.
Boil pasta until al dente — fresh pasta for 1-2 mins, dried noodles for 7-9 mins.
Put a small amount of marinara in bottom of cake pan.
Break up noodles to cover bottom of pan (it's okay if they overlap!).
Spread half of ricotta mixture onto noodles, then top with layer of cooked sausage, torn kale leaves, then a thin layer of marinara.
Top with another layer of broken noodles and repeat with ricotta, sausage, torn kale leaves and marinara.
Finish with a layer of noodles, marinara and mozzarella cheese.
Bake covered in foil for 15 minutes, then uncovered for 10 minutes.
Let stand 5 mins or so before you dig in!
Don't be intimidated by the number of steps! #6-10 will take you all of 3 minutes, tops. Then into the oven your beautiful lasagna cake goes and onto the couch you can plop! The most challenging step is #12… 😉
Thank you for being an amazing reader of The Savvy Spoon! If you loved this post, I would so appreciate you rating it below and/or leaving a comment! Be sure to follow me on Instagram and Facebook for more recipes, twin mom and healthy lifestyle content!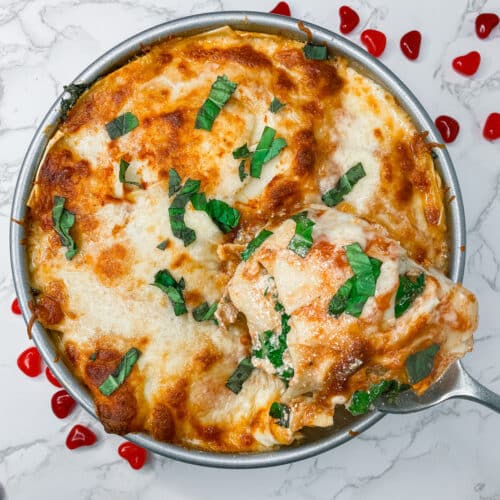 Sausage and Kale Lasagnette
If you're in the mood for lasagna but aren't looking to feed a crowd, try this scaled-down, rustic variation! Spicy sausage adds extra richness and fresh kale leaves omit any guilt.
Ingredients
1

lb.

bulk or uncased hot Italian sausage

3

sheets

fresh pasta (about 10×10")

or 12 dried lasagna noodles

2

cups

marinara sauce

1

8 oz. container

whole milk ricotta cheese

2

tbsp.

milk or plain milk alternative

2

cups

kale leaves

removed from stems and torn

½

cup

shredded mozzarella cheese

2-3

tbsp.

grated parmesan cheese

olive oil for sautéing

kosher salt + pepper
Instructions
Preheat oven to 425 degrees.

Place a covered pot of water over high heat and bring to a boil. Add pasta noodles and cook until al dente; 1-2 minutes for fresh pasta or 7-9 minutes for dried. Drain and set onto sheet pan.

In a skillet set over medium heat, drizzle in 1 tbsp. olive oil then add ground uncooked sausage. Cook, breaking up with spoon, until no longer pink, about 5 minutes. Drain fat.

Meanwhile, mix together ricotta cheese, milk/milk alternative and 1 tsp. each of kosher salt and pepper in a small bowl.

Spray a standard cake pan or 8×8" dish with cooking spray, then add 1/4 cup marinara sauce to cover bottom.

Cut noodles into half and create one layer over marinara (it's okay if noodles overlap slightly). Top with half of ricotta, half of sausage and half of torn kale. Pour on another thin layer of marinara then top with a new layer of noodles. Repeat once more.

After final noodles have been placed on top of stack, pour on any remaining marinara sauce then top with mozzarella cheese. Sprinkle with parmesan cheese and cover with tin foil.

Bake covered for 15 minutes, then carefully remove foil and bake another 10 minutes or until golden and bubbling.

Let lasagnette rest for at least 5 minutes before slicing!