Can't decide between enchiladas verdes or rojas? Now you don't have to! Try my Lazy Girl Enchiladas Divorciadas — you'll use both red and green enchilada sauces, taco seasoned ground turkey and monterey jack cheese to make this irresistible meal!
I love enchiladas rojas… but also enchiladas verdes. And 99% of the time I have a hard time choosing between the two whether we're dining out or cooking in.
But then it dawned on me… why choose when you don't have to!?
This recipe — dubbed "Lazy Girl" because of some shortcuts we take — uses both red and green enchilada sauces, taco seasoned ground turkey (or chicken or beef!) and gooey monterey jack cheese to make a gorgeous platter of enchiladas!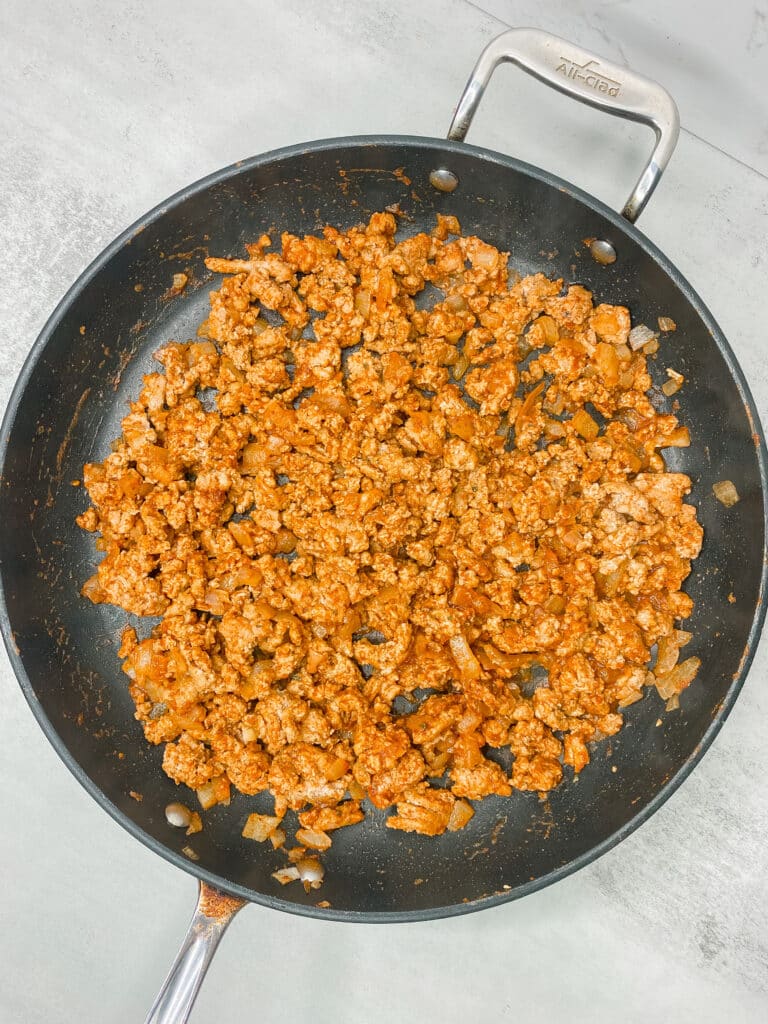 Some shortcuts we take: you'll use your favorite taco seasoning packet to season the ground meat, canned enchilada sauces and premade pico de gallo salsa for topping. Of COURSE, any of these elements can be homemade should you prefer. But when I'm cooking after a long day, the couch is calling my name every second I spend in the kitchen, lol! So as long as it's just as tasty, then the quicker the better.
Here's how you'll make my Lazy Girl Red & Green Enchiladas Divorciadas:
Dice up an onion and cook to soften.
Add ground meat — turkey, chicken or beef — to the onions and cook until no longer pink. (If using beef, drain fat).
Add in your taco seasoning packet and 1/3 cup of water to the pan.
Let simmer to thicken sauce then remove from heat.
Place a thin layer of either enchilada sauce into the bottom of a 9×13″ baking dish.
Take a tortilla and add seasoned ground meat along with some monterey jack cheese.
Roll, place into dish, and repeat for all 8 tortillas.
Pour red enchilada sauce down one side and green enchilada sauce down the other. They don't have to be perfect!
Cover with tin foil and bake for 10 minutes, then remove foil and bake another 20.
Top with pico de gallo and jalapeños down the center.
ENJOY!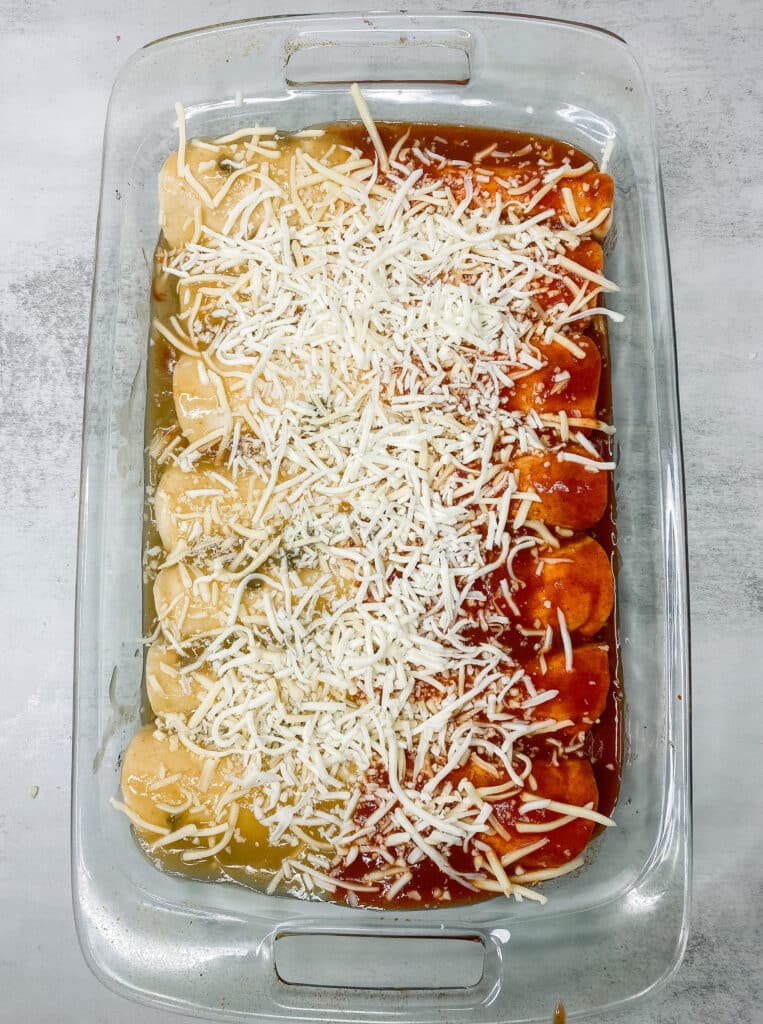 All these steps are simple and can be seen in this Instagram Reels as well!
I hope you love these enchiladas!
Find more Enchiladas recipes here:
Thank you for being an amazing reader of The Savvy Spoon! If you loved this post, I would so appreciate you rating it below and/or leaving a comment! Be sure to follow me on Instagram and Facebook for more recipes, twin mom and healthy lifestyle content!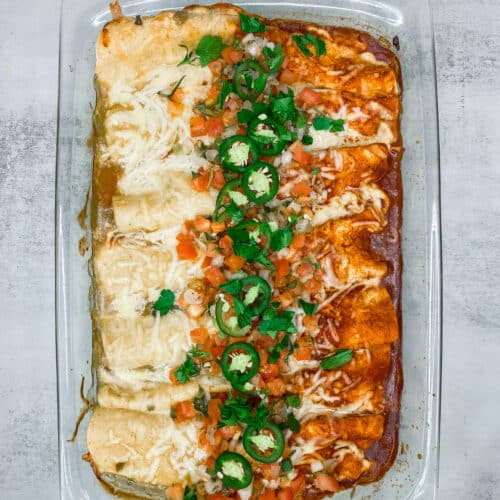 Lazy Girl Red and Green Enchiladas Divorciadas
Perfectly seasoned ground turkey wrapped in a fluffy tortilla and smothered in both red and green enchilada sauces, all covered in melted cheese — these enchiladas only take 10 minutes to prepare, 30 minutes to bake and will keep your family coming back for seconds!
Ingredients
1

lb.

ground turkey

can use ground chicken or ground beef instead

1/2

yellow onion

diced

1

packet

low-sodium and/or gluten free taco seasoning

8

fajita-sized tortillas

I used Central Market butter tortillas

½

cup

shredded monterey jack cheese

1

tbsp.

olive oil

1/4

cup

water

1

15-oz. can

green enchilada sauce

1

15-oz. can

red enchilada sauce

1/2

cup

pico de gallo salsa

for topping

thin jalapeño slices

for topping
Instructions
Preheat your oven to 375 degrees.

In a skillet, heat 1 tbs. olive oil and when warm, add diced onion. Sauté until onions are soft, about 3 minutes, then add in ground meat. Cook until no longer pink, about 4 minutes. If using ground beef, drain fat. Turn heat to low and add taco seasoning packet and water to pan. Bring to a boil before lowering to a simmer. Cook for 2-3 minutes until mix has reduced and thickened, then remove from heat.

In a 9×13" glass baking dish, pour about ¼ cup of either enchilada sauce on the bottom to cover. Take one tortilla in your hand and add about 1/4 cup of ground meat mixture mixture into the tortilla. Sprinkle lightly with cheese then roll, placing seam-side down into dish. Continue until all tortillas have been rolled.

Take the green enchilada sauce and pour down one half of your tortillas, making sure to cover the edges. Then take the red enchilada sauce and pour down the opposite side of your tortillas. It's okay if they're not perfect! Sprinkle on the remaining cheese and cover dish with tin foil.

Bake with tin foil on top of dish for 10 minutes, then remove foil and bake another 20-25 minutes or until cheese is melted and bubbly! Remove from oven and spoon the pico de gallo down the center where the green and red enchilada sauces meet. Top with sliced jalapeños and enjoy!