GET THIS: It's cheese-free.
The perfect fall side doesn't exis————- hold the harvest!
I spoke too soon. When roasted, caramelized cauliflower and chickpea noodles are tossed in a creamy, non-dairy cheese sauce and topped with crispy salty prosciutto, you might find yourself tasting something dang near perfection.
Mac and cheese without the cheese?!? Yes and I swear you could fool the best of them. I've been making this vegan mac and cheese recipe based off of this dish for years because it tastes UNBELIEVABLY like the real deal and it's made from veggies. Witchcraft? Possibly. But you'll never look back!
Carrots, potatoes, onions, cashews and nutritional yeast are mixed together to make a creamy, insanely cheesy-tasting sauce. Nutritional yeast has a unique, cheesy flavor and can usually be found in the spices aisle of your grocery.
I love the flavor that roasting at high heat gives veggies — it concentrates their flavors, gives them a slight sweetness and the perfect tender/crispy texture!
You can easily make this dish vegetarian by leaving out the prosciutto as well.
Here's how you'll make Roasted Cauliflower Mac and Cheese:
Roast cauliflower florets and prosciutto at 425 degrees for 20 minutes.
Soak 1 cup of raw cashews in water.
Meanwhile, bring a pot of water to boil + cook chickpea pasta.
In a medium saucepan, boil onion, carrots and potato until soft.
Blend together boiled veggies, cashews, nutritional yeast and seasonings to create sauce.
Toss everything together and serve warm!
I hope this delicious vegan cheese sauce helps to open your mind to other veggie-based dairy substitutes! I love cheese as much as the next girl but eating it completely guilt free is an even deeper love 🙂
Thank you for being an amazing reader of The Savvy Spoon! If you loved this post, I would so appreciate you rating it below and/or leaving a comment! Be sure to follow me on Instagram and Facebook for more recipes, twin mom and healthy lifestyle content!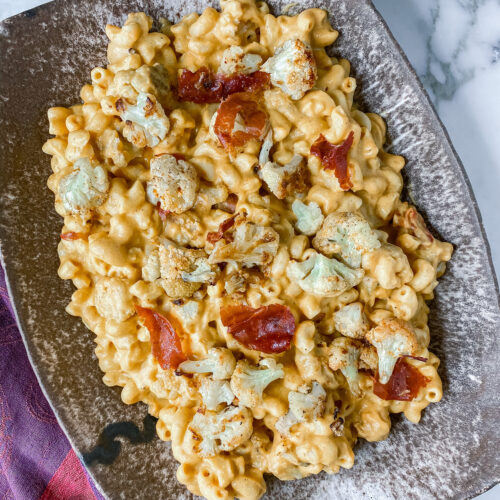 Roasted Cauliflower Vegan Mac & Cheese
Roasted, caramelized cauliflower and chickpea noodles are tossed in a creamy, non-dairy cheese sauce and topped with crispy salty prosciutto!
Ingredients
1

head

cauliflower

cut into florets

2

slices

prosciutto

cut into strips

1

lb.

chickpea elbow noodles

I used Banza

olive oil, salt and pepper
vegan cheese sauce
2

carrots

peeled and chopped

1

Yukon gold potato

quartered

2

cloves

garlic

smashed

1

cup

raw cashews

juice from 1/2 a lemon

¼

cup

nutritional yeast

1

tsp.

cayenne pepper

1

tsp.

kosher salt

1

tsp.

pepper

1

cup

reserved boiling water
Instructions
Preheat oven to 425 degrees.

Place raw cashews in a bowl and cover with water to soak.

On a sheet pan lined with foil and coated with cooking spray, arrange cauliflower onto one layer. Drizzle with olive oil and toss with tongs. season well with kosher salt and pepper.

In another medium saucepan, place carrots and potato and cover with water. Bring to a boil and cook veggies until potato is easily pierced with a knife, about 8 minutes. Turn off heat but reserve water.

Place prosciutto slices on top of cauliflower. Place sheet pan into oven and roast for 20 minutes or until cauliflower is golden.

Meanwhile, cook pasta. Start by filling one large pot with hot water over high heat. Cover and bring to a boil, then cook chickpea pasta according to package directions. Rinse pasta with cold water.

Using a slotted spoon, remove cooked veggies from saucepan and place into a blender jar. Strain cashews and add to jar with garlic, nutritional yeast, cayenne pepper, lemon juice, salt and pepper. Add 1 cup of the reserved cooking water to the blender and place on lid.

Cover lid with a kitchen towel and hold down firmly as you begin to blend from low to high. Blend until smooth and creamy, then taste! Adjust for seasonings if needed.

In your serving bowl, add cooked pasta and cheese sauce, tossing to coat. Top with roasted cauliflower and crispy prosciutto and serve immediately!