With Balsamic Tomatoes, Crispy Prosciutto and Burrata!
Chickpea rice serves as the "orzo" in this dish made creamy by a mixture of fresh eggs, parmesan cheese and garlic. The pasta is topped with oven roasted balsamic tomatoes, crispy prosciutto and creamy burrata for a mouthful of flavor!
There's SO much goodness in this dish.
A dish that combines so many textures (creamy! chewy! crispy! soft!) into a fork full of flavors. I love when a dish with this much going on can come together in just 20 minutes!
I've been using Banza Chickpea pasta products for a few years now and it's safe to say I'm impressed… and maybe a little obsessed. I've used it in my 5 Ingredient Brussels Sprouts Carbonara and in my Cauliflower Gnocchi Carbonara. Now with their new chickpea rice, I can use it even more. It tastes exactly like semolina wheat pasta but it's made from chickpeas, aka garbanzo beans! It has the same texture, bite and flavor, yet it's lower in carbs and high in protein. We call that a win-win!
You'll love the combination of crunchy, salty prosciutto with the creamy, slightly sweet burrata cheese! It's the perfect balance. I used only the actual burrata cream *inside* the mozzarella ball for this recipe, but if you want to add the mozz don't let me stop you!
For the tomatoes, I used two Romas and sliced them 1/8″ thick. I drizzled them with a little balsamic vinegar and seasoned with salt and pepper before roasting (directly on the greased sheet pan) for 15 minutes. You can crisp the torn prosciutto in the same oven at the same time!
Now let's talk about the sauce that brings it all together… the carbonara!
WHAT IS CARBONARA?
Only one of the most delicious creamy pasta dishes ever! Carbonara is a classic Italian dish that uses eggs and parmesan cheese to create a silky smooth sauce for pasta. The eggs cook slowly when you add hot pasta and some reserved hot pasta water into the sauce and stir, stir, stir!
Typically the dish is served with some sort of cured pork (pancetta being most standard) and with lots of fresh cracked pepper. It's crazy how "creamy" the sauce tastes without adding heavy cream!
In our version, we'll use eggs, parmesan, garlic and dried oregano to create our sauce. You'll utilize a little of the water you use to cook the pasta in the sauce as well, so don't dump it all out when you strain your orzo! Then you'll top the pasta with crispy prosciutto for that classic salty bite.
CAN I USE ANOTHER PASTA?
Of course! I love Banza's chickpea rice because it is lower in carbohydrates and higher in protein than regular semolina wheat pasta, but use whatever orzo is convenient to you.
Other ways to enjoy orzo carbonara
Add protein. You can make this dish heartier by adding in shredded rotisserie chicken or ground turkey or pork to the orzo! For the ground turkey or pork, just brown separately in a sauté pan and add after stirring in sauce.
Make it a side! This would be absolutely delicious served next to a salmon or halibut filet, underneath a juicy steak or even alongside lamb or veal chops!
Can't find burrata? No sweat! Use bocconcini or ciliegine (bite-sized) mozzarella balls instead and add them to the orzo right before serving so they don't melt!
Bon appetito!
Thank you for being an amazing reader of The Savvy Spoon! If you loved this post, I would so appreciate you rating it below and/or leaving a comment! Be sure to follow me on Instagram and Facebook for more recipes, twin mom and healthy lifestyle content!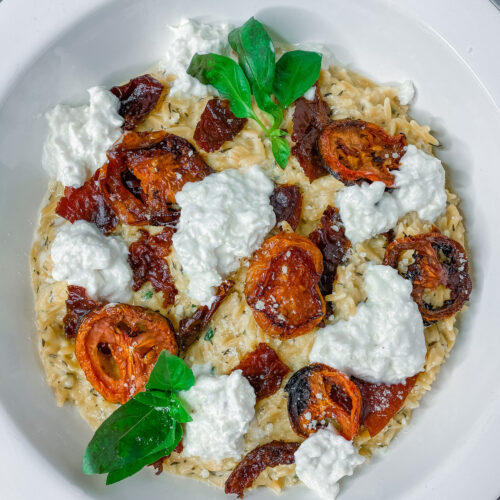 Orzo Carbonara
Chickpea rice serves as the "orzo" in this dish made creamy by a mixture of fresh eggs, parmesan cheese and garlic. The pasta is topped with oven roasted balsamic tomatoes, crispy prosciutto and creamy burrata for a mouthful of flavor!
adapted from Half Baked Harvest
Ingredients
1

cup

orzo or chickpea rice

I used Banza rice

3

eggs

at room temperature, beaten

1

cup

grated parmesan cheese

2

cloves

garlic

minced

2

tsp.

dried oregano

2

tbs.

chopped fresh basil leaves

8

oz.

burrata cheese

use the creamy, ricotta-like cheese inside of the mozzarella ball

3

oz. package

prosciutto

torn into pieces

2

Roma tomatoes

sliced

2-3

tbsp.

balsamic vinegar

olive oil, salt and pepper
Instructions
Preheat oven to 375 degrees.

On a sheet pan lined with foil and greased with cooking spray, lay out prosciutto pieces making sure not to overlap.

On greased sheet pan (no foil, they'll stick!), lay out tomato slices. Drizzle them with balsamic vinegar and season with salt and pepper.

Put both sheet pans into the oven (tomatoes above prosciutto) and bake for 10 minutes. Remove prosciutto. Continue to cook tomatoes for 5-10 more minutes, until slightly shriveled.

Meanwhile, bring a pot of water to a boil. Salt water then cook orzo/rice according to package directions. Before straining, scoop out 1 cup of pasta water and reserve.

In your serving bowl, mix together beaten eggs, parmesan, minced garlic, oregano and basil, reserving some leaves for serving.

Once orzo has cooked, strain the pasta from the pot into the egg mixture and immediately start to stir. Keep stirring for 30 seconds up to 1 minute until sauce begins to form!

Top the orzo carbonara with crispy prosciutto, oven roasted tomatoes and pieces of burrata, topping with leftover basil leaves!