Take your cauliflower gnocchi to the next level with chicken sausage, cremini mushrooms, arugula and a garlicky mascarpone sauce that's ready in one pan and under 30 minutes!
Are you ready to wow your family with this flavorful weeknight meal? Ok good, just checking! Mushrooms, garlic, shallots and a little mascarpone cheese (an Italian-style cream cheese) come together with pillows of cauliflower gnocchi, sweet chicken Italian sausage and peppery arugula leaves to create this flavorful pasta dish!
What is Cauliflower Gnocchi?
Cauliflower gnocchi is truly a gift that the grocers have bestowed upon us. Pillowy soft pasta puffs made from cauliflower instead of potatoes that cook quickly? Say less. You can definitely find cauliflower gnocchi at Trader Joe's (I want to say they created the first batch?) but now it's more widely available at Whole Foods and other markets.
I highly recommend stocking some of the Trader Joe's frozen cauliflower gnocchi in your freezer to have on hand! Can't tell you how many times I've been wondering what to make for dinner only to remember I had some stashed.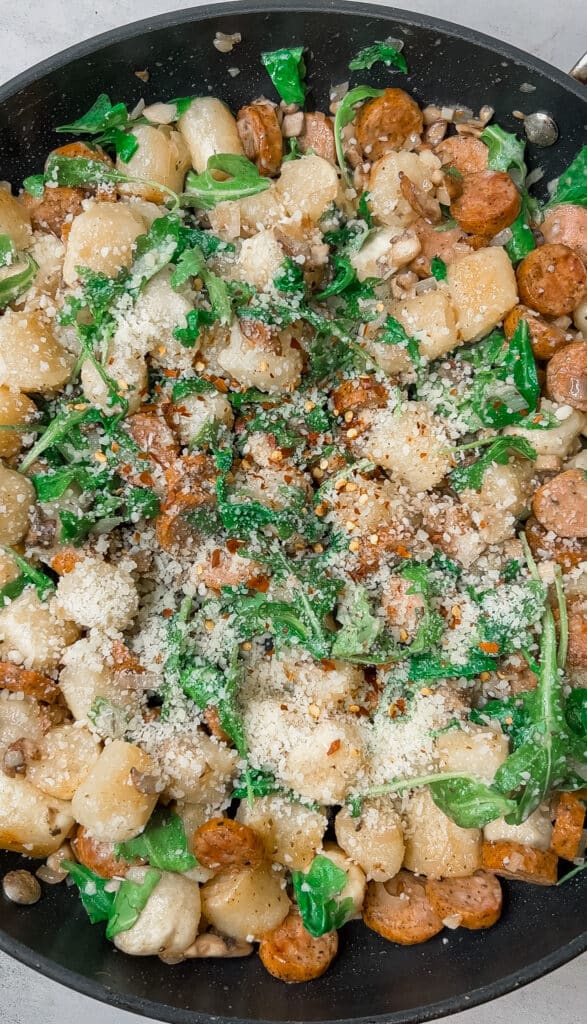 Looking for Other Cauliflower Gnocchi Recipes?
Here's How You'll Make My Creamy Cauliflower Gnocchi with Sausage and Mushrooms:
Slice chicken sausage links and warm a medium pan over medium heat.
Place slices into hot pan and cook for 2 minutes. Flip and repeat to brown both sides.
Remove sausage from pan and warm 1 tbsp. butter.
Add chopped mushrooms, shallots and garlic, cooking until soft.
Add mushroom mix to sausage and wipe pan clean.
Place frozen gnocchi into warm pan and cook through.
Add sausage, mushroom mix, mascarpone cheese, arugula and parmesan to the gnocchi.
Mix together gently. Serve warm!
I hope you love this dish as much as we did! xx
Thank you for being an amazing reader of The Savvy Spoon! If you loved this post, I would so appreciate you rating it below and/or leaving a comment! Be sure to follow me on Instagram and Facebook for more recipes, twin mom and healthy lifestyle content!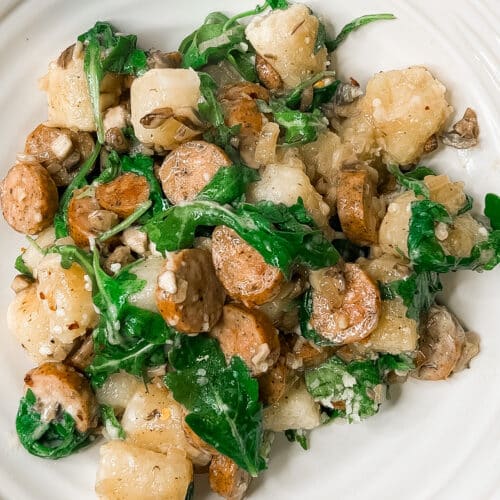 Creamy Cauliflower Gnocchi with Sausage and Mushrooms
Take your cauliflower gnocchi to the next level with chicken sausage, cremini mushrooms, arugula and a garlicky mascarpone sauce that's ready in one pan and under 30 minutes!
Ingredients
4

links

pre-cooked chicken sausage

I used "sweet Italian" style

2

12-oz. packages

frozen Cauliflower gnocchi

can sub non-frozen, see note

1

tbsp.

butter

1

cup

cremini mushrooms

chopped finely

1

shallot

minced

3

cloves

garlic

minced

1/4

cup

mascarpone cheese

1

cup

fresh arugula leaves

1/8

cup

grated parmesan cheese

1/2

tsp.

red pepper flakes
Instructions
Remove frozen gnocchi from freezer to let it start to thaw. Then start by slicing chicken sausage links into disks. Warm a large sauté pan over medium heat and place links into pan in one layer.

Brown sausage disks for 2 minutes per side, then remove from pan and set aside into a bowl.

In same pan, melt butter. When melted, add chopped mushrooms, shallot and garlic and cook until soft and fragrant, about 5-6 minutes. Remove from pan and set into same bowl as chicken sausage.

Use a paper towel to clean the sauté pan if needed. Once pan is warm again, add both packages into pan (as long as all gnocchi can fit in one layer, not overlapped). Let cook for a few minutes then when it starts to brown on one side, flip the gnocchi over.

If the gnocchi still feels frozen after browning both sides, add 2 tbsp. water into pan to help steam and cook through. Skip this step if gnocchi is thoroughly cooked.

Into the warm gnocchi pan, add the bowl of sausage & mushroom mix. Then add mascarpone cheese, arugula, parmesan and red pepper flakes. Stir gently to melt mascarpone and create your sauce.

Once combined, divide between bowls and serve warm!
Notes
If using non-frozen cauliflower gnocchi, follow package instructions to cook in water then drain. Warm an additional tbsp. oil in sauté pan before adding gnocchi to help brown.