Taste the flavors of fall with crunchy kale and shaved Brussels sprouts, sweet and savoy chicken apple sausage, creamy white cheddar and a honey dijon vinaigrette!
It's fall it's fall I don't care what they say!
Forget the calendar and delete your weather app because if it's after Labor Day and under 90º I say, it's fall yall!
Okay technically it's not quite fall but it's Pumpkin Spice Latte season and there are pumpkins out at the grocery store. Doesn't that count for something!?
It's still toasty here in Texas but I love tip-toeing into the new season by incorporating some fall flavors into our meals. Enter: my Fall-ish Kale Salad!
I've shared this Fall Harvest Kale Salad recipe before and it's one of our favorites. This salad has similar vibes, but I made this recipe even simpler by using pre-cooked chicken sausage. Fall FTW!
All of the elements of this salad are delicious individually, but when combined their forces are unstoppable. It's like the Power Rangers of salads.
Watch a step-by-step video of this recipe on The Savvy Spoon Instagram page here!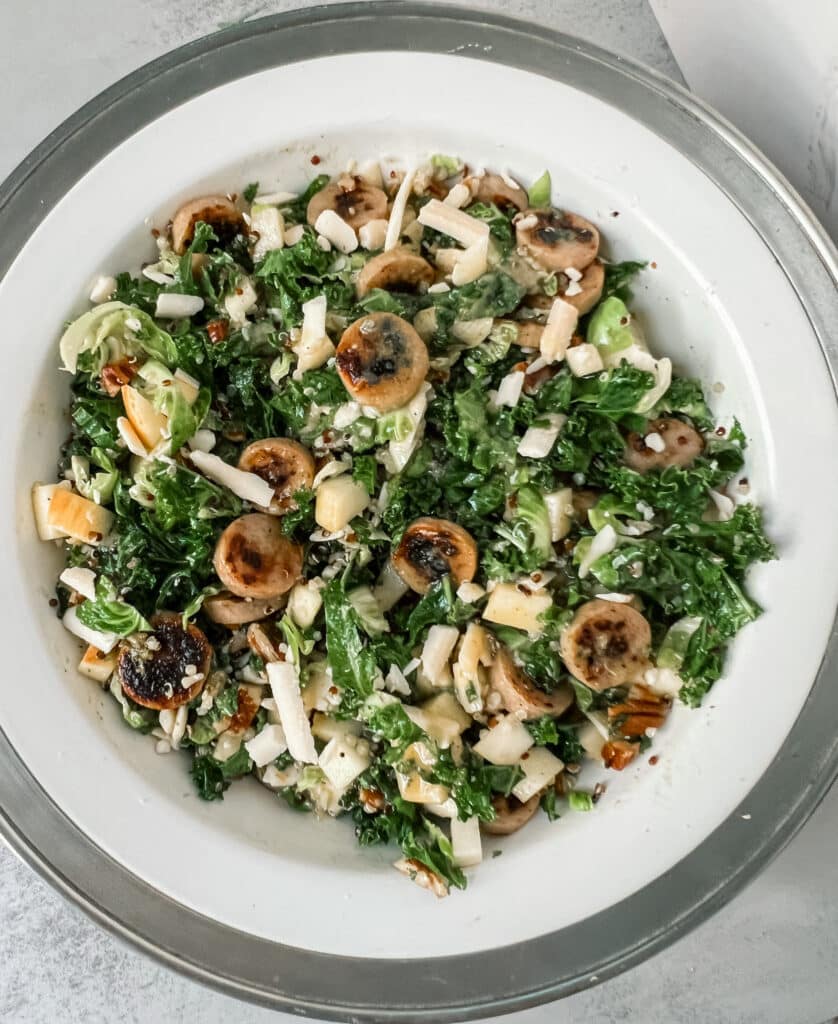 Here's how you'll make my Fall-ish Kale Salad with Chicken Sausage:
First you'll start with a base of shredded kale and shredded Brussels sprouts. Both veggies are quite fibrous (aka TOUGH) and they need a little TLC to help them become all that they can be in this salad. Nothing a little massaging can't do! Yes, you're going to pour half of the Honey Dijon Vinaigrette onto the kale and Brussels then with a clean hand, get on in there and rub your lettuce. I'm serious. It helps to break down those tough fibers making the salad both more delicious AND easier to digest!
Then you'll add some pre-cooked quinoa to the salad. I love making a big batch of this on Mondays to use in my salads all week! Quinoa is naturally gluten free and is a great source of plant protein. It also tastes nutty and adds a nice heartiness to the veggies!
Then comes the Honeycrisp apple – the PREMIER apple in my opinion! Sweet, tangy, super crunchy – it just doesn't get better. Dice half of one up (ours in TX are always very large?) and toss it in.
Then the roasted pecans – salty, nutty perfection. I love all types of nuts but pecans are reallllly growing on me. They add a certain comfort I just adore.
You'll want to use an aged white cheddar cheese for this recipe – it's nuttiness will help to balance any sweetness from the apples and Honey Dijon vinaigrette. I am obsessed with the shredded Unexpected Cheddar from Trader Joe's – it's almost parmesany, slightly tangy and super creamy.
Lastly you'll add your chicken apple sausage discs! These links come pre-cooked but I love to pan sear the sliced discs to add some smokiness — and they texture is just better with a little crispiness. Heat a skillet, spray with cooking spray and cook the sliced discs for 2-3 minutes per side.
You'll finish off your salad with a little more dressing before you're ready to dive right in! I hope you enjoy this scrumptious slice of (pre) fall on your plate 🙂
Thank you for being an amazing reader of The Savvy Spoon! If you loved this post, I would so appreciate you rating it below and/or leaving a comment! Be sure to follow me on Instagram and Facebook for more recipes, twin mom and healthy lifestyle content!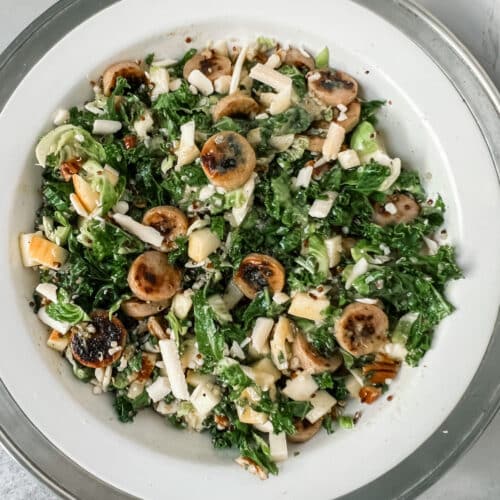 Fall-ish Kale Salad with Chicken Sausage
Taste the flavors of fall with crunchy kale and shaved Brussels sprouts, sweet and savoy chicken apple sausage, creamy white cheddar and a honey dijon vinaigrette!
Ingredients
1

cup

shredded kale

ribs removed

1

cup

shredded Brussels sprouts

remove any thick cores

3

links

chicken apple sausage

cut into discs

1/2

cup

cooked quinoa

1/2

large Honeycrisp apple

diced

1/4

cup

roasted and salted pecan halves

crushed

1/4

cup

shredded aged white cheddar cheese

I like Unexpected Cheddar from TJ's
Honey Dijon Vinaigrette
3

tbsp.

dijon mustard

1

tbsp.

apple cider vinegar

1

tbsp.

honey

1

clove

garlic

minced

1

tsp.

kosher salt

1/2

tsp.

black pepper

1/3

cup

avocado oil
Instructions
Cook chicken sausage by heating a skillet over medium high heat. Add cooking spray then lay sausages (cut into discs) in one layer in your pan. Cook for 2-3 minutes per side then flip and repeat. Remove from heat.

Whisk together all ingredients for dressing, adding oil last. Taste for seasonings and adjust if needed.

In a large salad bowl, add shredded kale and Brussels sprouts. Pour in 1/2 of the Honey Dijon vinaigrette onto leaves and massage with clean hands to soften leaves.

Add cooked quinoa, diced apples, roasted pecans, aged cheddar and then slightly cooled chicken sausage discs. Pour in remaining dressing and toss gently.

Serve warm or at room temperature!