A savory, filling salad with layers of flavor! Brown the chicken sausage for an extra punch of deliciousness.
Are you ready for a salad you might actually crave!? How about one your husband might crave!? THIS is it. With browned chicken sausage, shredded Unexpected Cheddar Cheese, Chili Onion Crunch and a little spinach tossed in a tangy apple cider vinaigrette, you'll have your favorite guy *requesting* salad on the reg. All ingredients can be found at Trader Joes!
You can watch a step-by-step video of this recipe on The Savvy Spoon Instagram here!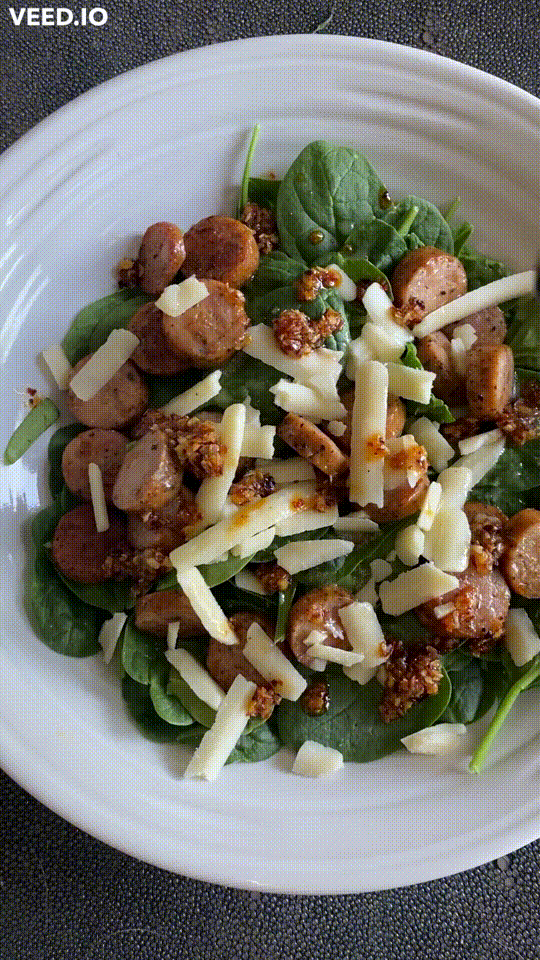 The Chicken Sausage
Cooked chicken sausage links are fully edible but SO much better when cut into disks and browned! The heat adds a nice crispiness to the links and enhances the flavor tremendously. Slice the chicken sausage link into 1/8″ inch rounds and brown in a non-stick pan sprayed with cooking spray for 2-3 mins a side.
The Unexpected Cheddar
There are so many cheeses to love by my GAH Unexpected Cheddar tops my list. It has a rich nuttiness that resembles parmesan but the creaminess you love and do expect from cheddar 🙂 Trader Joes has recently started to sell this cheese shredded but if you can only find it in a block, just grate it yourself at home! It's addicting.
The Chili Onion Crunch
This condiment reminds me of an Asian chili oil but with less heat and more crunch. It's oil-based and has a wonderful texture and onion/garlic flavor that tastes great on scrambled eggs, avocado toast, grilled veggies… and this salad!
The Spinach
Ahhh spinach. You offer so much nutrition while still being easy on the palate. Spinach is my favorite lettuce for salads because it packs so much punch without feeling like you're gnawing raw leaves. Of course, every recipe is editable so customize with your favorite lettuce as you wish!
The Apple Cider Vinaigrette
My go-to dressing for all salads! Tangy and garlicky and totally yum. You'll need avocado or olive oil, apple cider vinegar, smashed garlic cloves, salt and pepper. Make a big batch and keep on the counter for the week.
Hope you enjoy this recipe!
Thank you for being an amazing reader of The Savvy Spoon! If you loved this post, I would so appreciate you rating it below and/or leaving a comment! Be sure to follow me on Instagram and Facebook for more recipes, twin mom and healthy lifestyle content!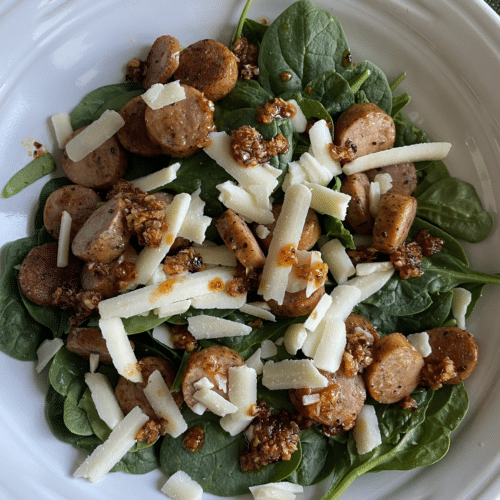 5 Ingredient Chicken Sausage Spinach Salad
A savory, filling salad with layers of flavor! Brown the chicken sausage for an extra punch of deliciousness.
Ingredients
2

cups

spinach leaves

4

links

cooked chicken sausage

any flavor

2

tbsp.

shredded Unexpected Cheddar cheese

2

tbsp.

Chili Onion Crunch

Apple Cider Vinaigrette for dressing
Apple Cider Vinaigrette (makes 1 1/2 cups)
1

cup

apple cider vinegar

1/2

cup

avocado or olive oil

2

cloves

garlic

smashed

1

tsp.

kosher salt

1/2

tsp.

pepper
Instructions
Start by shaking all ingredients for your dressing in a salad dressing shaker and setting aside. Will keep at room temperature for 3-5 days!

To brown chicken sausage: heat nonstick pan over medium heat then add a spray of avocado oil. Slice chicken sausage links into disks and add to pan. Cook 2-3 mins per side until browned then place onto plate.

In two bowls, divide the spinach leaves evenly. Then divide the chicken sausage between the two bowls. Top each bowl with 1 tbsp. Unexpected Cheddar and 1 tbsp. Chili Onion Crunch.

Drizzle a little dressing over each bowl and enjoy!