Baked cinnamon sugar apple chips: aka your newest favorite crunchy fix.
I'm a snacker, no doubt about it. But in quarantine, the access to snacks can be a littttttle more tempting.
Not to mention my new "desk" is our dining room table just a hop away from the pantry.
So to balance out all the Hippeas puffs and banana bread slices, I bring you baked apple chips! Made from three wholesome ingredients: apple slices, ground cinnamon and coconut sugar. Blissfully crunchy and slightly sweet!
Here's how you'll make the baked apple chips:
Slice the apples thinly
Sprinkle them with cinnamon and coconut sugar
Bake them low and slow for two hours at 250 degrees
Let them cool and crisp!
TIPS FOR MAKING BAKED APPLE CHIPS
You'll want to cut the apples thinly and evenly with a sharp knife or mandoline
The thicker the slices, the longer you'll want to bake them – if you aren't able to cut them thinly, set your timer for 2.5 hours.
Try not to overlap any slices on your cooking sheet so the apples don't start to steam instead
After the apples are done baking, let them cool completely — this will help them crisp even more!
Happy snacking!!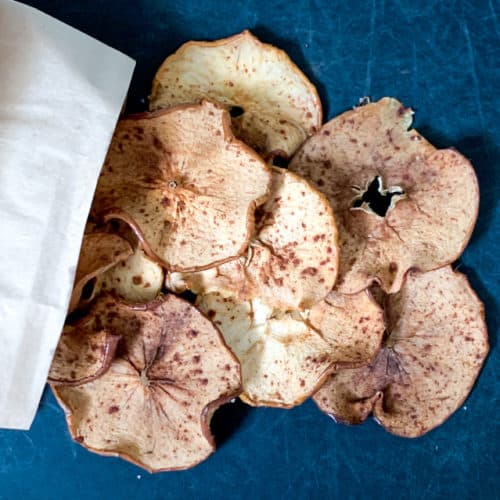 3 Ingredient Baked Apple Chips
Crunchy and slightly sweet, these apple chips are your newest (and healthiest) snacking obsession!
Ingredients
3

honeycrisp apples

washed

4-5

tsp.

ground cinnamon

2

tsp.

coconut sugar
Instructions
Preheat the oven to 250 degrees.

Slice your apples on their side, about 1/8" thick. Lay the slices onto a cooking sheet lined with parchment paper or a silpat, being careful not to overlap.

Sprinkle liberally with cinnamon and lightly with sugar.

Place into oven and bake for two hours.

Remove the chips and let them cool completely before snacking or storing! Cooling helps them crisp.